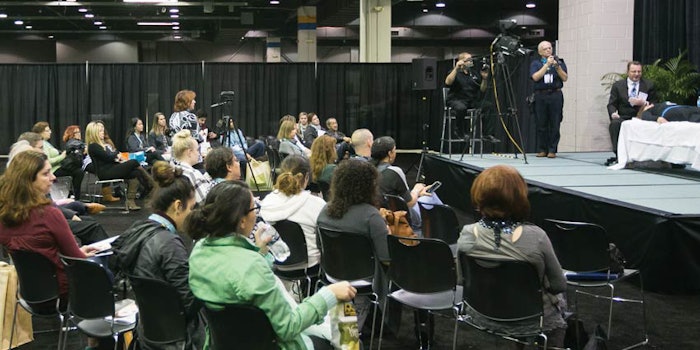 In 2017, Skin Inc.'s Face & Body Midwest spa expo and conference moved up to January and out to Rosemont for the space it so desperately needed to expand its busy tradeshow floor and educational offerings, and boy was was it a move well made. Not only was the show able to offer free opening keynotes each day to inspire attendees, but it added live education on the show floor with the Skin Inc. LIVE! stage and both melanoma and med spa education. The feedback was unanimous, and on Jan. 21-23, 2018, we are bringing these key offerings back to Rosemont with more exciting additions.
Opening Keynotes (Free)
To inspire you for a day filled with successful conversations and partnerships, we are bringing back our free opening keynotes to all attendees.
So, who is coming this year? For starters, the "diva of retail" Carol Phillips will kick off the day on Jan. 21, 2018, providing attendees with the tips they need to make their sales soar. Currently, CEO and founder of BeauteeSmarts, Phillips has trained and consulted for great spas like Miraval, Hilton, Wynn, Canyon Ranch Elizabeth Arden Red Door and more.
Things will take a turn toward regulatory on Jan. 22, 2018, as Skin Inc. will host its first Anniversary Power Panel (Did you know we turn 30 next year?) titled "Fight For Your Right: Protect Your Scope." The panel will feature spa industry experts on the esthetic scope of practice with a focus on Illinois. Experts will include device manufacturers, skin care suppliers, regulatory, legal and industry associations. Don't miss what is sure to be an exciting and potentially heated debate.
Med Spa
In 2017, the Medical Spa Business Summit debuted at Face & Body Midwest as a full day of medspa business and regulatory education.
That education will return to the event on Jan. 23, 2018, this year with an expanded variety of content. Plus, it will be included in the Advanced Education Conference as its own track, and there won't be additional registration costs for the classes.
The medical spa track will not only cover the business and regulatory information pertinent to the industry segment, but it will also feature doctors and industry experts talking about the latest treatments and science for medical spas. Our goal is to take those in the medical spa industry—whether new or seasoned—and increase their success through more effective treatments, better marketing or improved collaboration with staff.
Advanced Education
Skin Inc.'s Advanced Education will return to Face & Body Midwest, providing attendees the same great, product-neutral, high-level science, business, wellness and treatment information they are used to; however, we are moving Advanced Education to after the exposition on Jan. 23, 2018. The reason for this move? Our beloved attendees told us that they love coming to get more education, but that Saturday is their busiest day at the spa. We hear you, and we don't want sacrifice dollars for education or vice versa.
MakeUp Challenge
Makeup is not only a lucrative service to offer in the spa but it is also a significant revenue source in retail. Many skin care professionals also specialize in makeup artistry or have someone at their spa with a focus on that arena.
Skin Inc.'s Face & Body has partnered with The Skin Games to present the Makeup Challenge at each of the Face & Body events. Participants in the competition enter one of the three categories: glam/avant-garde, bridal or corrective in which they compete live at their chosen show for attendees to watch.
Finalists are chosen to then compete for first place in their category at the live show on April 28, 2018. Fierce competitors have already thrown their hat in the ring at Face & Body Northern California and Face & Body Southeast, so now is the time to enter your makeup skills for Face & Body Midwest.
Skin Inc. LIVE! Stage
The Skin Inc. LIVE! stage debuted at Face & Body Midwest 2017, with resounding success, and we are bringing it back this year as a place where attendees can see live, interactive presentations and demonstrations by respected industry pioneers during both days of the show. Pop in, learn something new, ask questions and interact with peers interested in the same topic.
Melanoma
Skin care professionals are responsible for the health of their clients' skin, but they are also in a prime position to potentially save their client's life by spotting the signs of skin cancer. IMPACT Melanoma will offer its Skinny on Skin certification course to teach estheticians and spa owners the ABCDEs of melanoma and give them the tools to discuss their concerns and send their clients to the right professional.
"It's such an important cause because with melanoma, it's all about early detection and prevention, and is curable when it's caught early enough," said Meghan Rothschild, presenter and PR and marketing manager for IMPACT Melanoma. Just make sure you sign up your spa staff early; The Skinny own Skin certification courses sold out at their debut at Face & Body Midwest 2017.
As New Year's resolutions pop into everyone's mind in January and either take effect or fall flat, does your menu or spa need a makeover in 2018? We at Skin Inc. and Face & Body are constantly making ourselves over to provide our attendee with the greatest benefit. Visit midwest.faceandbody.com, and register for Face & Body Midwest to get more for your spa business this year.