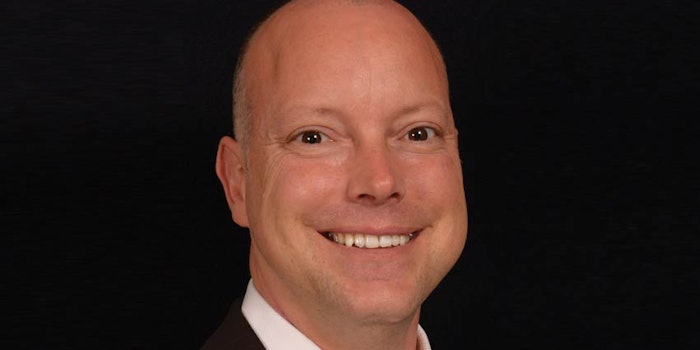 Very few people can say they have opened spas on almost every continent and in some of the most beautiful destinations in the world. But Gordon Tareta, the newly appointed area director of spas for Marcus Hotels & Resorts, proudly affirms he is one of the slim minority.
Tareta estimates he's opened a few hundred spas in his 26 years in the industry. Coming from a hospitality background has proven to be successful, and is something he says has been beneficial in more ways than one. In essence, spas are miniature hotels and guests have similar expectations: genuine hospitality, an accurate reservation and a warm, friendly greeting. Skin Inc. sat down with Tareta to learn what it takes to become the best spa in the world.
Skin Inc. (SI): How did you get started in the spa industry?
Gordon Tareta (GT): I started at a world-famous hotel in Canada called the Banff Springs Hotel [now part of Fairmont Hotels]. At the time, it was 113 years old. It had origins in the spa market as a geothermal hotel, and it was in dire need of some TLC and a renovation. So, I got to sink my teeth into a world-renowned location. Within 18 months, we were No. 2 in the world in Condé Nast, and the company loved it so much that we did six more. Those also became very, very successful, and I set my sights on more of a global [perspective]. I joined Hyatt in Chicago as its first global vice president for international and domestic, and I oversaw spas all over the world.
SI: You've had quite the experiences in 26 years, I'm sure.
GT: That was one of my things: I got No. 2 in Banff and I wanted No. 1. I got that in Goa, India, at the Park Hyatt Goa. We were awarded the best brand in the world in 2007 and 2008. Really, it was about bringing all the spas together under a much more common or unifying theme, which was called Hyatt Pure. That was an adventure. After that, I decided to do it on my own.
SI: What have been some of your most memorable moments in your >26 years?
GT: Every time I go to a different country, spa is a very primal form of health care. Whether it's Europe, India, Thailand, Japan or America, there are a lot of common denominators. The things that have always been the greatest experiences are when you're doing something in honor of a culture.
I've experienced something in every spa in every location from China to South America to here with Native American practices in New Mexico. It's just been a lot of fun, and they all shaped me. What I came away with was a respect. I've had a lot of spa directors that say, "I want to bring Ayurveda to Hawaii." And I would say, "No. Ayurveda should stay in India. We should bring Hawaii to our guests." That has really guided me. But if you do it, [such as] in an urban setting, do it right. Let's pay homage to the right techniques. Let's get the proper certifications and have the right people doing it.
SI: What are your proudest accomplishments?
GT: The proudest moment was when two of my spa directors became regional leaders in the hospitality industry.
SI: What have been some of your bumps and bruises along the way and what did you learn?
GT: I would say learning to trust instinct. I made a bad hire decision early on, and it was a good lesson for me. Yes, it was my choice, but I was going to stick it out to see if I could turn it around. One of my close co-workers said, "Look, here's what's going on. Nobody wants to work with that person. I know you made the choice, but you've got to learn from that mistake and deal with it quickly rather than prolonging it." Know when to cut losses. If something isn't working, don't stick it out and take the ship with you.
SI: What do you love about the spa industry?
GT: I think it's a fact that we are, and it is a mantra of the group that I'm working with now, people serving people. It truly is. I love technology, but the reality is when people come to see us at the spa, they don't come in on technology. The spa industry is still a people industry, a relationship industry, and we can't get away from that. It's always different, it's always evolving and that can be part of the frustration too. Managing people is not easy. Managing artists is even more difficult sometimes, but it can also be incredibly rewarding.
SI: What advice would you give to a new spa manager or director who is just starting out?
GT: Have an insatiable appetite to learn about customer service from all vantage points. Open up your vantage to everything that is best in class or inspires you and incorporate that.
SI: Where do you see the future of the spa industry?
GT: I think it's going to morph language-wise, because you have to attract and speak to our audience and new customers and our employees.
One of the most powerful forms of learning and training is electronic learning (e-learning). When combined with traditional forms of learning, it's 70% more effective, and few people in the spa industry have it. It's something big corporations and universities do, but our industry needs to look at it. Training is a necessity. It's not an elective thing, and I think that's part of the future.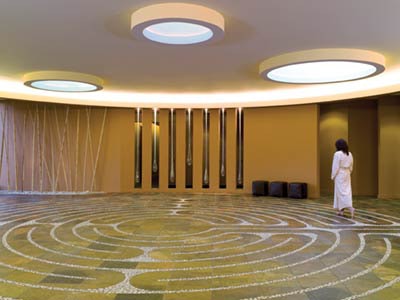 Photos courtesy of Marcus Hotels & Resorts
In the Evensong Spa at Heidel House Resort (Green Lake, WI), spa guests partake in the labyrinth ritual to relax and help them prepare for their service.
SI: Do you have a favorite spa?
GT: It's funny; it really depends. If I'm in Southeast Asia, I love the Grand Hyatt Bali. If I'm in Japan, it's a spa called Nagomi. If I'm in Europe, it's Friedrichsbad, a famous geothermal bath. In Canada, it's always going to be the Banff Springs Hotel because that was my first.
What I really like is when I'm in a spa that reflects the culture and the place. So if I'm in Hawaii, I want to have the opportunity to take in the ocean or the beach. If I'm in the Caribbean, [I want to be] close to the beautiful turquoise blue water. In Japan, I want to experience a Japanese onsen, which is their very traditional bath. So I've got a lot of favorites.
SI: I imagine it's hard to not work when you go to a spa on your own time.
GT: You can always learn something everywhere you go. The motor runs, there's no doubt. When I think of the massage or the facial, there's some critiquing. I've had hundreds if not thousands of services in some way, shape or form. We're in such an industry that it's very personal. It just really comes down to who's serving you and if they're aware beyond their own self. If they immerse themselves in the customer or the guests in front of them, then usually you do pretty well.
SI: Do you have any mentors in the industry?
GT: I have mentors from hospitality. Ted Kissane was the regional vice president for what's now Fairmont Hotels. He's the one that trusted me with the Banff Springs project. I was 21 years old asking for $11.8 million. You need somebody that's going to trust you. From developing the business plan from scratch to researching the globe and deciding what are we going to do in this facility, he really showed me how you express a business plan in a way that the board, the shareholders and the financiers will understand.