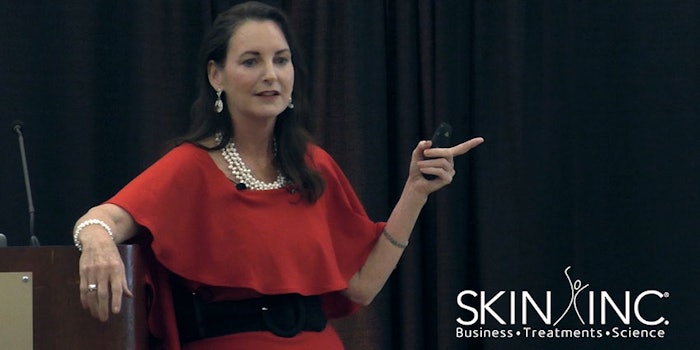 At Face & Body Southeast 2016, Alison O'Neil gave a keynote speech on the servant's heart and a spa professional's license to touch. As part of her presentation, she addressed the role of leadership and how a leader can foster their team and the individuals in it.
A Piece of the Pie

In this excerpt, O'Neil explains how great leadership functions. Instead of a rectangular table where the leader sits at the top, a great leader sits at a circle table among its team. A great leader is a piece of the pie, surrounded with people that have strengths where they have weaknesses.

Each of the skin care professionals will have thier own speciality. It is the job of a great leader to understand their staff's strengths and weaknesses  to best serve the client. 
A Servant's Heart

In the second-half of this clip, O'Neil introduces the concept of a servant's heart. She wore an apron to demonstrate this, but stressed that the intention to serve is important in the spa industry. The license to touch connects the spa professional with their client in a way that other professions can't. It is because of this that clients often open up to their spa professional.

"How many of you have had the experience of someone saying that I can't tell anyone else but you," she asked the crowd. "Older adults that are losing their spouses, family living far away or living in isolation, they need touch. That is what we do. We have a license to touch."