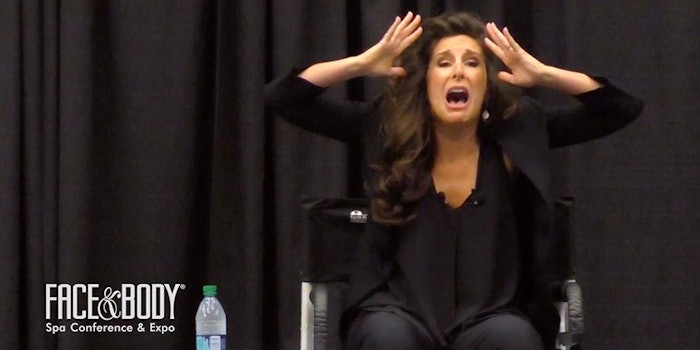 "Sorry if my coffee breath is killing you." … "I look in the mirror, and I see an old woman." … "I'm not a pretty woman."
These are real stories and real women who Eva DeVirgilis, Face and Body Northern California keynote speaker, has interacted with in her makeup chair over the past seven years. And, these women are probably some of the same clients whom attendees have also met.
"I discovered that deflecting a compliment is equal to deflecting love." Eva DeVirgilis
"I'm going to share with you the power, the privilege and the responsibility we have in our industry," said the award-winning actress and makeup artist during her presentation, In My Chair: Makeup Chair Conversations. "It's not just the services we provide…it's the energy. That's the love."
DeVirgilis shared a term called preemptive defense where you call out your pre-conceived flaws to another, apologizing for your looks. She read to attendees comments sent to her from women around the word who hate their appearances.
"Why do we we do it?" asked DeVirgilis. "Normative discontent is universal."
So, how can estheticians use their power, asked DeVirgilis. The keynote speaker shared a story about Maria, a client with Crohn's disease whose husband left her after 18 years. She did her hair and makeup, and helped Maria to improve her self-confidence. Maria came back in happy, and share that she was dating.
DeVirgilis said that each of the attendees had their own stories, and even brought someone on stage to share her own.
DeVirgilis encouraged estheticians to give their clients the space to feel better about themselves. Listen to them. Exchange the energy. Be able to take the compliment of that person sharing her information with you. "I discovered that deflecting a compliment is equal to deflecting love," she said.
"We have no idea how deep the discontent goes in the person we treat," DeVirgilis concluded. "Let us be kind and positive, and let every woman have the space to feel beautiful."