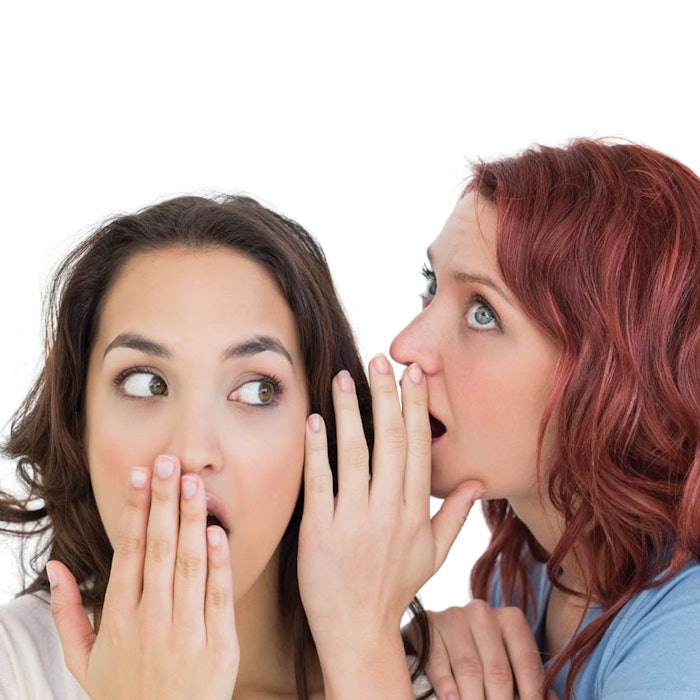 Sometimes, focus is taken away from the health and well-being of clients' skin when the esthetician overshares with the guest. This month, welcome the opportunity to re-evaluate what you share with #10things your clients do not want to know about you!
If your thought is, "I'm tired." Sharing how tired you are with your clients is selfish. Clients should be focused on enjoying the experience, not feeling bad for you.
 
If you are hungry. Tell your spa director if you don't have enough time to eat, not your client. Regardless of industry, service providers should not make guests feel bad or worry about them.
 
If you need to go to the restroom. Excuse yourself by saying, "Excuse me for a moment." No one wants to think about their esthetician or makeup artist going to the bathroom right before touching their face.
 
If you are experiencing financial issues. I once received a facial at a resort spa where the esthetician shared her financial problems with me. I felt pressured to buy the add-on service, and it was so uncomfortable. I never returned. Keep your personal information personal.
 
Oh, if treatment walls could talk! Skin care professionals have private information about clients that should never be shared with anyone else. Sharing information about one client with another shows that you are a gossip and not to be trusted.
 
If the spa owner is a jerk. If clients hear that the business owner or director is a bad manager, they won't want to return to the business—all employees are guilty by association. Speaking highly of your spa is good karma for everyone.
 
If you are annoyed with another team member. Gossiping about coworkers is unprofessional and unnecessarily introduces your client to spa drama. Follow the old rule—if you don't have something nice to say, don't say anything at all!
 
If the skin care facility is running low on supplies. Sharing with your clients about how the spa is low on products and other supplies will make the client feel as if they are not receiving the facial they requested, nor their money's worth.
 
If you believe the facials are too expensive. Finding value and believing in your service and retail costs is not only important for your business, it is important for your clients to trust and find value in you.
 
Don't share your life story. If at the end of the service, your client knows more about you than you know about them … you probably shared too much.