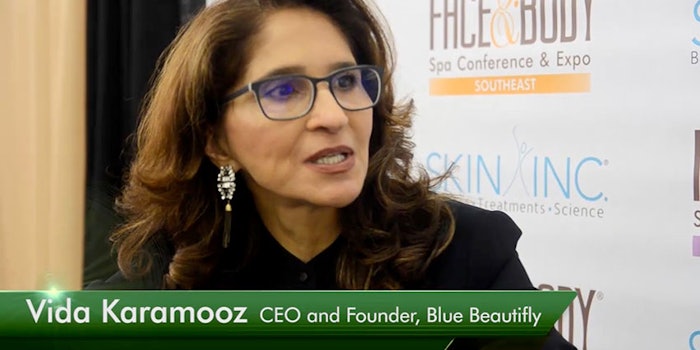 At Face & Body Northern California 2016, Skin Inc. caught up with Vida Karamooz, Ph.D., founder and CEO of Blue Beautifly, to learn more about Ayurveda and how it is incorporated into formulation of beauty products.
Ayurveda, of course, began in India nearly 5,000 years ago and utilizes herbs for maintaining health and vitality of the body. Formulating products based on Ayurvedic practices focuses on not only using specific herbs but also guides how they are processed.
Examples of some ingredients used in Ayurveda are gotu kola and ginger. These herbs are cooked in the oil, according to Karamooz, to ensure that the best nutritional value of the herbs is delivered. Karamooz noted that when you apply it, you are delivering 100% value of those herbs into your skin.
The products are also manufactured while singing mantras to create a bright atmosphere and project a positive energy of love and beauty into those products. "We believe that everything has a specific energy, so when we create a product, we make sure that we are very present," added Karamooz.
So, beyond adding Ayurvedic products into your spa, how can you incorporate this ancient practice of positive energy into your beauty space? Karamooz adds that estheticians should do a mantra, light a candle or burn incense to create a positive or healing energy for the clients.