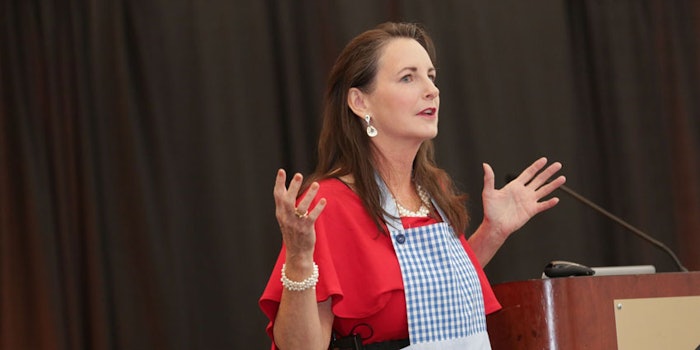 "Being licensed to touch people is a great honor," emphasized Beauty Becomes You founder Alison O'Neil in her keynote presentation at Face & Body Southeast's Advanced Education Conference. Matter of fact, that was what her presentation was all about—the power of estheticians and those in the spa industry to improve their client's lives through their work.
O'Neil began in a blue apron, which she wore to demonstrate "the servant's heart." According to O'Neil, the intention to serve is at the core of all successful esthetician. "We are in this industry because we love to help others," she added.
O'Neil began her career in 1979, when she was greatly involved in paramedical cosmetology. Though she continues to be involved in that field, her career has evolved to give rise to her new passion of elderly esthetics and the founding of Beauty Becomes You.
She had attendees hold out their arms with hands open, noting that if you have tension or stress, you have trouble doing so. To release this tension, she had attendees shake it to the ground to be able to open up to clients. She taught the crowd the "power pose," in which they held their arms all the way up with their hands open ready to receive energy and tackle the day.
O'Neil described some qualities that make an exceptional "servant" and esthetician. They were smiling, energy, positivity, gratitude, integrity, honesty and love. She added that before she goes in to treat clients, she says to herself, "Please give me the power to serve this person well."
"Your heart is next to their head," said O'Neil, who added that the client can feel your energy and love. "Think about what is going on in their life," added O'Neil. When someone says thank you, O'Neil added "say you're welcome with sincerity."
Specifically regarding seniors, O'Neil recommended knowing the difference between a care giver and a care taker. Whereas a care taker does everything for the senior, the care giver gives the senior the tools to take care of themself. She added that estheticians should act as a care giver and give seniors the power to make themselves feel beautiful. "Senior are just like you and me. They want to feel and look good, but they often have a lot of isolation."
She concluded by telling all the attendees, "You are going to leave here with the information and power to change lives. What we do is not about vanity, it is about identity. The secret is in the relationship."