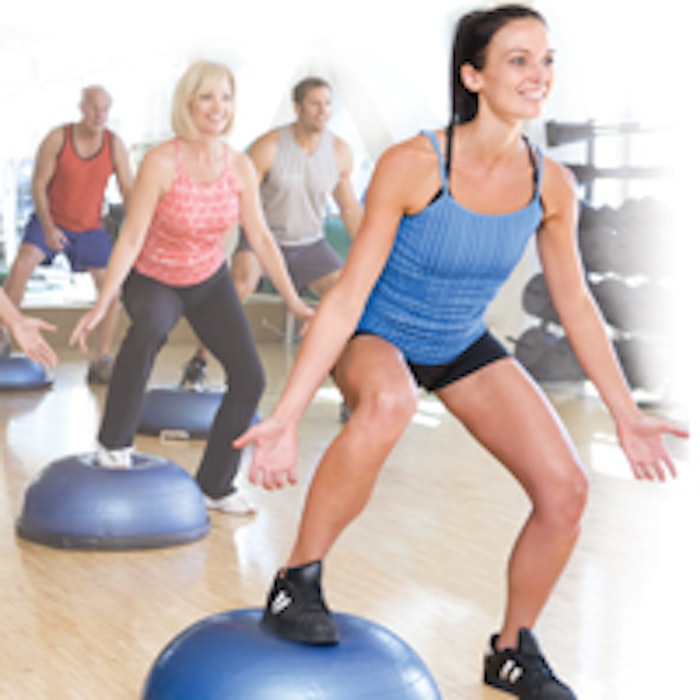 The recent economic climate has impacted consumers' spending habits, leaving populations young and old seeking more bang for their buck. Overall trends are expected to show a return to the basics in regard to fitness, with boot camps and energizing, calorie-burning group classes becoming popular in lieu of personal training. Classes and training that offer event- and sport-specific exercise bring together people with similar goals, which fills both social and fitness needs.
Wellness programs and fitness centers providing lifestyle-enhancing services for older populations will continue to be an important niche market. Although sales of fitness DVDs are declining, websites offering personal training programs, fitness videos and interactive exercise programming that allow members to chat and motivate each other are on the rise. New technology, such as exergaming products with reality courses for bikes and treadmills, and sophisticated, interactive fitness training and analysis tools are further revolutionizing the fitness landscape.
Savvy fitness consumers
Today's fitness consumers are far savvier and more discerning than those of years past. Although some gimmicks and fitness fads may arouse the attention of the media, today's consumer recognizes the health- and lifestyle-enhancing benefits of exercise, and chooses programs and products that address their unique concerns. With the integration of fitness and technology gaining popularity, and wellness initiatives intensifying at the government and corporate levels, 2010–2011 is anticipated to present a wide spectrum of fitness products and services for all age groups. From baby boomers to Generations X and Y, individuals engage in exercise for reasons as diverse as fun, stress-relief, camaraderie, relaxation, wellness and preventive medicine—and all expect their needs to be met.
Baby boomers. Although baby boomers as a group have lost considerable wealth due to declining stock market prices, pensions, 401(k) values and housing prices, reports from Club Business International magazine, a fitness industry business publication, show more than 75% of them embrace active lifestyles in pursuit of health and longevity. The baby boomers know money invested regularly in a health and fitness regimen can help prevent more costly medical expenses due to injury or illness in the future. According to Club Business International, baby boomers are expected to spend more than $72 billion on products and services to help slow the aging process. "Physicians are, at last, strongly recommending exercise to their patients," reports Bonnie Mattalian, president of the firm Club & Spa Synergy Group Consultants. "They have seen that medicine alone does not always work." This commitment to health has given rise to niche markets, namely gyms and fitness centers that tailor programming specifically to older populations who are typically overlooked by larger fitness clubs.
Fitness centers and products that offer wellness programs and fitness regimens as preventive medicine remain top choices for baby boomers and even older clients. Forty percent of baby boomers feel they are more fit now than they were in their 20s, according to Club Business International. Because of this, the challenge for fitness professionals is customizing workout routines and programs to challenge—but not overstress—this population. Many of the mind-body systems of exercise, such as yoga, Pilates and tai chi, provide relaxing, safe ways to increase range of motion, strengthen muscles and improve balance, and thus are expected to remain popular. Other goals for baby boomers and their elders include managing stress; cross-training for recreational activities, such as golf, tennis and swimming; and staying healthy and strong enough to play with grandchildren. Fitness products and services that can capitalize on the needs of this population with functional-training and stress-management programs stand to benefit in the coming years.
Both baby boomers and Generation X have come to view the spa industry as an essential part of a healthy regimen. With stress relief as the No. 1 goal, one out of every four adults has visited a spa and, on average, 1,600 new spas have opened each year since 1999, according to Merriman Curhan Ford's Fitness and Wellness Report, 2008. Spas today now offer fitness classes such as Pilates and yoga, as well as more traditional services, such as therapeutic massage for muscle fatigue and tightness, and body wraps and saunas for detoxification and rejuvenation. "Women and men of all ages always want to feel and look healthy, and feel and look younger, and spas will always fill that important need," says Mattalian. From new moms juggling kids and career, to 30-somethings training for a triathlon, the benefits of spa services will hold the interest of the more-than-35 crowd in the coming years, predicts Mattalian.
Generation X. For Generation X, the 2009 bias toward workouts that provide multiple benefits is expected to endure. Due to time constraints, financial limitations and a desire to take on new challenges later in life, group fitness programs, such as boot camp-style workouts, dance-based aerobics classes and training groups for triathlons, marathons, rock climbing and other more extreme sports are gaining popularity. Boot camp-style workouts topped the list of predicted fitness trends for 2008–2009, and given their overwhelming success coupled with the uncertain economic future, industry experts anticipate this trend will continue in 2011. With the recent explosion of dance-based television shows, group classes with dance themes such as Zumba*, ballroom and even cardio striptease appeal to clients' sense of fun—and their budgets.
Likewise, the Generation X crowd shows an interest in tackling fitness endeavors previously considered attainable only by elite athletes. Thus gyms, products and services that can address the training needs of this ambitious group through conditioning regimens, performance analysis tools or motivational programs stand to benefit in the coming year. The number of websites that maintain online communities for avid amateur athletes with similar interests to chat, exchange training tips and provide the accountability factor has soared. Similarly, there has been an increase in the number of computer applications—downloadable to cell phones and MP3 players, of course—offering comprehensive fitness and exercise analysis metrics far beyond the typical heart rate, calories burned and mileage completed. The technology available today to help consumers reach their fitness goals is unparalleled, and the Generation Xers are not afraid to learn how to use it.
Generation Y. Technological innovations are sculpting a new landscape for fitness, and the Generation Y crowd and younger lead the pack of eager users. Although video games were once maligned as a prominent factor in childhood obesity, exergaming uses the reality of video games to get people off the couch and moving. The introduction of games such as Dance Dance Revolution, Skywall, and snowboarding and surfing simulators into clubs has taken the negative connotation out of the word "exercise" and replaced it with the word "fun." More recent breakthroughs include an exercise bike that steers and shifts along virtual reality courses and allows for real-time racing with other users over an Internet connection. Even traditional weight lifting has taken advantage of new technology. For instance, Afterburner Fitness designed a remote control weight stack that uses patented technology to adjust the weight automatically during exercise, so as the user fatigues, the weight gradually lightens.
Ironically, according to Recreation Management magazine, studies reveal that the average age of an exergamer is 35, and women comprise a little more than 40% of the group. These statistics may include parents who are purchasing video game systems for their children to use at home and then using the games themselves. If this is the case, exergaming and the merger of fitness with technology casts a positive, hopeful light on the childhood obesity crisis facing the nation. The Generation Y crowd and its younger counterparts grew up inundated with technology and video games, and the companies that can capture the imagination of this group and mobilize them simultaneously are poised to excel in the coming years. Although a number of companies have been hesitant to invest in interactive websites or products with a real-life appeal, Mattalian insists, "Technology is the wave of the future."
Further exemplifying the potential of technology and fitness, the Internet presents a wide array of fitness services, giving consumers throughout the world access to fitness videos, exercise tips and weight-loss programs anytime, anywhere. From professional-grade fitness videos to customized personal training programs to weight-loss support groups led by experts, consumers can receive top-quality instruction and advice online at a fraction of the cost of visiting gyms or seeking counseling. Caution is necessary, however, as fitness on the Internet is not systematically regulated. Unqualified amateurs can produce and upload videos demonstrating faulty technique, and websites can post unsubstantiated advice, both of which increase the risk of injury or illness for those who never check in with a professional. Nevertheless, as with all industries, consumers will eventually determine the survival of the fittest, and professional sites with excellent content are expected to thrive in the coming years.
Corporate wellness programs
An expected rise in the number of corporate wellness programs coupled with much-anticipated government health care reforms could positively impact the fitness industry. From on-site fitness facilities to financial incentives for employees who complete certain health programs, corporate wellness programs encourage employees to improve their health and fitness. Research published in Corporate Wellness Magazine shows that companies with wellness plans not only save money on health care costs per employee, but also see improvements in other indicators, such as employee morale, health, productivity and absenteeism. The percentage of companies using financial incentives to promote their health and wellness programs rose to 71% in 2007 from 62% in 2006, according to Merriman Curhan Ford's Fitness and Wellness Report, 2008 .
Moreover, the same report found that every dollar a company invested in a wellness program yielded a $5.82 return. According to a 2007 report by the International Health and Racquet Sports Association (IHRSA), more than 50% of Americans would exercise more if their company provided an on-site facility or a health club membership. The proven success of existing wellness programs is expected to continue to encourage other companies to follow suit.
Health care reform
With the passing of the landmark health care bill in March 2010, the health and wellness industry can expect many changes. The details and full degree of the impact, however, remain unclear. According to reports on the health care bill, certain preventive measures will be covered by the year 2014.1 Depending on which measures are covered—a point that remains to be determined—health clubs and wellness providers could see their revenues increase if their client base is able to apply insurance toward preventive activities, such as gym memberships and mind/body fitness choices. Additionally, the Personal Health Investment Today Act of 2007 (PHIT) bill proposes employees be permitted to use pre-tax dollars to pay for fitness programs and exercise equipment through health savings accounts, such as flexible spending. PHIT continues to gain momentum in Congress, with 25 members of the House currently co-sponsoring the bill.2 The Strengthening Physical Education Act of 2007 addresses the importance of physical education in school curricula, and many states have proposed their own legislation to promote the same.
Unfortunately, predicting the impact of the health bill is impossible; however, history shows Americans do change their behavior according to government recommendations. Most recently, in 2002, the fitness industry experienced a 7.4% increase in health club memberships compared to 2001 after the surgeon general drew attention to the obesity epidemic, according to Merriman Curhan Ford's Fitness and Wellness Report, 2008. Since much of the population cites the expense of health club fees as the reason they quit a health club or never joined, the fitness and wellness industry can be expected to experience an unprecedented boost if the afore-mentioned bills do get passed. According to the IHRSA's 2007 study, four in 10 Americans already exercise two to three times a week, so the number of gym memberships or consumers purchasing fitness products and services for home use could increase significantly with government recommendations. Then, manufacturers of fitness products, and owners of clubs and wellness spas will be competing for the business of these health-inspired consumers.
*Zumba is a trade name of Zumba Fitness, LLC, Hollywood, CA.
REFERENCES
1. www.nytimes.com/interactive/2010/03/21/us/health-care-reform.html
2.www.afirmfitness.org/files/PUBLIC%20POLICY%20CONFERENCE%20CALL.pdf
(All accessed Jul 14, 2010)
Editor's note: This article was reprinted with permission from the Pierce Mattie Trend Report, Vol. III. All rights reserved.