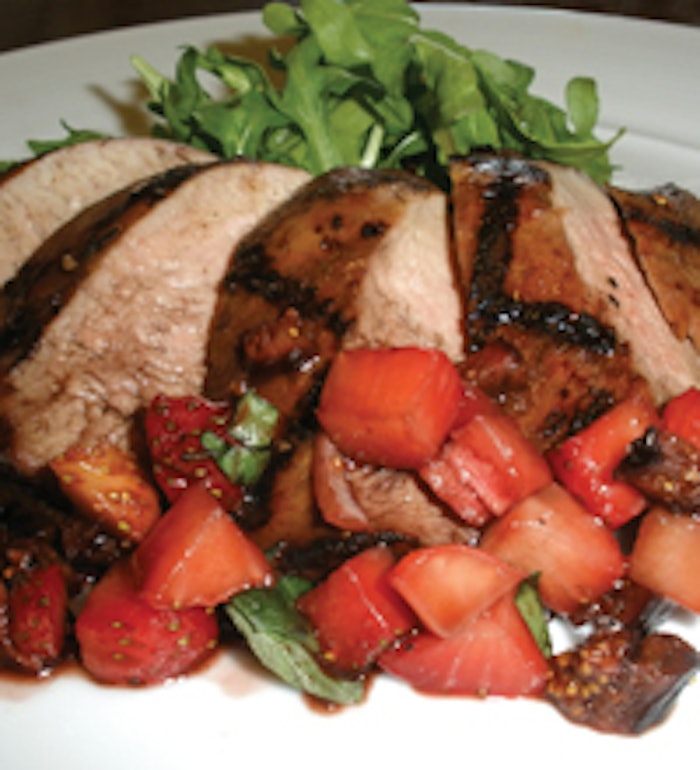 Makes four servings, 650 calories, 5 grams of fat
Ingredients:
1 tablespoon extra-virgin olive oil
¼ cup shallots, sliced
3 fluid ounces of port wine
2 tablespoons dried figs, chopped
2 ½ cups fresh strawberries, halved
1 cup and 2 tablespoons chicken broth
2 tablespoons balsamic vinegar
½ teaspoon salt
½ teaspoon freshly ground pepper
1 teaspoon cornstarch
1 ½ pounds skinless, boneless duck breasts
1 tablespoon fresh basil, chopped
Preparation:
1. Heat oil in a saucepan over medium heat; add shallots and cook until soft.
2. Add port wine and figs; simmer for one minute.
3. Add 1 ½ cups strawberries, 1 cup chicken broth, balsamic vinegar, ¼ teaspoon salt and pepper.
4. Continue to simmer until strawberries begin to soften, stirring occasionally. Strain solids from sauce and discard.
5. Return remaining sauce to saucepan and continue to simmer until approximately 1 cup remains.
6. Combine cornstarch and two tablespoons of cold chicken broth, and add to sauce mixture. Simmer until thickened, then remove from heat.
7. Preheat grill to medium and coat with oil.
8. Season the duck breast with remaining salt and pepper.
9. Mix one tablespoon of sauce with one tablespoon vinegar and baste duck.
10. Grill 4–9 minutes per side, until internal temperature is 150 degrees, basting twice.
11. Remove meat from grill and let rest five minutes.
12. Chop remaining strawberries, then slice duck and serve it with the sauce. Garnish it with strawberries and basil.