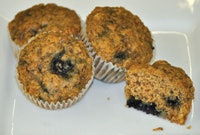 Makes 12 servings, 175 calories
Ingredients:
11⁄2 cup all-purpose flour
11⁄2 teaspoon baking soda
3⁄4 teaspoon salt
1⁄2 teaspoon cinnamon
5 Weetabix* cereal biscuits, crushed
2 tablespoons ground flaxseed
1⁄3 cup brown sugar
1 cup fat-free vanilla yogurt
1⁄2 cup skim milk
1⁄4 cup egg substitute or 1 egg
2 tablespoons canola oil
2 tablespoons applesauce
2 tablespoons honey
1 ripe banana, chopped into small pieces
1 cup frozen blueberries
Preparation:
1. Preheat oven to 375˚F.
2. Combine flour, baking soda, salt, cinnamon, Weetabix biscuits, flaxseed and brown sugar in a large mixing bowl.
3. In another mixing bowl, combine yogurt, milk, egg, canola oil, applesauce and honey.
4. Fold wet ingredients into dry ingredients with a spatula, being careful not to over mix.
5. Fold in banana pieces and frozen blueberries with a spatula.
6. Place batter in muffin tin.
7. Bake for 20 minutes, or until golden and a toothpick inserted into the middle of the muffin comes out clean.
* Weetabix is a trade name of Weetabix Food Co., Kettering, England