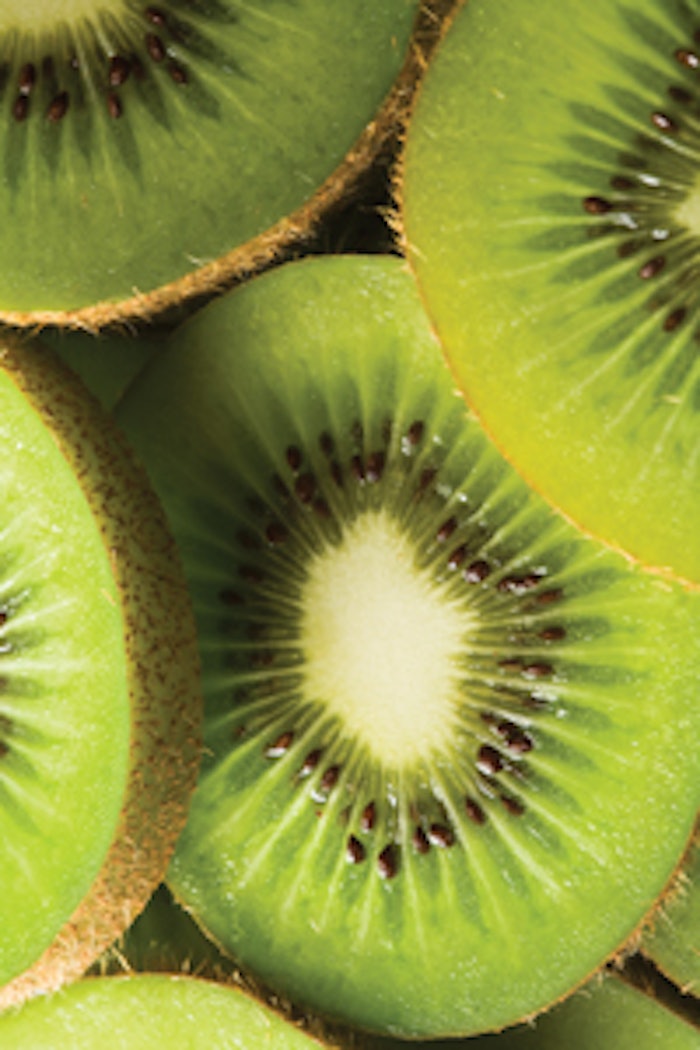 This brown, fuzzy, odd little fruit scared my kids when I first introduced it to them
It really does look like something from outer space, especially when you encounter it for the first time. However, my youngest and more adventurous taster decided to take the plunge and try the juicy green flesh one evening at dinner ... and loved it! And it's a good thing, too, because this small oval fruit packs an enormous nutritious punch, including flavonoid antioxidants, fiber, vitamins A, C and E, and potassium.1
In the kitchen
Along with being nutrient-rich, kiwi contains ascorbic acid that works as an astringent to neutralize bacteria and tighten pores,2 and its seeds and oil also have skin benefits. The emerald flesh of this creamy fruit includes a white core and is speckled with black seeds. When it isn't being included in recipes, it can be eaten alone either by cutting off the ends and peeling the skin or slicing it horizontally and using a spoon to scoop out the flesh; even the brown skin can be eaten for a higher vitamin C and fiber intake, just scrub of the fuzz off first.3 There are more than 40 varieties of kiwi, including the most popular Hayward variety and the rare golden variety.4, 5
With its striking appearance, unique, sweet taste and creamy consistency, this fruit is used by spa cuisine chefs throughout the globe in a variety of ways, including soups, desserts, salads and sauces, such as:
Ki-Lime Smoothie featuring kiwi and papaya—Marc Allan's Men's Grooming & Spa, Sydney, Nova Scotia, Canada;
Wild Sockeye Salmon topped with grapefruit and kiwi salsa—Halcyon Hot Springs Village & Spa, Arrow Lake, British Columbia, Canada;
Vermicelli in a Creamy Custard with Kiwi, Mango, Blueberries and Sunflower Seeds—Elemental Embrace Wellness Spa Retreat, Brighton, Ontario, Canada;
Kiwi Glazed Cheesecake—The Oaks at Ojai, Ojai, California;
and check out the recipe for Kiwi and Raspberry Salad—also from Chef Christine Denney, The Oaks at Ojai, Ojai, California.
In the spa
Along with being rich in free radical-fighting antioxidants, the kiwi's oil is rich in omega-3 alpha-lineolic acid, and its seed extract can help reduce fine lines and wrinkles if consumed in supplement form.1 Whole kiwi seeds are also often used as a natural exfoliator, and the fruit's astringent properties are often used in toners and acne formulations. It also has skin-brightening qualities. Spa treatments and products use the benefits of kiwi in everything from body treatments to nail services, including:
The Kiwi & Pomegranate Hydrator features a mask enriched with kiwi, palma rosa, vitamins and lavender essential oil—The Spa at Montchanin Village, Montchanin, Delaware;
The Kiwi Pineapple Body Wrap includes a body mask that leaves skin refreshed and smooth—The Spa at Rancho Bernardo Inn, San Diego;
The Wild Orchids Body Treatment uses kiwi, sarsaparilla and strawberry juices to exfoliate the skin—Brio Spa & Bodycare at the Mayan Palace Beach & Golf Resort, La Jolla De Cortes, Mexico;
The Kiwi Chill Pedicure teen treatment includes an aromatic foot bath—Waterfalls at Basin Harbor at Basin Harbor Club, Vergennes, Vermont;
The Kiwi-Coconut Salt Scrub uses kiwi for its skin-brightening properties—The Spa at The Breakers at The Breakers, Palm Beach, Florida;
The Spa Scrub and Glow features the exfoliating Kiwi Sugar and Salt Scrub—The Spa at The Glades, Robina, Queensland, Australia;
The Aromatic Satin Body Treatment includes a sugar-kiwi body scrub that features kiwi seeds—Envie Spa & Wellness, Calgary, Alberta, Canada;
The Organic Enzyme Facial uses kiwi, cranberry, pumpkin and chamomile enzymes—Kenwood Inn and Spa, Kenwood, California;
The Pink Malibu Paradise Spa Manicure & Pedicure blends kiwi, strawberry, raspberry, lemon-lime and sugarcane—Elegant Nail Spa, Brandon, Florida; and
The Kiwi Body Polish—Take a look at the step-by-step how-to from Sandava Spa at Hyatt Regency Clearwater Beach Resort and Spa, Clearwater Beach, Florida.
All the components of kiwi can be found in a variety of professional skin care products.
Innovative Body Science's Kiwi Body Buff uses kiwi seeds, jojoba beads and grape seeds to buff away dull skin cells.
Antiqua Prima's Frescare Raspberry-Kiwi Enzyme Mask refreshes, smooths and soothes normal to oily skin.
Darphin's Hydrating Kiwi Mask provides moisture for dry, parched skin, resulting in a more youthful look and feel.
Bioelements Active Astringent controls excess oil and helps unclog pores using kiwi to help prevent blemishes.
From Decleor Paris, Brightening Make Off Cream uses kiwi essential water to help remove makeup on the face and eyes.
Murad's Refreshing Cleanser removes surface impurities and makeup with the help of kiwi fruit extract.
A little bit different
A funky little fruit that appeals to all the senses, kiwi can add life and flavor to your cuisine offerings and your spa services. Give this colorful and nutritious curiosity a try the next time your spa needs something a bit different.
REFERENCES
1.www.CosmeticsandToiletries.com/research/techtransfer/38701807.html
2. www.todays-women-and-health.com/kiwi.html
3. www.whfoods.com/genpage.php?tname=foodspice&dbid=41
4. www.kiwifruit.org/about/faqs.aspx
5. www.kiwi-fruit.info/kiwi-fruit/Yellow+Kiwi+Fruit
6. www.kiwifruit.org/about/history.aspx
(All accessed May 11, 2010)
Access more low-cal luscious recipes for Kiwi-glazed Cheesecake and Kiwi and Strawberry Smoothie, both from Chef Denney of The Oaks at Ojai.