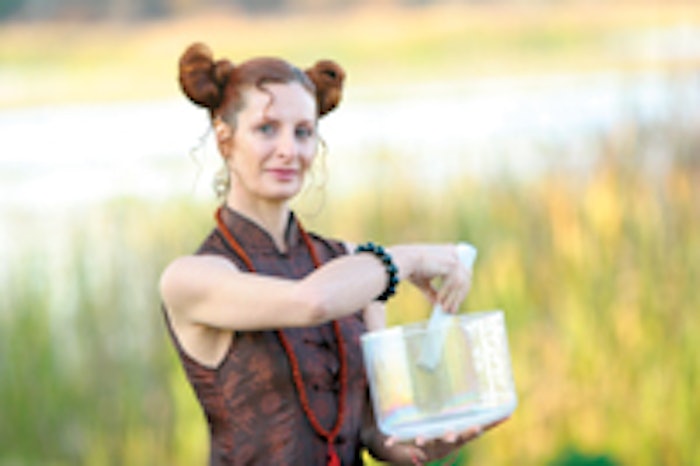 Like everyone, you have a favorite song you like to listen to when unwinding from a stressful day. It may be a special mixture of notes, harmonies and rhythms combined with a good beat that can help transport you from a sour mood or simply one that has you tapping your toes. Either way, music is something that can remove people from their worries, and that aspect has long been taken advantage of in spas.
However, music can provide additional benefits in the spa environment, as well. "Many people think music just comes in through the ears and that you are affected only by hearing it," says Eluv, a musician, sound-healing spa consultant and qi gong practitioner in Tampa, Florida. "Actually, sound can potentially affect you on a cellular level, right down to the DNA, so in essence, sound and music are actually both heard and felt throughout the entire body." Carol Revak, an acupuncture and vibrational sound-healing practitioner at Canyon Ranch in Tucson, Arizona, echoes that statement, saying, "Deepak Chopra said the body is held together by sound, and the appearance of disease can mean the body is out of tune. Sound therapy is really a complement to healing spa experiences because it can reach the body at a very deep level."
Even spas that aren't looking to incorporate sound therapy treatments into their menus can benefit from some good musical implementations. "The intent of music in the spa is to bring grace, beauty, balance and harmony into your client's whole being," says Eluv. "Healing sounds and music can be catalysts to help bring people back into balance."
Mood music
Whether a person's preference is for swinging jazz or pop rock, classical or reggae, music has the ability to set a distinct mood in any environment, and one area in which it can create the most impact can be in a spa. In fact, SpaDelic, an Atlanta spa currently searching for a new location in the Buckhead/Midtown area of the city, uses music as one of its client hooks with an in-spa musical rotation that includes artists such as The Who and Joni Mitchell. Owner Kelly Kirby notes that a client's motivation for making an appointment at the spa can really factor into what kind of music is selected. "If someone is coming in to get ready for an event, they're excited and want to get geared up. It's possible they'll want something fun, such as Michael Jackson—some party music, to help keep the energy going," she explains.
Although many spas opt for soothing sounds to help clients relax during treatments, others have found a variety of musical options can benefit them. In addition to its eclectic song choices, SpaDelic also features an artist of the month in its treatment rooms. "If clients don't have a preference about the music that is playing, we put on the artist of the month," Kirby explains. "We had one—Priscilla Ahn—that people really connected with, and they would come back in and request her music or other music they'd be exposed to here."
To discover new musicians for the artist of the month, Kirby accompanies her daughter to concerts, as well as keeps an eye on Internet sites that promote artists who aren't as well-known. Also, once a month, SpaDelic holds a contest to bring one of its clients to a local concert, which has proved to be quite popular. "Music is a really big part of who I am," Kirby notes, and it is for this reason that she makes sure music plays a considerable role in her spa.
And besides providing a distinct identity, music can also help shape a spa's image. When creating treatments for the Eurasia Spa at the Scottsdale Resort & Athletic Club in Scottsdale, Arizona, spa owner and director of marketing Rebecca Hing looked to combine Eastern and Western sensibilities, and with many of the services featuring Asian techniques, she discovered an element of music could add a distinctly Western aspect. "We start all of our treatments by ringing a Soleri bell, which are bronze and ceramic wind bells from Arcosanti, an experimental town in Arizona centered on ecology and the environment that was developed by Paolo Soleri, an artist and architect," she explains. "The bells represent a Southwestern element in the treatments, and we selected a specific Soleri bell for Eurasia Spa. It has a special tonal quality that can relax, center and help align chakras."
The addition of the bells has created quite a response. Particularly used in its Sound of Peaceful Healing treatment, where the spa therapist rings the Soleri bell at the beginning of and during the service, the spa has found clients coming back for this offering again and again. "Clients love it because it's a little bit different," Hing says. "It can sometimes take people a while to leave the room because they are so super relaxed afterward."
"Doing a sound session before starting a spa treatment helps clients move into an enhanced physical state of deep relaxation," Eluv explains. "The treatment can be all the more effective if clients are already in a fully relaxed space. The body is naturally more responsive when it is relaxed."
More than a feeling
Now, the music you've worked hard to select doesn't have to just fade into the background once you've incorporated it into your spa. "Music and sound are details that can be used as tools in the spa, whether during a stand-alone service or incorporated as part of a treatment," says Eluv, and making music an integral part of your treatments is a great way to help ensure relaxation, utilize its health benefits and put your own unique touch on skin care services. The best part is, there are endless ways you can introduce musical treatment elements.
At Canyon Ranch, the musical offering Acutonics is featured, a form of vibrational sound therapy that uses an array of tuning forks applied to the body. Practitioner Revak describes the service as, "A good treatment for relieving stress, reducing pain and aiding sleep. It can vary depending on what the client is seeking. We take a medical history before we start, and also talk with clients about their expectations for the service. Then we use the proper tuning forks applied on the appropriate acupuncture points to treat the body. We also use Tibetan bowls, bells and gongs to enhance the effects.
"Vibrational sound therapy has its roots in cosmic harmonies," Revak continues. "If a person is agitated, the practitioner will channel the harmonics of the moon, because when you think about the moon, you think of calming nighttime, things more feminine and watery, which is perfect to bring an agitated person into balance. If a person is feeling fatigued, the practitioner will channel the harmonic vibration of the sun, because it brings vibrancy, warmth and energy, which helps energize the fatigued person."
Canyon Ranch also offers a reflexology treatment at its Miami Beach, Florida, location incorporating music, and its Sound & Harmony treatment in Tucson pairs music and nature sounds to help inspire creativity, relaxation or sleep, depending on the clients' sound selections.
Additionally, spa equipment can also be brought into the music mix, and not just through speakers and CD players. Canyon Ranch's Mindlink Couples Relaxation Therapy is a side-by-side massage performed on sound tables. Those tables are also used for a variety of treatments at Ciel Spa at SLS Hotel in Beverly Hills, California. There, they are used to help clients receive all the advantages of musical spa accompaniment. "The tables have speakers inside them so the clients can feel the vibrations of the music during the treatment," explains spa director Mark Bodnar. "They also wear headphones, so they hear and feel it at the same time.
"It's nice to stimulate more than one sense through the music, to get it really involved in the service," Bodnar continues. "It's so relaxing for the body, and it's not only the therapist's hands doing the treatment, but also the table."
Eluv also notes sound-infused treatments can work inside the body while the therapist works on the outside. "The vibration from the sound and music is an internal massage that can affect every organ, muscle, pore and cell in the body. Practitioners can describe it to clients by explaining that while their hands are providing the external massage, the music and sound is providing a similar treatment internally," she says.
It is really that type of intense, full-body relaxation that music can help spas provide. "When people are stressed out, their breathing isn't as deep and oxygen intake subsequently is lower. Music can help facilitate a more relaxed state where the breath becomes deeper," says Eluv. "And anytime you get more oxygen into the body, you're going to see positive results. For example, in the skin you may notice a rosier complexion and a more even skin tone with improved circulation—clients literally become radiant from the inside out."
Getting personal
One of the easiest and best ways to add music to a spa, however, is to turn to your clients. Kirby notes that she has spent many hours on a treatment table as a client and explains, "If I really want to relax, I want to listen to my own music. Every person has something different that helps them relax when it comes to music—whether it is ocean sounds, or Norah Jones and Ray LaMontagne—and in the spa, it's really about what the clients want, what they choose."
And with the pervasiveness of small, handheld MP3 players, clients are often carrying around their ideal spa soundtrack in their pockets or purses. Adding the perfect musical element to a treatment can be as simple as giving your clients an outlet with which to listen to their music of choice, and to that end, many spas have started including MP3 player docking stations in treatment rooms, sometimes along with remote controls so clients can have complete power of the music in the room.
"It's something that really helps customize the experience for the clients," Bodnar says. "It's taking spa and treatment customization to the next level." Clients at Ciel Spa can even plug their MP3 players into the spa's sound table, bringing their own music selections into the actual treatment for an ultimate customization experience.
Even if you are unable to install docking devices or other equipment for your clients' use, you can provide different music choices so they can choose a selection they find to be soothing. "Ask people what they like; allow them to choose something they enjoy," Eluv says. "It's always wise to have enough of a variety of music on hand so clients can choose something that can help them fully relax. Because if they can clear stress from their bodies—through music or otherwise—it helps them to rejuvenate."
Take-home options
One of the greatest aspects of music in the spa is its ability to transcend the location. By retailing CDs and other musical offerings in your business, you help clients take the spa home with them.
"Music can help inspire feelings of relaxation and balance outside the spa, and hearing those tones or that music again can reawaken the relaxation the client felt during the treatment," Eluv explains. "It's a great way to introduce clients to a whole new aspect of beneficial retail products. Clients sense and appreciate when you are coming from a holistic place of integrity with retail and aren't just selling for the sake of the sale. Music, sound healing, guided meditations, singing bowls and other sound tools are all retail items that can easily transfer into a sale once clients have experienced the benefits of a sound session firsthand."
For example, Eurasia Spa offers Soleri bells and CDs featuring Soleri bell music, which help clients associate feelings of rejuvenation not just with a specific treatment, but also with the spa overall. Linking the spa with those feelings—even on the subliminal level that music can often evoke—helps bring clients back to the spa.
Another important retail aspect to note is the ease of retailing music. CDs and other musical offerings are typically items people are familiar with, so there is no need for complicated instructions or extravagant costs. Musical retail items also make great gift options because CDs and small instruments can appeal to a variety of different people who often listen to music on a daily basis, making them more likely to use the product—and potentially come back to purchase more.
Moving with the music
Creating a unique musical atmosphere can be a great investment for a smart spa business. "Music is such a huge part of the spa, such an integral part of the experience, it's a really nice extra to use it to customize a treatment," says Bodnar. And Revak notes, "We live in world where energy, sound and vibrational therapy are beginning to gain more and more acceptance every day, with more people seeing how they can aid in restoring health and well-being. Sound has been used to heal since ancient times and it can reach the cellular level. It can bring a transformation of mind, body and spirit, and that keeps clients coming back for more. Sound as medicine is most definitely a future forward-looking therapy for the spa."
In order to help keep your spa on the forefront, consider what music and sound therapies your spa offers, as well as how to incorporate them more thoroughly into your treatments and retail options.
Playing a special "alchemy" singing crystal bowl made with platinum, musician, sound-healing spa consultant and qi gong practitioner Eluv encourages stress relief and calmness through sound and music.