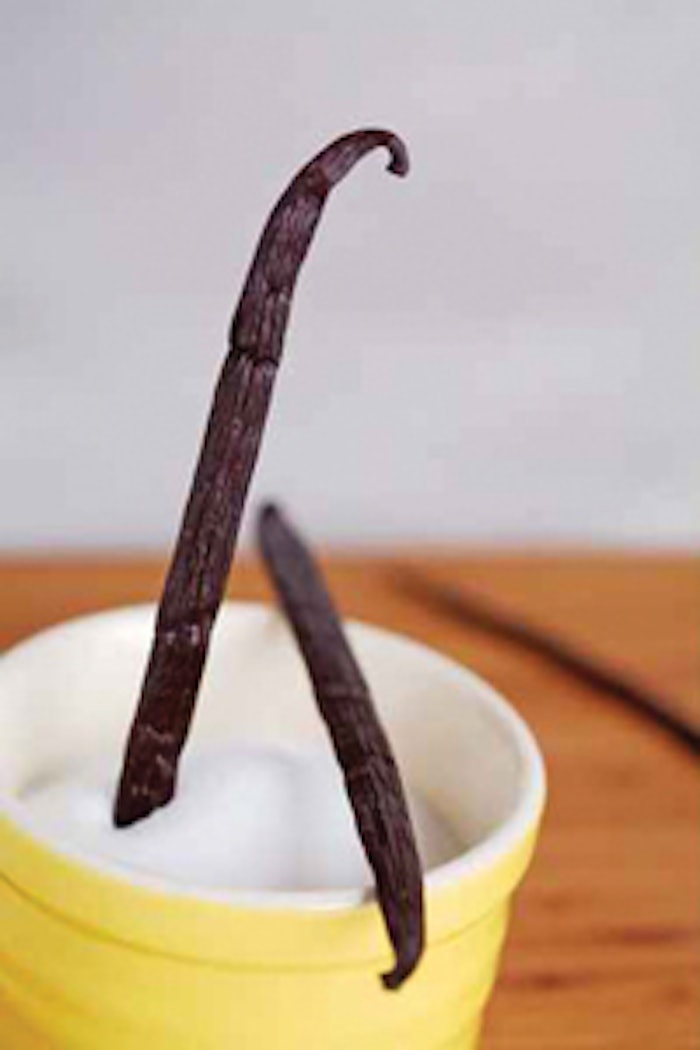 Vanilla's flavor and fragrance are so pervasive throughout American life, it is often assumed to be a common, easily grown ingredient. However, that assumption couldn't be further from the truth. The vanilla bean is the second most expensive spice in the world, second only to saffron, and it is so pricy because it is so difficult and time-consuming to grow and ferment.
Vanilla actually is produced by an orchid (Vanilla planifolia) native only to Central America—the only orchid of approximately 20,000 varieties that bears anything edible. In order to produce the vanilla bean, the orchid needs to be pollinated by stingless Melipona bees, also only found in Central America, and the orchid flower only opens for less than a day. If not pollinated during that time, the flower will fall off and no vanilla beans will be produced.1
Because of this complicated process, hand pollination must be used to produce vanilla commercially. After being pollinated, the flowers develop thin green pods, or beans, that are picked before they are ripe and are then fermented by a process that can last as long as six months. The beans become a dark brown color and develop vanillin, a white crystalline substance on the outside of the pods that provides its flavor and aroma. At this point, they are aged to bring out their full flavor, which can take up to two years.1 This common flavor is not so common at all.
In the kitchen
Vanilla is sold as extract and essence, beans, powdered and vanilla sugar, although the extract is the most popular way the flavor is used in pastries, confections and other desserts, as well as dressings and entrees. When buying whole beans, which are perfect for use in custards, milks, creams and syrups, look for those that are shiny, black, tender, plump and moist.1
Spa cuisine chefs use vanilla's unique, delicate flavor to enhance many dishes, including the following:
Chai Cooler Smoothie—Kohler Waters Spa, Kohler, Wisconsin;
Honey Vanilla Cheesecake—Green Valley Spa, St. George, Utah;
Strawberry Vichyssoise, a light strawberry soup made with homemade vanilla extract, orange juice, strawberries and yogurt—One Eighty Wellness Spa, Auburn, Alabama;
Réglisse Panacotta, made with vanilla, citrus segments and olive oil—The Spa at Mandarin Oriental, Boston; and
Lobster Salad With Grilled Peaches and Champagne Vanilla Bean Vinaigrette—See the recipe from Chef Anthony Cole of The Spa at Chatham Bars Inn, Chatham, Massachusetts.
In the spa
The major benefit of vanilla in the spa is its incredible aromatherapeutic properties, which help strengthen the stress-reduction response, according to Rebecca James Gadberry, ingredient guru and author of the article "Consoling Stressed Skin" (Skin Inc. magazine, July 2009). "It has been found to physically reduce symptoms of stress, most likely due to its effects on the sympathetic or parasympathetic nervous systems that underscore the stress response," she writes in the article.2
Interestingly, in 2006, Chanel launched Sublimage Essential Regenerating Cream featuring the key ingredient of planifolia PFA, which is extracted from V. planifolia in Madagascar, and it was chosen because of the moisturizing and anti-aging benefits of its polyketones.3
Of course, vanilla's spa benefits haven't been overlooked in the following treatments, either:
The Vanilla Coffee Scrub is a body latte that stimulates while firming and hydrating—The Spa at Four Seasons Hotel Atlanta;
The Vanilla and Orange Body Scrub is a sugar scrub using pure vanilla extract, pure orange essential oil and fresh orange zest that refreshes and exfoliates—Waters Spa at Lake Morey Resort, Fairlee, Vermont;
Eurasia's Velvet Reprieve is a body treatment that combines fresh vanilla, fresh coconut and herbal extracts to soften skin—Eurasia Spa, Scottsdale, Arizona;
The Pure Renewal Body Treatment begins with an exfoliating scrub of vanilla and gardenia blended with fresh coconut—Wellness Center at Stowe Mountain Lodge, Stowe, Vermont;
The Hawaii Clay and Vanilla Facial Ritual features indigenous Hawaiian vanilla to nurture, pamper, detoxify and purify—Moana Lani Spa, Moana Surfrider, A Westin Resort and Spa, Honolulu; and
The Pure Vanilla Pedicure is a hydrating, aromatherapeutic experience for clients—See the step-by-step how-to from The Spa at Tubac Golf Resort, Tubac, Arizona.
Professional skin care products also take advantage of vanilla for its moisturizing and sensory benefits:
LaLicious' Brown Sugar and Vanilla Sugar Soufflé exfoliates, moisturizes and protects skin.
Bella Lucce's Arabian Odyssey Collection features ingredients indigenous to the Middle East, including vanilla bean fibers and Turkish coffee.
Good Fortune's Faucet Soaps are eco-friendly and available in a variety of scents, including Vanilla Lavender Cinnamon Patchouli.
Éminence Organic Skin Care's Tropical Vanilla Sun Cream SPF 32 hydrates, protects and revitalizes skin.
Ordinary, yet exotic
Vanilla turns out to be one of those items that seems commonplace, but is, in fact, extraordinarily exotic. And isn't that the mission of many spas around the country, to stand out as exotic locations in ordinary towns; to provide an escape from your clients' worries and become the place they rely on for wellness and relaxation? Maybe your spa's mission can relate to this unique bean, and most certainly, your clients' spa goals can be met with the help of it, as well.
REFERENCES
1. www.joyofbaking.com/vanilla.html
2. www.SkinInc.com/skinscience/physiology/49450377.html
3. www.CosmeticsandToiletries.com/research/methodsprocesses/3563222.html
4. www.theepicentre.com/spices/vanilla.html
5. www.nielsenmassey.com/historyofvanilla.htm
6. www.nielsenmassey.com/vanillafunfacts.htm
(All accessed Sept 1, 2009)