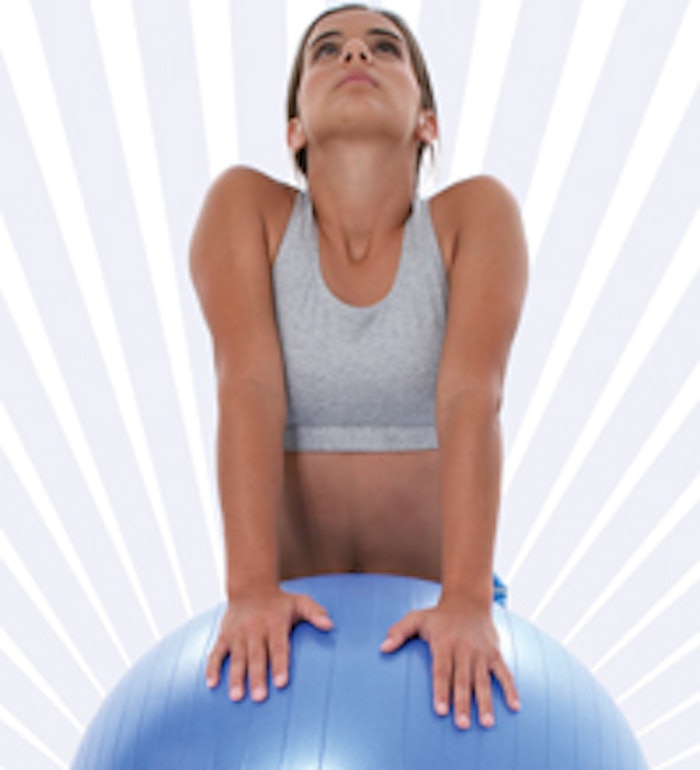 As Americans endure more stresses as part of everyday lives, the popularity of spas continues to rise. But these days, clients are looking for more than just a traditional facial to complete their spa experience.
Many spas are offering overall wellness and lifestyle classes to provide a well-rounded experience for their clients, and one of the most important elements of the spa experience to emerge recently is fitness. From Pilates and yoga to a blend of nontraditional relaxation classes, spas are incorporating fitness elements of all types to cater to their various clients, with offerings for everyone—from baby boomers to Gen Xers and even teenagers.
Popular programs
According to a 2007 spa industry report by the International SPA Association (ISPA), 13% of spas are now offering fitness or sports programs of some type. The study reported the most popular service to be personal training, followed by cardio fitness and free weights. And of those spas that have fitness programs, 17% offer exercise programs for children under the age of 18.
A focused effort is really the target of most spa programs, however. More spas are zeroing in on catering to the needs and desires of their clients, many of whom are concerned with overall body wellness and healthy lifestyles. Mingling traditional relaxation programs and fitness classes can help fuse the spa experience together, with clients coming in to take a yoga or meditation class for fitness and then staying to experience total relaxation with a massage or other stress-relieving treatment. And with so many options, spa-goers are bound to find something that appeals to both their body and mind.
Play to your strengths
At Spa Gregorie's, which has locations in Rancho Santa Margarita and Newport Beach, California, clients often come in for treatments and stay for one of the spa's seasonal fitness classes, such as guided meditation or yoga on the beach. The spa began offering the classes as a way to reach clients on a new level, and many other spas are also adding a wealth of opportunities to aid in weight loss and body consciousness.
For example, The Lodge at Woodloch, a destination spa in Hawley, Pennsylvania, recently expanded its fitness offerings for guests in their 40s, 50s and 60s, as well as those who are just getting back into a fitness routine. One program introduced to help kick-start the offerings is chair yoga, an ideal way for less flexible individuals to ease into yoga while still reaping its benefits.
For calorie-burning fitness, The Lodge offers fun and unique activities that are more high energy and innovative. These classes include a variety of dance offerings; hula hooping; Drums Alive, a class combining aerobic dance with drum rhythms; and Geocaching, a high-tech hunt for hidden treasure with assistance from Lodge guides and a GPS, providing an interesting way to learn about navigation and overland travel while also getting exercise.
That's one of the most wonderful features of exercise programs—their variety and adaptability. From hiking to swimming, aerobics to yoga, martial arts to meditation, fitness offerings can be designed to maximize your spa's greatest strengths. Whether you have an esthetician who was formerly a dance instructor or a location near scenic hiking trails, you can use the elements you already have to your advantage, and then go from there.
A total connection
Exhale Spa, a spa chain with nine locations in major cities across the United States, offers treatments that aid both the mind and body, and a crucial component of those offerings is fitness. "Mind-body classes were a key factor in the concept of our brand from the very beginning, as we offer clients a journey to better their outer and inner well-being under one roof," says Stacy Levy, spa director of Exhale Spa's Chicago location. "Classes such as Core Fusion and Yoga help to shift energy and improve overall well-being, which is needed these days in times of such uncertainty and anxiety."
And despite the current economy, many spas are finding their clients need fitness time more than ever. In fact, Levy says the economy has not hurt their fitness classes in the least. "The program has continued to grow despite the economic downturn. People understand the necessity to keep their bodies and minds healthy in troubled times, and Exhale's mind-body classes offer the opportunity to do both," she explains.
It helps that Exhale offers classes for a wide range of individuals, from teens to baby boomers and everyone in between. "Participants in our classes are of all ages, shapes and sizes; really, we cater to anyone who is looking to enhance their overall well-being and life," Levy says.
Built-in value
Other spas also agree the economy does not seem to be hurting all aspects of their business. Instead, clients are just looking for true value in their spa experience. "In this economy, people want something that is affordable and a service that makes them feel good all around," says Jim LeSage, director of New Life Hiking Spa in Killington, Vermont. His spa is a fitness camp featuring a variety of classes—everything from yoga and hiking to tai chi—accompanied by spa treatments.
"What we think people are looking for is value for their money," LeSage says. "What we have is an excellent, balanced program of stretching, strengthening and cardio." LeSage notes that unlike prior spa experiences where clients wanted an over-the-top experience, they're now looking for simplicity and balance instead. "Fluff is out," he explains, marking perhaps one of the most important reasons why spas with fitness components are gaining in popularity.
In that regard, turning to fitness offerings can really invigorate a spa that may not have a lot of room in the budget for that caviar facial or hydrotherapy tub, but can benefit from a yoga or cardio fitness class. Even if none of these exercise programs seem to fit your own business, there are plenty more you can offer clients, allowing them to find something to cleanse their mind and challenge their fitness levels at a price point they can afford, bringing about a complete spa experience.