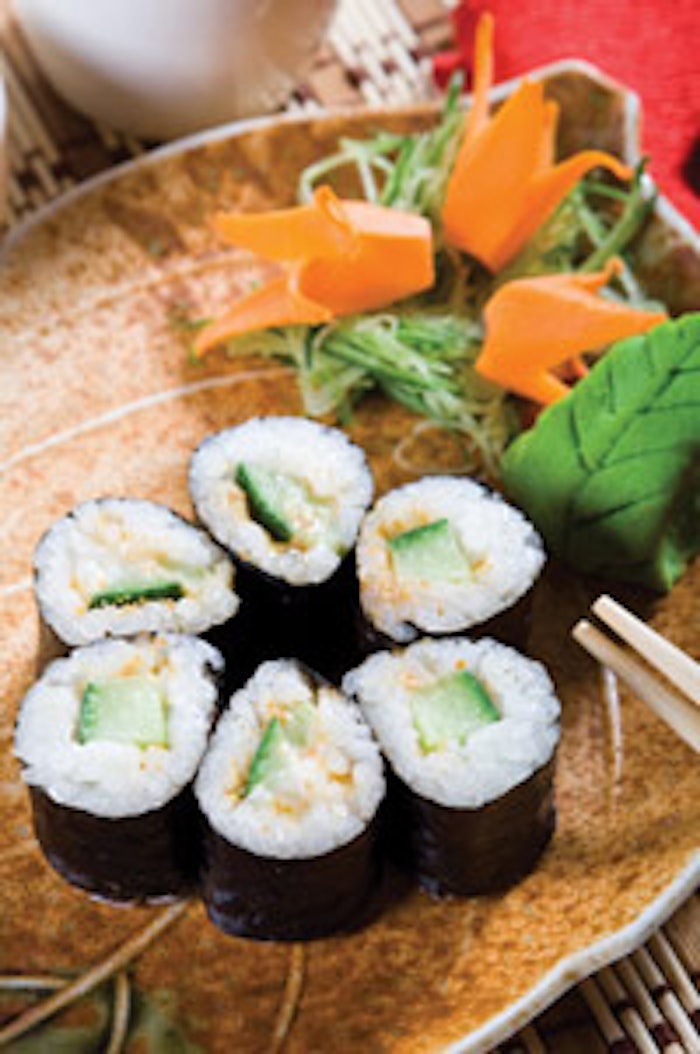 Back in the early 1990s, McDonald's released its answer to health-concious alternatives with the McLean Deluxe hamburger, and almost as quickly as it was released, it was scorned, primarily because of its main ingredient—carrageenan, a seaweed extract that worked to bind water to lean beef for a more moist patty. Boy oh boy, did that shake things up. I remember riding in the backseat of my family's bright blue Chevy Astro van with my brother making loud and obnoxious fun of our mom when she decided to sample the new sandwich at the drive-thru one day. I also remember the dismay when she declared that it was "not too bad."
How could that be? How could that slimy stuff that got caught in your bathing suit when swimming in the ocean be not only edible, but also tasty? Thankfully, unlike the McLean, which was discontinued, my sensibilities have evolved, and I have come to enjoy seaweed, whether it is the splash of color in my miso soup, the structure that embraces my tuna roll or the ingredient that makes my skin cream work like a charm.
In the kitchen
There are many varieties of seaweed, as it is a term encompassing numerous types of marine algae and plants. It can be red, green or brown, and it generally is anchored at the bottom of the sea or to solid structures by rootlike holdfasts.1
Seaweed is also an important food source in many Asian cultures. Japanese cuisine uses multiple types, including kombu in soup stock; wakame in miso soup and sunomono salads; and nori, which are seaweed sheets most often used in sushi.2, 3 Carrageen, or Irish moss, is used commercially due to its high gelatin content, and agar is obtained from a red algae and is a vegetable gelatin.2, 4 Many seaweeds also provide agininc acid, which is used as a stabilizer and thickener in a wide variety of commercially processed foods, such as ice creams, puddings, pie fillings and syrups,2 and they also provide strong antioxidants, vitamins A, C, D, E, K and folic acid.
As one of the foods commonly attached to spa cuisine, seaweed's use is widespread in entrees and soups. At Chuan Spa in Hong Kong, China, one of the chef's specialties is the Poached Lobster on Three-bean Salad with Shredded Seaweed; and The Maya Ubud Resort and Spa in Indonesia offers Chilled Tofu on Seaweed and Spring Onions, Fiery Tomato and Avocado Potage with Balsamic Soya. The Moreton Rock Oysters Natural at The Thai Foot Spa in Brisbane, Australia, can be enjoyed with a Wakame Seaweed Salad, Wasabi Roe and Ginger Soy; and at the distinguished Plaza Athénée Paris in Paris, home of the Dior Institut, guests can enjoy the Scallop and Caviar Salad with Seaweed and Tart Mango Marinade. Also, try the recipe for the Ahi Bento Box from Chef John Cox of El Monte Sagrado Living Resort & Spa in Taos, New Mexico.
In the spa
Seaweed draws a wealth of mineral, macro and trace elements from the sea, as well as amino and fatty acids. For skin, it soothes, moisturizes, helps fight aging, offers anticellulite properties, improves suppleness and elasticity, cleanses and tones.5 It also can serve as an effective treatment for conditions such as psoriasis, eczema, dermatits and acne.6
At the Bella Pelle Beautiful Skin Medical Spa in Encinitas, California, clients can choose the Seaweed Detoxification Treatment, which stimulates and detoxifies, allowing for deep penetration of the trace elements, vitamins and amino acids in the seaweed and sea water components. The Age Defying Seaweed Wrap at Viva Day Spa in Austin, Texas, hydrates, tones and reduces fine lines while helping diminish cellulite; and the Seaweed Body Wrap is a component of The Fountain Journey from The Fountain European Spa in Hackensack, New Jersey. The Desert Heat Body Wrap from Buhl Mansion Guesthouse & Spa in Sharon, Pennsylvania, combines red seaweed and desert mud to help reduce fatigue and stress; and check out the step-by-step how-to recipe for the Seaweed Rejuvenation Facial from Spa Shiki at the Lodge of Four Seasons in Lake Ozark, Missouri, to help renew your client's complexion.
Skin care products contain a variety of different seaweed as well, subscribing to its multitude of benefits. Thalgo La Beauté Marine's Ocea Skin Moisturising Supplements combine omega-3 and -6, vitamin E and Odontella aurita algae to help skin lacking in vitality and moisture; and most of Repêchage's product line includes seaweed, such as its Perfecting Concealer, which conceals imperfections while helping to reduce puffiness under the eyes. Esente's Red Volcanic Seaweed Complex for traumatized skin helps provide cellular energy and combats oxidation and free radical damage, and SeaFlora Wild Organic Seaweed Skincare from Outer Coast Seaweeds is created from 12 different types of seaweed.
Just the right time
Even if McDonald's was before its time with the McLean, it did take a small step in introducing the American public to this little-respected algae. This plant powerhouse is a must-have for your spa treatments and cuisine, and if you feel unsure, go ahead and try something new. Perhaps it is just the right time to make a splash.
References
1. www.britannica.com/EBchecked/topic/531166/seaweed
2. ST Herbst and R Herbst, The New Food Lover's Companion, Barron Education Series, Hauppauge, NY (August 2007)
3. www.japan-guide.com/e/e2310.html
4. www.bartleby.com/65/se/seaweed.html
5. www.voya.ie/beauty_benefits.aspx
6. www.voya.ie/health_benefits.aspx
(All accessed March 31, 2009)