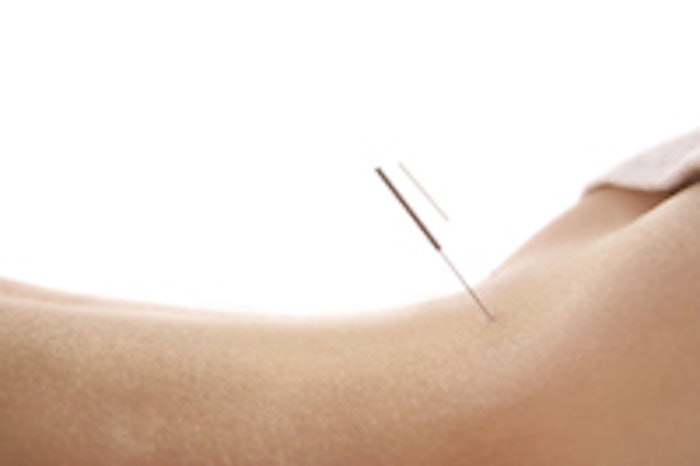 No doubt there are few spa owners in the industry who haven't noticed the growing wellness movement. In riding that wave of wellness, a good number of day spas and skin care facilities have begun offering a more holistic approach to beauty, health and vitality, and a great way to add this type of atmosphere and environment to your spa is to hire an acupuncturist.
Several spas have already gone this route, while others are still working on implementing this idea, and there are even more that would like to do so but don't know how to begin. No matter what stage you are at in your own business, learning more about the benefits and services an acupuncturist can offer is a distinctive way to develop your spa.
Find the right professional
If you are an owner who is considering hiring an acupuncturist, first contact a local acupuncture school, your state's governing acupuncture organization or the National Certification Commission for Acupuncture and Oriental Medicine and post an ad that you are hiring. Going through a licensed school or professional organization is important, as the person you are looking for must have the proper training and credentials. However, still feel free to question any applicants on their skills and continuing education habits. Find out more about their training and business style, and make sure they match the type of person you are looking for. This person will represent a portion of your business, so you need to be able to have confidence in them.
After finding the right person and hiring your acupuncturist, two business options are available: leasing out a room to the acupuncturist or hiring them on a commission basis. For the commission option, the usual percentage is a 60/40 split; however, this is always negotiable.
Whatever the working relationship, make sure you and the acupuncturist both have agreed-upon goals and expectations for the position. The acupuncturist should be able to aid the spa in increasing the number of services sold in a day, as well as the amount of multiple services clients receive, and offer solutions in getting different departments to work together for optimal client results.
Work toward a common goal
As spas have become refuges for healing, wellness and balance, more and more clients are seeking out these kinds of holistic treatments. These facilities help clients look and feel better and have more energy, leading to clients returning to a particular spa again and again. An acupuncturist can help you develop this type of client relationship, but it's good to be mindful of how such holistic offerings will fit in with your already existing treatment menu—not to mention your staff.
When spa owners rent rooms to acupuncturists, an often unfortunate result is that the acupuncturist doesn't get involved with other areas of the spa. When this happens, the result can be that the acupuncturist is viewed as separate by the other spa employees, as many of them don't understand acupuncture and the acupuncturist doesn't understand what the estheticians or other employees do either. All this lack of understanding boils down to one two-pronged problem—a loss of revenue for the spa and a loss of services to the client when both should be exponentially increasing.
Offer complementary combinations
To attain the best results from your partnership with an acupuncturist, as well as to ensure you are fostering a greater understanding between acupuncture and esthetics among your clients and staff, focus on the following types of spa services so the two modalities work in harmony to give your clients and the spa the best possible benefits.
Acne. The acupuncturist treats the condition for imbalances within the body that cause the infection. While the client has the treatment needles in, an esthetician can do a chemical peel or deep-cleansing facial on the face.
Sagging skin and eye lids, jowls, wrinkles, and fine lines. The acupuncturist does an acupuncture facelift, which entails needles on the face, neck and body. The needles work to nourish the deficiencies of the body, and for the face, cause a micro trauma that stimulates collagen and elastin production in the dermis. This treatment addresses the core issues of aging inside the body, as well as the effects of aging on the face, and it offers a good lead-in to esthetic options. For example, after the facelift, an esthetician performs a facial to the recently treated skin. The acupuncturist has stimulated blood and oxygen to the face, and the esthetician offers a calming massage and mask application, leaving skin hydrated and refreshed.The best results come from offering this treatment as a series of 12, with the client partaking in the service once a week for 12 weeks. With this type of maintenance, the tightness of the skin and softening of the lines can last about three to five years depending on a client's lifestyle.
Fine lines and wrinkles. An esthetician performs a massaging, relaxing facial massage to help calm the client, and then the acupuncturist gives the client a homeopathic injection to plump up the fine lines. This injection is completely natural and does not contain botulism or any other form of poison, working only with homeopathic remedies that stimulate collagen and elastin. The esthetician can then finish with an anti-aging mask.
A sagging neck. Another type of homeopathic injection is called the tissue tone, and it works to tighten up skin. This can help with the chicken neck look, as well as any loose skin on the neck. It is recommended that you also do the injection before applying the mask, and this homeopathic injection can again be done in a series of 10. The advantages of these injections are many. Collagen and elastin are built up in the dermis after the injection series, so the client doesn't need another homeopathic injection for six months to a year. The series entails one shot a week for five weeks and then one every other week for another five weeks, so you can offer the shots as a stand-alone service or with other treatments, as they take an acupuncturist only approximately 15 minutes to perform. Also, spas can entice clients to the service by offering an incentive discount to those who pay for the whole series of 10 injections in advance.
Hyperpigmentation and dark spots. Give acupuncture treatments to help build up the yin of the body, because, by nourishing the yin—or body fluids—internally, the melanocytes can stop producing a darker melanin. And while the client receives an acupuncture treatment in the body, the esthetician can do a lightening treatment on the face. Also, in addition to the treatments, you have the opportunity to sell the appropriate skin-lightening home care products and sunscreens.
Pre- and post-operative care. The two modalities of esthetics and acupuncture can work together as an intricate part of the preparation and recovery processes. Estheticians can do a series of hydrating facials to get the skin appropriately hydrated and prepped for surgery, while acupuncture can build up the body and get it into balance before a procedure. Following the surgery, estheticians can provide lymphatic drainage massage, while an acupuncturist can treat acupuncture points to invigorate blood flow and help reduce bruising. The collaboration of esthetics and acupuncture can help reduce recovery time and leave the client feeling great.
Weight loss. An acupuncturist can work to help stimulate the metabolism, while an esthetician can offer full body wraps that help eliminate fat and detoxify the body.
Hair loss. An acupuncturist can stimulate blood to the scalp, as well as nourish the body, creating a good environment for follicle regrowth. This can be done in conjuction with the hair regrowth treatments that are given by an esthetician, bringing in treatment opportunities for various departments, as well as providing the chance to work together for wellness. Note, if the treatment is being performed on a man who has been bald for years, the results will likely be limited.
Chinese herbal formulas. These can be used to treat acne, fine lines, sagging and aid with recovery from surgery. The herbs can additionally be sold to help with stress, anxiety, headaches, insomnia and menopausal symptoms, and there are great classic formulas available that are already prepared and can help with many common ailments you can include in your retail area.
By offering these herbs in your retail area alongside other spa products, your spa shows a dedication to wellness. Furthermore, encourage all your spa's employees to learn as much as they can about herbs so every department is involved in promoting wellness and health to all your clients.
Bring people together
Making sure everyone is comfortable with these types of services is a significantly important element, as well. Start with your staff members. Familiarize them with acupuncture by letting each experience a treatment while talking with the acupuncturist about how the treatments work. This will help educate team members on acupuncture and Chinese herbal formulas, allowing them to learn more about the benefits of these services.
Also, have your new acupuncturists do some open houses to talk to your clients about the new treatments they will be offering. Acupuncturists should be practitioners who are self-motivated, personable, compassionate and able to easily explain how acupuncture works; they have the knowledge and training, so let them sell the services and answer any questions.
Also, on your promotional materials, show an esthetician working with the acupuncturist on a treatment such as an acupuncture face lift to create familiarity and comfort. Package those types of treatments together on your menu so people can easily partake in them, benefiting from the combination of esthetics and acupuncture. Keeping reading material and information on acupuncture in your waiting area and lobby is also a good way to help further educate clients.
The entire idea in offering these services is to have people become interested and want to experience them, so educating your clientele is vitally important. Let your clients know you've begun offering these excellent services, and then get your acupuncturist to sell the rest.
A blended family
Having the right person on board is one of the biggest keys when it comes to offering acupuncture and traditional Chinese medicine treatments. Make sure you work together to get the greatest benefit you can out of the relationship, and work with your team members so they feel the same. With everyone onboard, the sky is the limit for your spa's unique blend of esthetics, acupuncture, Chinese herbs and distinct care.