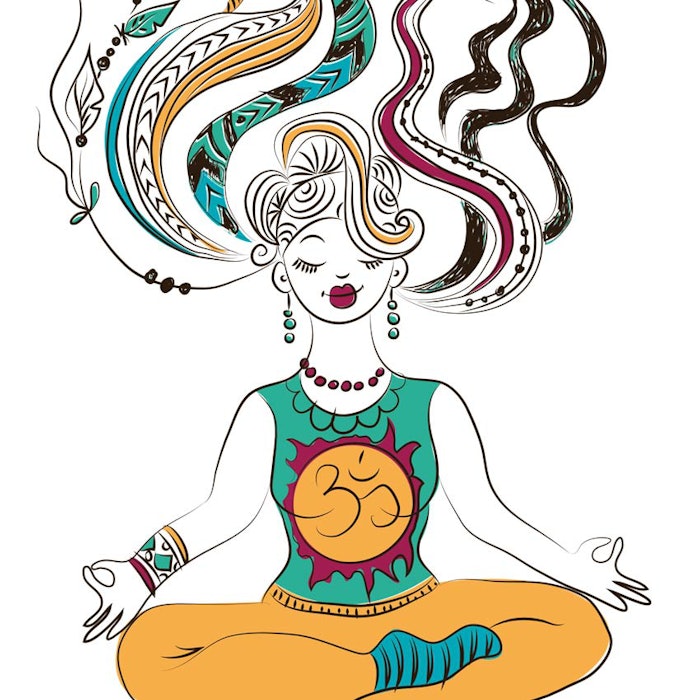 Skin care professionals are wired to look for the new. Estheticians, spa owners and product makers are so often searching for that rare ingredient, those cutting edge tools or the latest development in skin care research. Sure, it is important to keep an eye on current trends and stay connected to the ebb and flow of the market. But to create a transformative experience that lasts long after the session, work needs to reach beyond layers of skin and touch the soul. Real change is an inside job. Clients may be engaged with through a series of facials or integrative massage, but the goal of holistic wellness is to transcend the treatment and its immediate results post-session. Ultimately, the goal with every client is to awaken the healer within.
Origins of yoga
Yoga comes from the Sanskrit word "yuji," meaning to join or to yoke. In the West, many understand yoga as an exercise, meditation, diet or even a religion, but its origins derive from the ancient practices of union. Anything in life that one aspires to heal becomes their yoga. Everything is yoga—the way one washes their face, how they make breakfast and dress for the day, the way they speak, their work, home, heart and mood. To bring your all to the task at hand is to have entered the space of the yogi.
What is the yoga of skin care? It is a living dialogue without any single answer or formula. If holistic wellness is at the heart of work, then the esthetician is a yogi. The yoga of skin care is the fruition of total health and absolute beauty that begins with treatment and goes beyond. Possess all the permission in the world to expand beyond the technical achievements of a licensed esthetician and embody the role of a yogi. Yogis are those who commit to their own awakening, heal the self and uncover wisdom through direct experience. The yogi is a gentle witness that is present, remains without judgment and radiates the space of self love. This is the basis of all healing relationships. When you devote yourself to your own journey, then your presence, as well as your skill, transforms everyone you touch.
An embodied approach to radiance can be explored in a number of ways. The key is the intention to begin and the willingness to continue. Here are several practices to awaken the healer within and experience the yoga of skin care. Having direct experience in working with the self will allow a professional to naturally share their knowledge with clients to inspire them to go beyond treatment and heal from the inside out.
1. Become a foodie. Explore wholesome recipes that are good for the skin and the body's health. Make a green smoothie for breakfast each morning for at least a week and notice what shifts. Encourage clients to rejuvenate skin through whole foods and daily care and help transform how they think about their health.
2. Investigate possible allergies by doing a natural cleanse. Remove some trigger foods, such as dairy, wheat, soy, gluten, sugar, nightshades and processed foods. For many individuals, these can be hard to digest and may lead to inflammation, bloating, breakouts, rashes and a general sense of lethargy. What happens when diet is simplified to more home-cooked meals—warming meals of vegetables, whole grains, raw nuts and fresh fruit? How does your complexion change? What happens to your state of mind? Once you've removed one or all of these trigger foods from your system—21 days is recommended, but any length of time is beneficial—try reintroducing these items into your diet. Often times, any allergic reaction—stuffy nose, itchy eyes or sneezing, for example, will occur in the within 90 seconds of eating. Be aware of your mood as well, since this is also a good indicator of how certain types of foods may affect you.
3. Limit stimulants such as caffeine, sugar and alcohol. Julia Child once said, "Moderation. Small helpings. Sample a little bit of everything. These are the secrets of happiness and good health." Hard habits concerning stimulants are a kind of addiction. If you always need a drink in the evening to unwind, a dessert after every meal or coffee to wake up, it may be a good idea to explore shifting your relationship to these stimulants so they can't maintain power over you. When alcohol, refined or added sugars, and caffeine are consumed in large amounts regularly, they tax the kidneys, affect the joints and confuse energy levels. While it may not be desirable or practical to eliminate these from a diet entirely, it's a good idea to return to a sense of moderation, especially when cravings are leading the way. Try a sugar detox for a period of time and notice how the taste buds change.
4. Practice yoga. Everyone can benefit from synchronizing the breath with movement, exploring balance and focus, setting an intention and finding flow. Discover the different languages of yoga—Hatha, Vinyasa, Iyenger, Ashtanga, Bhakti Flow, Yin and restorative. Learn how they differ to not only intuitively feel the body's response to a variety of teachers and techniques, but to also offer insights and recommendations for clients that would benefit from a mind-body approach to holistic health.
5. Set a daily intention. Energy follows thought. Take the time to articulate the quality to bring to this day, this week or this month to align the soul in all sorts of creative ways. Setting an intention can be as simple as a word, such as joy, love, grace—or a phrase, such as "I am complete," "I release what no longer serves," or "I open to what is," that speaks to a genuine aspiration. Write these down and watch how they unfold.
6. Build your alliance. Just as no single product can restore vitality and radiance, no one treatment can address the whole issue. Establish a core group of likeminded practitioners in your area that clients can be referred to. Look for massage therapists, nutritionists, chiropractors, energy healers and the like that would compliment your work as an esthetician or spa owner.