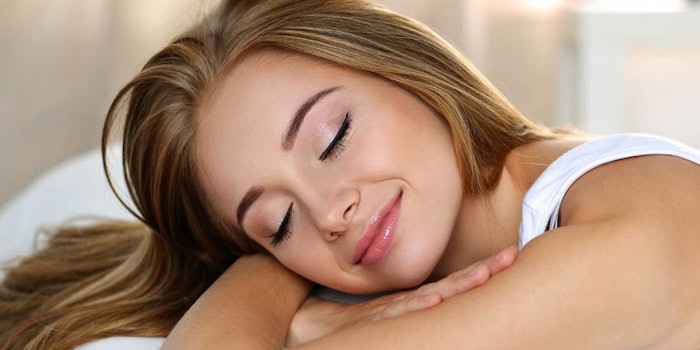 The holiday season is a wonderful time of year, but also a stressful one. Unmanaged stress can create a cascade of negative repercussions. One of the biggest is a reduction in sleep quality. A focus on improving sleep quality has been identified as a top spa and wellness trend, and the Centers for Disease Control has declared insufficient sleep a public health concern.1-2 Currently, well over one-third of Americans are not getting enough sleep.3
Poor sleep contributes to chronic disease, reduced quality of life and low productivity.2 During the holiday season, spa guests will be looking for solutions for tension, a good night's sleep and self-care.
"It's important to create a marketing communications strategy as well to let your clients know about your specials, including e-mail, social media and community outreach."
In this article, you will find some inspirational spa treatments that address stress and sleep as well as some recommendations for a variety of products you can sell in your retail boutique to help your guests continue the spa experience at home and sleep soundly.
Inspiration for Holiday Spa Services
Spas provide the perfect environment to address the contributors and effects of poor sleep, including increased stress, inflammation and compromised skin. Savvy spa operators are going beyond the traditional massage and facial to create multi-service rituals to address these common concerns. Here are some creative examples.
Nakieri, Four Seasons Resort, Punta Mita, Mexico
(100 min., $7,600 MXN)
This treatment was designed to help stressed holiday travelers create an aura of self-love and balanced thoughts. The spa therapist begins by using incense called Copal to promote mindfulness. From there, guests choose either a hydrating Hakali massage or the Punta Mita Treatment. The former incorporates a warm meringue made from cactus and pulque, while the latter uses tequila and sage oil.
Silent Night, Mandarin Oriental
In December 2016, the hotel offered an evening of complete silence, wherein guests could experience the spa's treatments in silence—no music and no questions or advice from the therapist. This was implemented in all of the group's spas after 5 p.m. to provide peace by increasing a client's mindfulness and contemplation.
Restorative Sleep Ritual, Joya Spa at the Omni Scottsdale Resort & Spa at Montelucia
(80 min., $239–269)
To help with holiday sleep deprivation, this ritual was created to promote restful sleep, relieve stress and calm the mind. The treatment features full-body reflexology with specific points on the feet, hands and scalp. Also provided are aromatherapy massage and a hot towel foot treatment.
The Slumber Massage, Allegria Spa at the Park Hyatt Beaver Creek
(80 min., $235/105 min., $295)
This massage was created with input from Nancy H. Rothstein, a.k.a The Sleep Ambassador, who co-developed the resort's Sound Sleep Initiatives program. The treatment features a combination of lavender compresses, hot stones and Swedish massage, finished with a 20-minute neck and scalp massage.
Drift to Sleep, Ritz-Carlton Naples
(110 min., $295)
This treatment begins with a sleep consultation over a cup of chamomile tea. Next, there's a relaxing foot scrub and soak, a warm aromatherapy massage and customized techniques, such as reflexology or guided meditation. After treatment, the therapist turns off the light and leaves the room for 20 minutes.
Sleep and De-stress Spa Retail
Retail products that help your clients wind down and enjoy a good night's sleep can be combined into a creative holiday display. Clever signage like "Don't Lose Sleep Over the Holidays," will generate interest and encourage engagement with the items. Be sure to have testers. Create a holiday display table in a prominent location in your retail area. Here are a few types of items that can be included in your good night's sleep retail area.
Candles. Lavender candles can help promote rest and relaxation during a stressful holiday season. Some natural soy candles on the market also contain skin care ingredients to double as a moisturizer for hands, feet, cuticles and elbows.
Bath oils. Send clients home with instructions to soak in a bath of lavender, valerian or hops for 15–20 minutes or for 30 minutes before bedtime. A warm soak helps to relax the mind and calm the nerves, preparing them to sink into a sweet slumber.
Bedroom aromatherapy. Pillow mists help curb insomnia and excessive worry. Instruct your guests to spray the mists, often containing lavender, on their pillow. There are also aromatherapy sticks available that the client can apply to their wrists and neck before bed to improve beauty rest.
Water drops. Water enhancers not only do they encourage clients to drink more water, but they taste great and offer skin and overall wellness benefits. Encourage clients to take home one to combat stress and one to promote sleep with ingredients like chamomile, magnesium, L-theanine, passion flower, valerian, lavender, peppermint and melatonin.
Sheets. Comfortable and breathable sheets are important to a good night's sleep. Make sure to carry high-performance fabric sheets that are breathable and quick-drying. It also helps if they are wrinkle-free, stain resistant, 100% recyclable and protective against allergens.
Eye pillows. For the ideal impulse gift at check out, carry an eye pillow kit, which includes an eye pillow, case, lavender essential oils and pads. The pillow should be able to provide a gentle, moist heat or a soothing cool touch based on preference.
Sleep bracelet. For spa guests who have everything except a good night's sleep, a sleep bracelet is the answer. The technology inside the bracelet acts like an antenna, finely tuned to pick up and channel beneficial natural frequencies. It helps tune us back to a state where we can perform at our best.
Space-clearing set. Clients can clear their space with a singing bowl and wooden mallet. Widely used in Tibet and India for space clearing, singing bowls are struck with a mallet and rubbed around the rim to produce a fascinating blend of harmonic resonance and rich overtones. Special bells can be used after to invite abundance. These tools can be used for feng shui clearing to open up your home or office or to let go of the past.
Holiday Well-being by Design
Of course, a proven way to avoid holiday stress is to plan ahead. Now is the time to strategize your holiday season. Remember that developing your services, or choosing your products and merchandising them properly, is only half the battle. It's important to create a marketing communications strategy as well to let your clients know about your specials, including e-mail, social media and community outreach. Marketing beyond your client base will make you the "go-to" local resource for all things wellness.
REFERENCES
(Accessed Sept 13, 2017)