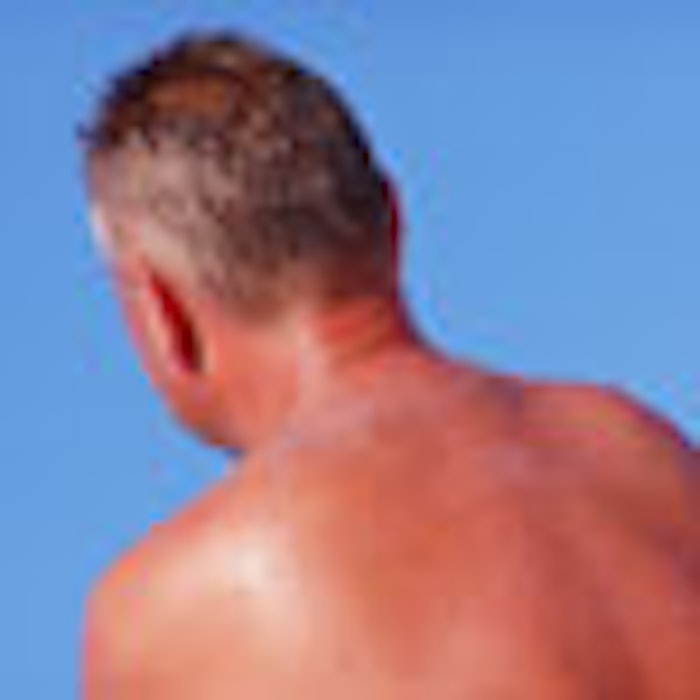 As everyone knows, growing older brings an increased number of health concerns. In fact, dermatologists warn that men older than 50 have an increased risk of developing melanoma—the deadliest form of skin cancer. Unfortunately, a new survey conducted by the American Academy of Dermatology (Academy) found that most men are lax when it comes to proper sun protection and are unsure how to examine their skin for skin cancer.
The Academy conducted an online survey of adults nationwide that found:
When outside in the sun, less than one-third of men (29%) say they 'always' protect their skin, compared with 43% of women. A significantly larger percentage of men (39%) than women (28%) agreed that they prefer to enjoy sunshine and not worry about what they should do to protect themselves from it. Less than half of men (46%) indicated they knew how to examine their skin for signs of skin cancer compared with 59% of women.
"This survey demonstrates that many men do not protect themselves from the sun when outdoors and that some still believe that sun exposure is good for their health. This is a very troubling combination in light of the fact that the major risk factor for melanoma is exposure to ultraviolet light," says board-certified dermatologist Thomas E. Rohrer, MD, FAAD, clinical associate professor of dermatology at Brown University School of Medicine. "Men need to examine their skin and see a dermatologist if they spot anything changing, bleeding or growing.
To address the increased risk of skin cancer in men 50 and older and raise awareness of this health issue, the Academy produced television and radio public service advertisements (PSAs) targeting this group. "Golf" uses the humor of hazards on the golf course to point out that the missed hazard of a spot on a person's skin could actually be a killer. These PSAs are being distributed to television, cable and radio stations nationwide in May and also are posted to YouTube. The TV PSAs also can be viewed at www.aad.org/psa.
Along with using preventive measures to avoid skin cancer, men also need to take the proper measures to take care of their skin after prolonged sun exposure, Nikki Miller, lead esthetican at Kohler Waters Spa, Kohler, Wisconsin, exclusively tells SkinInc.com. Kohler is a destination spa that works with many male clients due to its world-class golf round courses, The American Club Resort's Whistling Straits and Blackwolf Run.
"Men, especially those over 50, need to take care of their skin just as much as women. By the time they are in their 50s, men have accumulated years of sun exposure, whether due to their professions, playing sports, spending time with families outdoors, vacations or doing yard work. A great first step in skin care is for men to consider getting facials a couple of times a year. The Gentleman's Skin Care Facial offered at the spa features products specifically designed for men's skin, which has a thicker texture and larger pores due to their facial hair. It features a customized mask is applied to purify, soothe and hydrate men's skin. "In addition to cleansing and moisturizing with an SPF moisturizer for sun protection, the facial includes exfoliating which men typically never do enough of.There is also a skin consultation and mask, and other five star spa touches, including an arm/hand massage and facial/neck/shoulder massage."
Kohler Waters Spa estheticians often inquire whether guests are seeing a dermatologist on a regular basis for skin checks and encourage all guests—male and female—to do so. The same applies for men over 50 with skin care and sun protection for their bodies. Body treatments and wraps that incorporate exfoliation and SPF moisturizers can enhance the skin and detoxify the body, which help to make older men look and feel better.