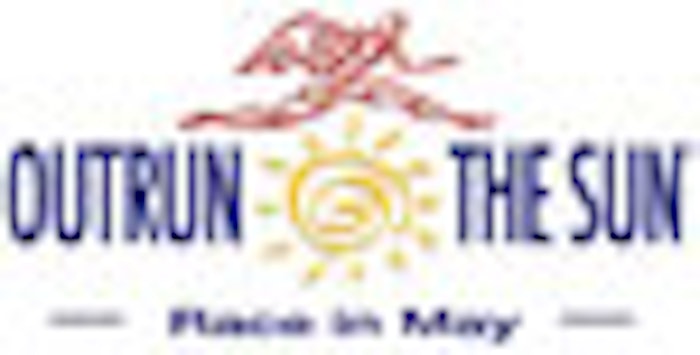 Skin cancer is the most prevalent cancer in America and the number of cases diagnosed annually is greater than breast, colon, lung and prostate cancers combined. Melanoma, a form of the disease, is the number one cancer in people ages 25 to 29 and one American dies of melanoma every hour. Skin cancer affects people of all ages and ethnicities and although it is highly preventable, more than $2 billion is spent annually in America to treat it. For the first time, Americans have the opportunity to team up against skin cancer by participating in the national Outrun the Sun Race in May.
The Outrun the Sun Race in May is a "virtual race" that launches May 1, kicking off National Skin Cancer and Melanoma Awareness Month. It offers anyone, no matter where they live, the opportunity to support sun safety and early detection by registering online. Registrants receive sun safety information and contacts for skin exams. They also have the ability to raise funds for skin cancer education and melanoma research. Participants run or walk any day in May, making this a perfect "event" for individuals, families, co-workers, running clubs, schools, and others interested in combining exercise with sun safety.
The Outrun the Sun Race in May spokesperson is Deena Kastor, Olympic medalist, American record holder and melanoma survivor. "More than 2 million cases of skin cancer are diagnosed annually, making it the most prevalent cancer in America," Kastor notes. "I alone make up more than a few of these cases each year during my biannual visit to the dermatologist. From basal cell carcinoma to melanoma, I have successfully fought skin cancer through early detection. I encourage everyone to visit a dermatologist and also to register now for the Outrun the Sun Race in May. Join me in pledging to be sun smart."
Developed by nonprofit organization, Outrun the Sun, Inc., program partners include USA Track & Field (USTAF), the Independent Running Retailers Association (IRRA), and Dermatology Nurses' Association (DNA). "The Outrun the Sun Race in May is unlike any other program related to sun safety and skin cancer prevention," said Anita Day, Executive Director of Outrun the Sun, Inc. "We invite people in communities across the country to take ownership of this event, whether they participate for fitness reasons, to honor someone with skin cancer or to remember someone they have lost to melanoma. We created this opportunity for people who want to be proactive in the pursuit of eliminating skin cancer." Online registration is available at www.raceinmay.kintera.org.
The main cause of skin cancer, including melanoma, is overexposure to harmful ultraviolet rays from the sun and indoor tanning beds. Participants are encouraged to protect their skin by wearing sunscreen, protective clothing, hats and sunglasses. "This initiative is an excellent way to engage runners and walkers while providing information that is vital to their good health," said Michael McNees, interim CEO of USATF. "It expands our partnership with Outrun the Sun, the Official Sun Safety Partner of USA Track & Field."
According to Parker Karnan, executive director of the IRRA, "Sun safety is an important health issue for our customers and the IRRA is proud to advance this message." Victoria Elliott, Executive Director of the Dermatology Nurses' Association, noted, "DNA members see first-hand the short and long-term damage that the sun causes. The Outrun the Sun Race in May provides an important avenue for the DNA and our members to share sun safety information with the public."
The 2012 Outrun the Sun Race in May is sponsored in part by Bristol Myers-Squibb.Proceeds benefit melanoma research and skin cancer education programs supported by Outrun the Sun, Inc. Registration is available at www.raceinmay.kintera.org. The registration fee is $10 plus online processing.