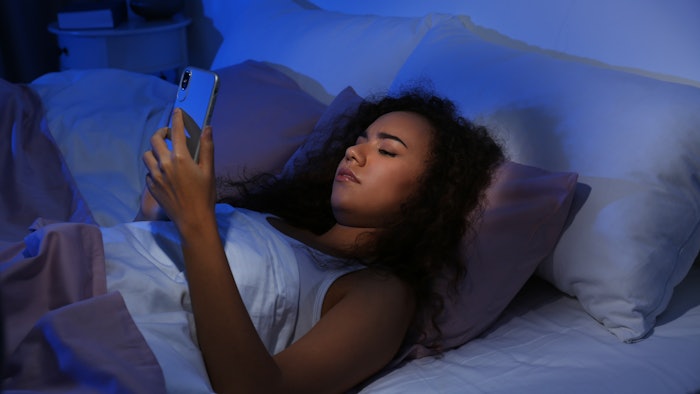 I'm writing this on a gloomy, cold day in Colorado, with snow falling heavily outside. It's a day when people remember to put on their hats and gloves, but they usually forget their sunscreen. As an esthetician, it's second nature to wear sunscreen daily, but we must educate and encourage our clients to do the same. It's the first thing we learn in esthetics school, but the reasons why have become more varied, and the sources of damage more prolific. In this article, we'll address some often-overlooked sources of damage, as well as ways to protect and educate your clientele.
Location Education
It's not surprising to most people that we need sunscreen at the beach, or during the long summer months. It often does take more education to get our clients to wear it every single day, even during a snowstorm or while working in an office all day. Don't be afraid to be real with your clients; the causes of skin damage lurk everywhere.
We know that strong, overhead UV light from the sun does the most damage, even more so if you live at a high altitude. Colorado, where I live, has the highest per-capita rate of skin cancer in the country.1 The sun's rays are present and damaging, even during a snowy day, and especially at altitude. Yet, it's not just our outdoor spaces that require the use of protection. Blue light, overhead fluorescent lighting and LED bulbs all contribute to photoaging. There's an opportunity to educate our clients on all the other factors that contribute to and damage to the skin, and we owe it to them as skin care experts to provide that education.
What Does Light Damage Mean?
We should start reimaging the phrase "sun damage" to be instead "light damage." By changing our vocabulary, we bring attention to where the damage originates. If you are in overhead lighting in an office, next to a window at your house, if you are working on a computer or looking at a phone or tablet, if you are driving in your car during the day: you are being exposed to damaging light. Dim light is not only more flattering in the moment, but it's also more flattering over time.
The pandemic brought a surge in sales of blue-light glasses as we all pivoted to spending much more time staring at screens. Beyond causing eye strain and fatigue, the blue light from our screens has been shown to increase pigmentation in the skin and the formation of wrinkles. The wavelengths of blue light from our devices penetrate deeper into the skin, causing more oxidative stress in the cells.2 We need to protect our skin from blue-light pollution by wearing both sunscreen and a topical antioxidant and explain to our clients the WHY behind the two steps. We all need a reminder: Your screen time is aging your skin unless you protect it.
If you have clients that aren't computer-bound for work, most of their screen time may occur in the evening. Even at night, if they're going to be close to a screen, everyone should use a topical antioxidant and consider adding sunscreen on top. You can always (double) cleanse your skin before bed to remove the sunscreen and then reapply your evening skin care.
Antioxidants and Sun Care
Many sunscreens have antioxidants listed in their ingredients deck, but I suggest always adding an antioxidant serum before applying sunscreen. The serum will penetrate the skin more easily and is more targeted.
Why be so cautious, even at night? Topical antioxidants and sunscreens work in different ways to protect the skin. A topical antioxidant, such as vitamin C, penetrates the skin to absorb free radicals, which inhibits their ability to cause cellular damage. Sunscreen works by absorbing or blocking light, preventing the formation of free radicals. The two work in tandem, by providing the necessary protection to help ease the effects of light damage such as hyperpigmentation, or loss of collagen and elastin.
Even if your day involves nothing more than sitting inside in front of a screen, you should use both an antioxidant and a broad-spectrum sunscreen. I also advise turning on Night Shift on the iPhone. It will make the phone's tones warmer, filtering out some of the blue light. Also, advise your clients to limit holding their phone up to the ear when talking. Everyone is used to earbuds these days, and using them will keep the screen away from your skin.
The "Driving" Factor to Sun Damage
Driving contributes to light damage in profound ways as well. Have your client look closely in the mirror or at their hands, and most people who drive on the right side of the road will find the left side shows more signs of sun damage. Tinting the windows in your car is the first step. It's an investment that will protect not only the interior of your car, but your skin as well. To further protect the hands, I advise my clients to apply their skin care in the morning, and use the back of their left hand as their pallet. Then take the product you've placed on your hand and apply it to your face, neck, and décolleté, and then rub the backs of your hands together. This way, you are not wasting product, and you are protecting your hands.
I advise clients to keep sunscreen in the car for touch-ups. Heat breaks down cream sunscreen over time, so a good choice for use in the car is a brush-on powder sunscreen. If one wears foundation makeup on the skin, it can add more protection. Many foundations contain iron oxides, which provide a slight physical barrier. Foundation should never be the only choice for protection, even if it contains iron oxides or a high SPF. Most people don't use enough of it to provide proper protection. The amount of foundation needed to provide light protection would not be flattering. Still, it does work as another protective step.
Sunscreen in Your Retail Space
During the winter months, it may feel right to move your sunscreen to the back of your retail display, but don't do it. As we spend more and more time indoors, educate and remind your clients how much damage overhead lighting and the blue light from screens damage the skin. It's an opportunity to keep retail moving that may otherwise slowdown in the winter. Sunscreens that contain zinc can be extra-soothing to skin that's been irritated by dry, cold air.
The public knows how dangerous the sun is to their skin, but the damage other sources of light cause the skin is often overlooked. As professionals, we have an opportunity to educate our clientele to all sources of light damage.
References: 
Melissa Wilson is a wellness-industry leader and professional with over 20 years of experience in the industry. As a licensed massage therapist and esthetician, Melissa brings supreme expertise to her role as director of education at Woodhouse Spa, where she is responsible for overseeing the treatment design, protocols and service experience for Woodhouse's 75+ locations. Melissa has worked at several resort properties and has taken part in Forbes 5-star training through the St. Regis, Princeville Resort, as lead esthetician at the Halele'a Spa. She has been an Educator for skin care brands such as Intraceuticals, Sanitas, and Dermaflash, and also worked on the sales-side of the industry with NuFACE.