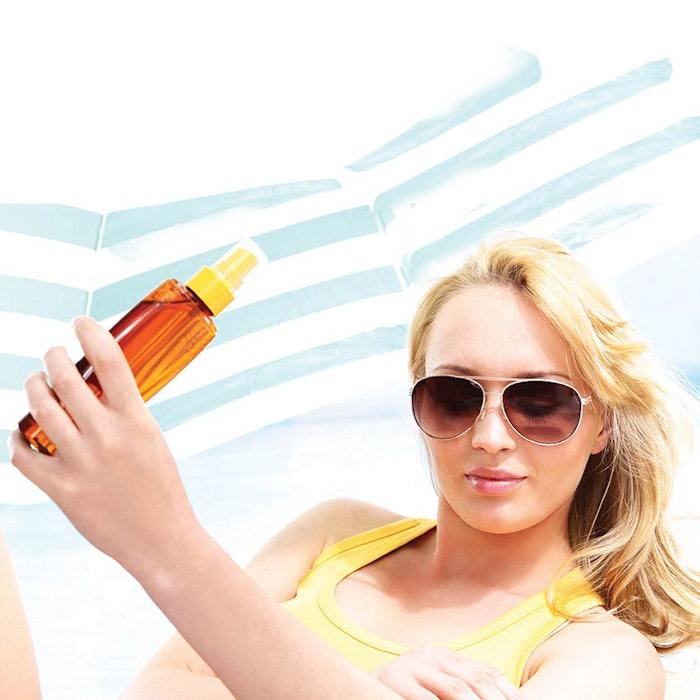 In North America, 50% of all cancer cases occur in the skin, making skin cancer the most common form.1 Numerous theories and statistics show why rates of skin cancer continue to grow all over the world. These range anywhere from the improper frequency of sunscreen re-application, to a more recent revelation that sunscreen performance may not live up to its claims. The proof is in the pudding, and statistics speak for themselves. Skin cancer rates continue to rise every year, so it is clear the current approach to sun protection is not enough. It may be time to dig deeper to find out why—and how we can lower the number of malignant and nonmalignant skin cancer incidences.
In 2011, the U.S. Food and Drug Administration (FDA) revamped labeling requirements for sunscreen manufacturers. Two big changes came from this revamp. First, sunscreens must now have an SPF of 15 or higher, and they must protect against both UVA and UVB radiation in order to be labeled "broad spectrum." On the back of those sunscreens, it also must state, "helps prevent sunburn," and "if used as directed with other sun protection measures (see Directions), decreases the risk of skin cancer and early skin aging caused by the sun."2 Those that fall short of SPF 15 must carry a warning on their label stating, "Skin Cancer/Skin Aging Alert: Spending time in the sun increases your risk of skin cancer and early skin aging. This product has been shown only to help prevent sunburn, not skin cancer or early skin aging." Perhaps this labeling provides incentive for sunscreen manufacturers to ensure they formulate broad spectrum, high SPF sunscreens.
The second big change was that sunscreen manufacturers could no longer use the claim "waterproof" but could instead claim either 40 min. or 80 min. of "water resistance" after conducting standard testing. These were two great steps in the right direction, but more can still be done.
UVA and UVB
Most skin care professionals are well aware that UVA rays are the primary cause of premature skin aging, including wrinkling, hyperpigmentation and broken capillaries. We also know that UVB rays cause sunburn after too much exposure. UVB and UVA rays go hand in hand in accelerating the aging process, so it is no surprise that both wavelengths contribute to skin cancer.
UVB radiation is found at 290-320 nm, while UVA is at 320-400 nm. Further, UVA-I specifically is identified at 340-400 nm, while UVA-II is found at 320-340 nm. Many sunscreens on the market focus on providing more UVB protection, but sunscreen manufacturers need to focus on providing more UVA protection. Research is needed to understand how UVA rays correlate with the DNA mutations that can eventually lead to various stages and types of skin cancers.
This information is important because, as mentioned, the majority of sunscreens on the market provide more UVB protection to prevent sunburn, and they often do not incorporate enough UVA protection (particularly UVA-I), which is vital to protecting the skin against cancer. Retired OB-GYN and endocrinologist Denis K Dudley noted, "Current science states that UVB causes direct DNA mutation and that UVA also causes direct damage but also plays a role in photoimmunosuppression and disruption of repair mechanisms. UVB initiates and modulates the damage cycle, but UVA (particularly UVA-I) completes the process."3
Consumers also are starting to believe that if they are exposed to the sun but do not burn, they have adequately protected themselves. This leads them to believe that they are preventing skin cancer and premature aging, too, which is proving not to be the case.
A sunscreen must provide adequate protection from all wavelengths in order to effectively protect an individual from skin cancer. Although manufacturers are working to address this requirement for broad-spectrum protection, sunscreens containing only UVB filters remain on the market. And with skin cancer frequency in North America still growing every year, we know we are not getting the upper hand on effectively protecting against skin cancer.
Selecting A Sunscreen
As a consumer and a skin therapist, there are a few things you can look for when it comes to selecting sunscreens for your personal use, as well as to retail and recommend to your clientele. Regarding ingredient labels, however, note that many effective and safe UVA and UVB filters, often referred to as sunscreen actives, are only offered in Europe, Australia, Asia and other parts of the world. This is because they have not yet been accepted by the FDA; eight new ones are currently pending approval.
Of the 17 approved filters in the United States, eight are regularly used. Of those eight, only two have shown good protection against UVA rays: zinc oxide and avobenzone.4 The reality is that until more UV filters are approved and better formulations are made here in the United States, we are limited in our choices. So being mindful when looking at the ingredient label will allow you to make a more sound decision.
There some specific things to consider when choosing a sunscreen for enough UVA and UVB protection, according to Dudley. They are as follows.
Question soluble filters. Soluble filters with a Dalton size of less than 500 are said to be absorbed by the skin and reach the blood, potentially causing side effects in humans.5 Soluble UV filters include: avobenzone, benzophenone (oxybenzone), homosalate, octisalate, octocrylene, 4-methylbenzylidene camphor (enzacamene) and unencapsulated octinoxate. Avobenzone and oxybenzone in particular have been linked to skin sensitivities and dermatitis reactions.6
Choose insoluble filters. Insoluble filters include zinc oxide, titanium dioxide, encapsulated octinoxate, Mexoryl SXa (chemical name: terephthalylidene dicamphor sulfonic acid), Tinosorb Sb (chemical name: bis-ethylhexyloxyphenol methoxyphenyl triazine), Tinosorb Mc (chemical name: methylene bis-benzotriazolyl tetramethylbutylphenol (and) water (aqua) (and) decyl glucoside (and) propylene glycol (and) xanthan gum), Parsol SLXd (chemical name: polysilicone-15), iscotrizinol, octyl triazone and bisdisulizole disodium.
The first four are the only ones available in the United States. They are safe for humans and are known for being favored by those with skin allergies and sensitivities to other sunscreen formulations.7
Look at levels. SPF 30-50 with a UVA Protection Factor of at least 10 is encouraged when picking a sunscreen.
Additional Protection
Aside from the daily use of a properly formulated sunscreens, there are some other options for safe sun protection.
Photoprotective textiles/clothing. SPF clothing is still a fairly new concept but is a great option when practicing safe sun habits. Various companies offer hats and shirts that provide protection from the sun's harmful rays and some are carried in spa retail.
Reapply sunscreen. As mentioned, failure to reapply sunscreen is another possible factor for their falling short in protecting consumers. Sunscreens must be reapplied throughout the day to consistently protect for the entire time individuals are exposed to the sun.
Consider an antioxidant. Adding the right form of vitamin C to a skin care regimen will provide extra sun protection. Think of it as a sunscreen booster. When formulated correctly in a product, vitamin C will penetrate the skin and increase sun protection, compared with using the sunscreen alone.8 Not only that, but antioxidants also play a crucial role in preventing premature aging in the skin.
In some cases, there are even vitamin Cs on the market that protect against infrared (IR) radiation, which is now known to play a role in the degradation of collagen and the breakdown of healthy skin tissue.
Eye protection. Melanoma occurs most frequently around the eye area due to users not applying sunscreen to this delicate area. Choosing to wear polarized sunglasses will provide the protection needed, as will applying an SPF that is safe and ophthalmologist tested for use on the eyelids and surrounding areas. Some skin care companies have developed sunscreens dedicated for this eye area that are esthetically appealing and safe to use. As an aside—don't forget to treat the lips as well.
An Informed Decision
Some of the information in this article may be relatively new to some readers. There are many factors and theories as to why skin cancer rates continue to rise, and many solutions are up for debate. But until the FDA approves new UVA-based insoluble filters, and new formulations containing them hit the U.S. market, we can rest assured that we have the basic information needed to make a more informed decision when choosing sunscreens to prevent aging and protect against skin cancer.
Since skin cancer incidences continue to increase, it is important that consumers and skin therapists alike are well-informed and seek better solutions to this problem. If current approaches are not working, it is obvious that new innovations and better skin care practices are needed.
REFERENCES
www.skincancer.org/skin-cancer-information/skin-cancer-facts (Accessed Jan 20, 2016)
www.fda.gov/ForConsumers/ConsumerUpdates/ucm258416.htm (Accessed Jan 20, 2016)
D Dudley, Selecting A Safe and Effective Sunscreen (2015)
http://cen.acs.org/articles/93/i20/Decade-FDA-Still-Wont-Allow.html (Accessed Jan 20, 2016)
JD Bos JD and MM Meinardi, The 500 Dalton rule for the skin penetration of chemical compounds and drugs, Exp Dermatol 9(3) 165-169 (2000)
EM Warshaw et al, North American Contact Dermatitis Group Patch Test Results: 2011-2012, Dermatitis, 26(1) 49-59 (2015)
Department of Health, Therapeutic Good Association, Australian Government, Literature review on the safety of titanium dioxide and zinc oxide nanoparticles in sunscreens (Aug 2, 2013), www.tga.gov.au/literature-review-safety-titanium-dioxide-and-zinc-oxide-nanoparticles-sunscreens (Accessed Jan 20, 2016)
D Darr, S Dunston, H Faust and S Pinnell S. Effectiveness of antioxidants (vitamin C and E) with and without sunscreens as topical photoprotectants, Acta Derm Venereol Jul 76(4) 264-8 (1996)
aMexoryl SX is manufactured by L'Oreal.
bTinosorb S and Tinosorb Mc are manufactured by BASF.
dParsol SLX is manufactured by DSM.