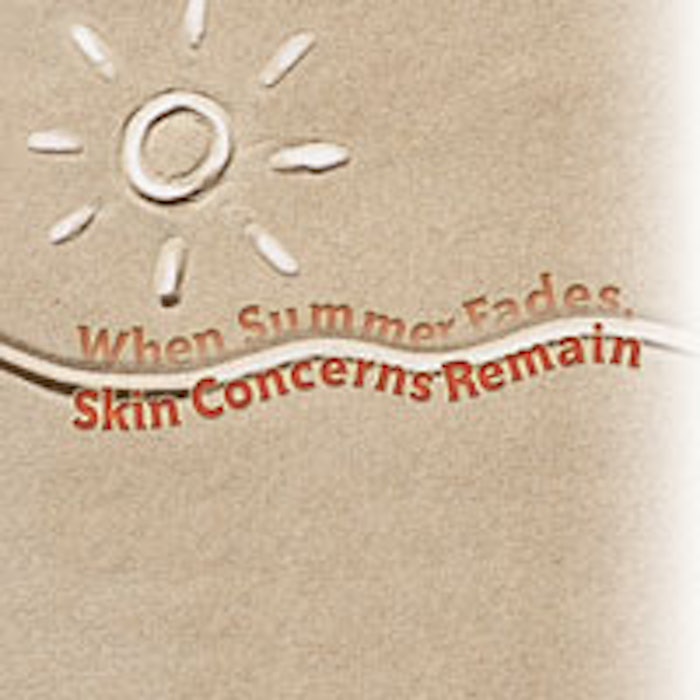 As summer fades into fall and people begin to seek less time out in the warm sunshine, thoughts are also beginning to turn to any damage skin may have taken on during the sun-drenched summer months. Male and female, young and old, any ethnicity—people consistently tend to overexpose themselves to the sun—leading to inflammation, sun spots, wrinkles and fine lines, and further damage that your clients seek to address with skin care products.
"When it comes to the market for sun care, nearly every consumer is a target consumer. Everyone has damage associated with sun exposure, so sun care needs to be a daily concern, a regimen," says Gwen O'Hanlon, vice president of sales and education for Darphin. "We want consumers to evolve with our brand, so we want to develop products that are available to them at every stage of their skin's life, because skin does change. It's sort of like clothes—what looked good 20 years ago might not look as good now or be so fashionable, and as skin evolves and its concerns change, you want to make sure you affect positive changes with the appropriate products to encompass the entire journey."
Noting the evolution of concerns that might result from sun damage, Adam Geyer, MD, a consulting dermatologist for Kiehl's, says, "Often, when we think about the skin as it is chronically exposed to the sun, we focus mostly on the expected increase in lines and wrinkles. However, we have come to recognize that one of the most significant indicators of the health of skin is the evenness of its tone."
Whatever the concern, post-sun skin care is a big market, and skin care providers can offer a service to clients by touting its strengths—protecting skin with SPF products and repairing damaged skin.
Taking action
"Post-sun and sun damage repair products cover a wide spectrum," comments Geyer. "These include soothing products for sunburn/damage relief, DNA repair products and products to reduce the chronic effects of UV exposure."
Each of these designated skin care issue areas supports its own market segment in the beauty industry, which is why it is important to have an understanding of each. "In the first category are products intended for use immediately after sun exposure that aim to soothe inflamed and irritated skin. These products often have botanicals, such as aloe with anti-inflammatory effects, and provide some physiologic cooling effect when applied to the skin," Geyer says. "Though cortisones and aspirin have commonly been used by physicians to quiet inflamed, sunburned skin, there are an increasing number of new post-sun products that offer a more gentle and botanical anti-inflammatory effect.
"Second, still for use in the acute post-sun period, we are seeing more DNA repair products appearing in the marketplace, aiming to support the cellular machinery that scans for small mutations in our DNA caused by UV exposure with the hope that these defects can be better repaired before they become problematic in the weeks and years to come," Geyer continues. "Third are the products that help to reduce the negative downstream effects that take place from acute and/or chronic UV exposure—ranging from fine lines to deeper wrinkles, to brown spots, to textural changes."
Of course, different lines and products can be focused in on different post-sun skin needs. "In targeting post-sun skin repair, something for immediate usage would be a product to replenish moisture while also including antioxidants to fight free radicals. And for prevention, moisturizers with a minimum of SPF 15 are a must," notes Joe Pastorkovich, vice president of Lumene North America.
Amos Lavian, founder, Dermelect Cosmeceuticals, says, "Obviously, you want to cool skin that's been exposed to the sun for a long period of time." Lavian also notes the importance of products that help reduce redness and calm inflammation. "They help take the flush out of the face and work to soothe dilated capillaries," he says.
More and more products in this category are also becoming multitaskers. "Needless to say, the first step for damage control after sun exposure is to moisturize the skin," says Sophie Jacques, senior product manager, skin care, at Yves Rocher.
"Exfoliation is also key," Lavian comments, saying sloughing off dead skin cells helps stimulate regeneration and decrease unwanted skin pigmentation. This is where your treatments come into play.
Meeting the market
Howard Epstein, PhD, director of technology and business development, cosmetic actives and bio actives, at EMD Chemicals, comments, "Technologies with minimal toxicological concerns are ideal for children and adults with concerns about sensitive skin, while older individuals will seek products that help maintain a youthful appearance in terms of fine lines and wrinkles. Individuals with darker skin will seek products that help to lighten skin and promote a more even skin tone." Knowing your market is key to recommending the best products to suit their needs.
Of course, as with the vast majority of the skin care market, an aging generation is often the one continually seeking solutions. "The baby boomer generation appears to be driving this market," Epstein says. "The 50+ generation is showing signs of sun-induced aging, which is cumulative over the years. They have the disposable income and can experiment with new products designed to help skin remain youthful-looking."
The use of products by baby boomers is also having a trickle-down effect. "The treatment category has become a lot younger," Lavian notes, saying younger women are picking up habits from their mothers, who are addressing their own sun-damage. "We've noticed a lot of daughters following in their moms' footsteps, becoming more conscientious and delving into skin care at a much earlier age."
Education is key
It is also well-educated esthetic professionals who aid in the education of clients. "There are multiple types of consumers and different types of lifestyles," O'Hanlon says about reaching target markets. "It's about finding the best way to interact with clients, to discover how certain products fit into their regimen and continuously work to meet their demands."
In the end, it's all about getting out the right word to your clients. "What is most vital in my discussions with my patients is to ensure consistency of good habits—consistent sunscreen use and, if sun damage occurs, taking an aggressive and early approach to repair that can help to minimize the propagation of negative changes down the road," Geyer says.
The future
To maintain a healthy glow without any of the damage, however, preventive and protective products still are a strong presence. "It would be my ideal vision as a dermatologist that, over time, we will need to focus less on post-sun products as more and more people will be dedicated to broad-spectrum UV protection and prevention of sun damage, but the reality is that people continue to tan, whether intentionally or unintentionally," Geyer says.
"Overall, clients need to understand that they must be proactive with sun care, not just reactive, in order to have long-term results," says O'Hanlon. "And stress to them that even if they miss everything else, at least remember the face, neck and décolleté, and apply a good SPF each morning."
Abby Penning is associate editor of GCI magazine. She previously was the assistant editor for Skin Inc. magazine, where she won a silver FOLIO: Eddie award in 2009.
Editor's note: This article originally appeared in the September 2011 issue of GCI magazine and is being reprinted with permission. All rights reserved.