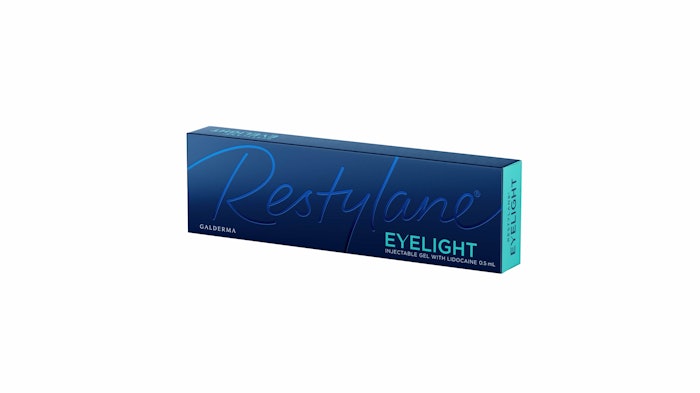 Galderma has announced FDA approval for Restylane Eyelight, a hyaluronic acid dermal filler for the correction of undereye hollowing in adults over the age of 21. It is the only undereye filler in the United States formulated with NASHA Technology, which has a firm gel texture resistant to water absorption and is close to the naturally occurring hyaluronic acid found in skin with minimal cross-linking.
Restylane Eyelight can improve undereye hollows by filling in the groove. The preciseness of NASHA technology is ideal for the undereye area. Restylane Eyelight exhibited comparable efficacy and safety when injected with needles and cannula devices. In a consumer research study evaluating before and after photos of people treated with Restylane Eyelight, 2 out of 3 consumers said they would consider treatment after seeing the results, according to the company.
Related: SKINVIVE by JUVÉDERM Receives U.S. FDA Approval to Treat Uneven Skin Texture
The FDA approval is supported by data from a randomized, evaluator-blinded, parallel-group, no-treatment controlled, multi-center Phase 3 study cited by Galderma, which revealed significantly positive results. In the study, 92% of patients were pleased with their results three months after treatment, while 93% of patients said Restylane Eyelight improved their undereye hollows 18 months after optimal treatment. Twelve months after treatment. 94% said they would recommend Restylane Eyelight treatment to a friend.
The most commonly observed side effects for the undereye injection are swelling, redness, tenderness, pain, bruising, itching and lumps or bumps at the injection site. Most adverse events were mild in severity and none were severe, including no incidence of Tyndall effect, according to Galderma.
Bill Andriopoulos, Ph.D., vice president of medical affairs, Galderma U.S., said, "Restylane Eyelight is an exciting new treatment option for patients. Formulated with NASHA Technology, this filler is close to the body's natural hyaluronic acid with minimal crosslinking and produces a firm gel texture (or 'supportive gel') that is resistant to water absorption, which makes Restylane Eyelight a safe, natural-looking solution for volume loss under the eyes."