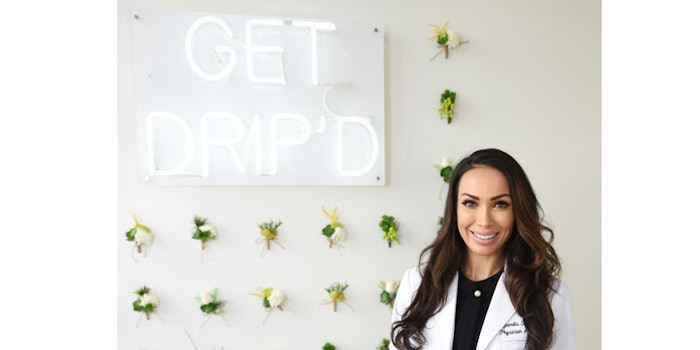 IV vitamin and therapy has slowly grown in popularity over the last few years. More specifically, DripDoctors has continued to make changes to the wellness industry since its inception in 2015. The IV treatment service was originally conceived to help clients with a variety of ailments including chronic pain, arthritis, autoimmune disorders, fatigue and depression. However, more recently the founder Jamila Sozahdah, PA-C, has DripDoctors to include anti-aging, wellness and skin therapy treatments. To learn more about the founder as well as the future IV therapies and treatments to come, Skin Inc. sat down with Sozahdah. 
Skin Inc. (SI): How did you get started in the industry? 
Jamila Sozahdah (JS): Drip Doctors came into concept while I worked in the ER. My specialty is Emergency Medicine. Most notably was the banana bag we used for intoxicated patients in the ER. I saw the benefits of IV vitamin therapy, and I wanted to make it accessible so people did not have to go the ER and wait for hours to be treated. I wanted to become an expert on preventing disease before it happens. IV therapy is a crucial part of one's healing process when they have an ailment or don't feel well.
SI: What inspired Drip Doctors?
JS: After spending seven years in emergency medicine and being exposed to so much illness and chronic conditions, I thought there has to be a better way to provide a type of medical service that brought the practicality of the ER into a more luxurious setting. A service that was accessible and affordable to those who wanted to take a proactive rather than reactive approach to their health and lifestyle.
SI: What benefits does IV therapy have on the skin?
JS: With the skin being the largest organ in the human body, IV vitamin therapy has a myriad of benefits that affect it. For one, it replenishes the skin with hydration and electrolytes in the fastest way. When you do an IV, anything you inject intravenously goes directly into your blood stream with 100% bio-availability of that vitamin or antioxidant. Your skin is a direct reflection of how your body is functioning internally. At DripDoctors, our signature Beauty Drip contains high concentrated doses of vitamins and nutrients that you are used to seeing in topical skin and beauty products. Our targeted formulations contain antioxidants like vitamin C and Glutathione, as well as minerals B-12, B-complex, biotin, magnesium and zinc, which aid in the detoxification and revitalization of the skin.
Our treatments have a plethora of benefits. The major benefit of IV vitamin therapy is that you are getting all the essential nutrients, amino acids and antioxidants directly into your bloodstream. Drip Doctors IV treatments help alleviate chronic conditions like chronic pain, arthritis, auto-immune disorders, fatigue, depression and chronic medical conditions. The vitamins included in our drips are great for mental clarity, immune support and of course energy.
SI: Who could offer IV Therapy treatments?
JS: IV vitamin therapy is offered at a medical facility such as a medical spa and administered by a licensed physician, physician assistant, nurse practitioner or registered nurse. IV therapy can also be offered off site but under the license of a physician and the rules for who is administering still applies to that of a medical facility.
SI: How does IV Therapy work? 
JS: IV Vitamin Therapy works by administration of vitamins and nutrients directly into the bloodstream, bypassing the digestive system. This provides increased cell absorption and 100% bio availability of vitamins via IV infusion. Booster shots are administered via intramuscular (IM) injection so there is no GI metabolism, which also allows for increased absorption. With oral supplements, you only get about 20% absorption after filtering through your digestive system, which pales in comparison to IV vitamins.
SI: What skin conditions could IV therapy help?
JS: The skin conditions IV therapy can help with include skin rashes due to allergic reactions, skin disorders resulting from auto-immune disorders and acne. IV therapy is a great way to alleviate skin exacerbations, and it's also great for preventing breakouts. IV therapy with antioxidants, such as high dose vitamin C and glutathione, helps hydrate and nourish the skin, leaving it with an even tone and glow.
SI: What is a popular beauty-related treatment? 
JS: At DripDoctors, we understand that part of looking our absolute best is flaunting healthy hair, skin and nails to help us feel like the best version of ourselves. For the comfort of the professionals we serve, we offer the Beauty IV Push, which gives you Hollywood's favorite beauty treatment without the celebrity price tag.
SI: Are there any other spa treatments you pair with IV therapy?
JS: At DripDoctors, we offer non-invasive, cosmetic enhancements which include, Botox, dermal fillers and PRP facials that pair great with IV therapy, and it also aids in a faster recovery time.