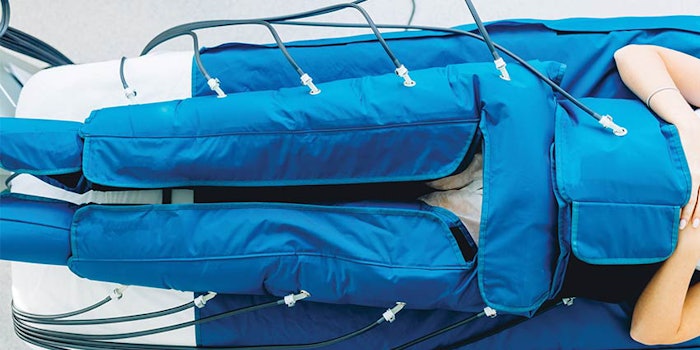 Compression therapy is simply a way of increasing blood flow activity in the limbs by strengthening vein support through specifically designed garments and intermittent pneumatic compression (IPC) pumps. Compression therapy is commonly used for clients with lymphedema.However, there are many more uses that can support other health issues that will be reviewed in this article.
The focus for the esthetician and their clients is optimum good health and wellness. With medical insurance being so expensive today, the investment in our business and our client's good health is worth considering an IPC system to offer this form of compression therapy for the many uses we will discuss here. It is also worth mentioning that for certain conditions, regular sessions are required as opposed to random sessions.
Vascular Benefit
Garments used in compression therapy are elasticized, and they put controlled pressure by squeezing vein walls together to improve the circulation. The controlled pressure exerted by compression stockings reduces the diameter of major veins, thereby increasing the velocity and volume of blood flow. Consequently, compression improves blood transport from the extremities towards the heart, reduces blood reflux and stagnation, and provides better drainage of the deep venous system, which all helps to increase and therefore improve the circulatory rate.
Continue reading about decluttering your spa in our Digital Magazine...