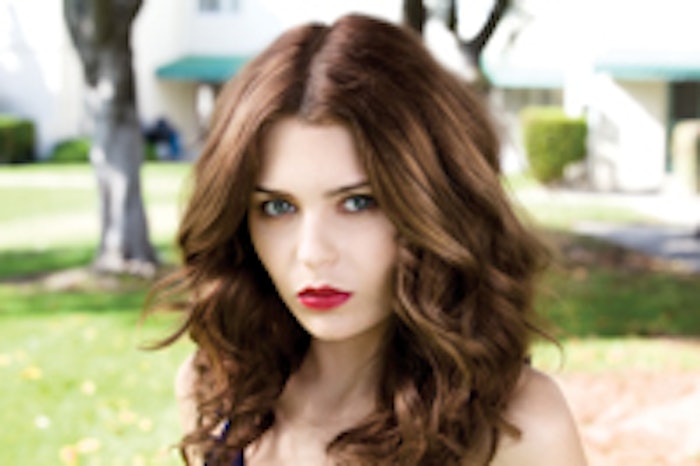 Photographer: Mick Cukurs, Mick Cukurs Photography,
www.mickcukurs.com • Makeup: Emily Katz • Model: Alexandra Krosney
Every year, the vivid and intense glories of summer—sand-encrusted flip flops, capris, cold drinks on hot days—give way to the more subtle, comforting joys of fall. Calmer, more subdued enjoyments—cozy sweaters, campfires, the crunch of leaves under leather shoes, the crispness of cooler air coming in through open windows—act as a kind transition between the intense seasons of summer and winter. Fall cosmetic colors serve the same purpose, helping clients shift from summer sensations to deeper, richer colors and a new season.
This fall, more than anything, color trends are wearable, multifunctional and provide clients a way of adding a fun, escapist touch to their everyday lives. "In fall, it is not unusual to see earth tones, but during the last few years, we've seen a departure from typical seasonal colors. They are going back and forth, so it's not all about gold or russet," explains Leatrice Eiseman, executive director, Pantone Color Institute and founder of www.morealivewithcolor.com. "One of the most prominent pieces of advice is to take the more typical fall colors and accent them with hues that you think of as spring colors. Look at the accessories you have in your spring wardrobe and figure out how you might accent your outfit with them. You can do the same for cosmetics."
Emily Katz, a celebrity makeup artist who previously worked on the television hit Lost, agrees that accents are the name of the game this fall. "It's about using peppy colors as accents. There are great ways to incorporate color so things don't look as dull," she explains. "Instead of somber colors, this fall's colors are wearable in cosmetics and clothing; they add life and have a much more positive spin. The economy is getting better and there is more hope and more light in outward expression."
"We're not being dramatic for fall, and are leaning toward easier looks as opposed to over-the-top," explains Allyson Owens, director of education at DermaQuest Skin Therapy. Janell Geason, global educator, Aveda makeup, concurs, "Women want to be relaxed and look great and not look like they are trying so hard. There's an element of escapism, and that's a cultural thing. We're not quite there yet with the economy, and clients want some fun and fantasy. There's an overall feeling of 'I just want to be who I am.' "
This combination of natural and escapist makes for an interesting and completely wearable set of colors and trends for clients, ranging from smoky eyes with a cat-eye twist and nude lips to a natural, played-down eye and red or orange lips. The important thing to remember this season is to focus color on only one feature. "In previous seasons, color has been applied all over the face, and this year, it's more about color on the eyes or lips, not both," explains Geason.
A smoky vantage point
Although the smoky eye is still in, a twist is taking place making the trend exciting and different for fall. "An interesting trend in eye shadow is doing the smoky eye design with a copper or bronze-colored eye shadow," says Katz, who warns that any eye shadow with a copper or reddish tone can translate poorly on some complexions. "If you use a deeper turquoise eye shadow lining or underneath, it can help abate some of that redness." Katz also sees the majority of the up-and-coming colors for fall as perfectly wearable around the eyes. "A slightly lavender purple is perfect for eye shadow, as well as a purpley brown, which can be used on the upper lid with a little oyster gray underneath. A rose dust can be used, and a nice dark olive green color is so pretty as an eye shadow. You can highlight that with gray or for evening, a dark shimmery olive eye shadow with a kick of gold or purple. It doesn't have to be big and huge all over the eye, though." Little colored metallic accents in the corner of the smoky eye look are also the trend, adds Geason.
As far as eye liners are concerned, precision is in. "I'm seeing exaggerated cat eyes already and will only see them more so as fall and winter roll on," observes Jane Iredale, founder of Iredale Mineral Cosmetics. "We're not getting into vibrant colors for liners, but some plums, blacks, browns and grays, as well as a misty kohl for the holidays."
Geason is also seeing the cat-eye trend, "I'm seeing a winged-out eye with a black liquid liner, but not applied perfectly—it should be a little disheveled and rock and roll. Remember, clients have to have an elongated eye for this look to work, so you may have to enhance what a client has in order for the look to work. You want to make sure the client looks good in the trend," she advises.
When it comes to mascara, it's unanimous—full, healthy lashes in traditional colors are the trend this season. And as for eyebrows, "Stronger brows are in for fall; thicker than in the past, but still soft and not overly done," says Philip Luque, director of education and artistry for Youngblood Mineral Cosmetics. "It's a clean, soft look. The fuller the brow, the younger the look."
Iredale agrees, stating "The eyebrow is going to be powerful and really groomed this fall. Apart from lashes, it's going to be the No. 1 accessory. People are getting more adventurous, combing gold metallics into dark brows—there is more playfulness with the brows."
Natural beauty
This fall, perfect skin is literally in. "Whether the focus is on the lips or the eyes, the rest of the skin should be undone with a matte glow. The face is more prominent and the skin is a lot more natural than normal, which is very healthy-looking and pretty," says Marissa Nemes, celebrity makeup artist.
Kristine Kay, makeup artist and owner of Shampagne Hair Studio + Beauty Lounge in Kansas City, Missouri, emphasizes the focus on a light touch when it comes to foundation and powder. "The complexion isn't dewey or shimmery, but it is very light-handed, so people have to have great skin," she states. "When a bare look is in, skin has to have a natural, healthy appearance."
Iredale agrees, saying, "The skin is center stage and everyone wants to show off their hard work."
And although makeup that is too matte can make a person look older, the current look is somewhere in between matte and dewey, according to Luque. "It is a perfect, flawless, no-makeup look," stresses Geason. "Those who are taking care of their skin want to show it off. Makeup artists need to figure out how to make clients look flawless using the least amount of product."
Cheeky choices
In keeping with the trend of an accent on one feature, blush can add a pop of color to the face. "During the fall, there will be more color on the cheeks in pinks and peaches," says Luque. According to Iredale, cheeks are making a comeback with the help of multifunctional cosmetics. "Bronzers can be used to enhance the cheeks," she says. "Two colors of bronzer can be used: one to define the cheekbone and the other on the apple."
Balance is the key, adds Nemes, who recommends using blush to balance the look of the eyes and lips. "You don't want to use something too bold, but you don't want to go too sheer, either. You want a healthy glow to the cheek," she explains. Geason agrees, saying, "You want blush to look like a natural flush coming from within, and you have to make sure it works for the client's skin tone."
Lip service
Because there are two sides to Fall 2010, lips are either red and ravishing, or nude and barely there, all depending on whether the eyes are intense or not. If eyes are dressed down, consider using red or orange lipstick for a colorful lift. "For a vibrant lip, use a more poppy-tomato red or hot tangerine this fall," says Nemes. Pop music sensation Lady GaGa is inspiring bolder looks, according to Luque, who sees brick tones and reds as being what's in for lips this autumn.
"There's been a lot of hot pink and orange because people were just tired of the dullness and needed something to feel invigorated ... something that feels like a tropical destination," explains Katz. And Iredale adds, "This fall's must-have is red and a lot of plum, not so much vampire as vampy sexy."
If clients decide upon a dressed up smoky eye with metallic or turquoise accents, a nude lip is a must this season. "This fall, a slightly warmed nude that is imbued with coral can give a lively pop without looking too dull or deathly," says Katz. Kay agrees, saying, "Lips should be almost naked, matching the skin and very nude."
A new season
Multifunctionality is also in vogue this fall, allowing clients to purchase makeup that can be blended and used on various features. "I'm seeing a lot of mixing shades, such as browns and purples; having fun, but being practical. Instead of buying 10 different eye shadows, suggest clients mix a couple for a new look," says Owens. Along with multiple use cosmetics, an easy, fresh look for fall is always what clients want, according to Nemes. "Clients want a no-fuss look, and I think any woman can pull that off with these fall trends," she predicts.
With the help and advice of spa professionals who understand that runway looks need to be more subtle, clients can enjoy fresh, economical applications that make them feel great and keep them current for a new season. "What spa professionals need to do when they have clients who turn to them for advice is to keep things modern without looking too trendy. Sometimes great theater is not OK to wear to work," explains Katz.
With a focus on lively, wearable colors, as well as budget-driven cosmetic options, Fall 2010 promises to be a season that allows clients and spa professionals alike to relish the comfort and sparkle of this new season.