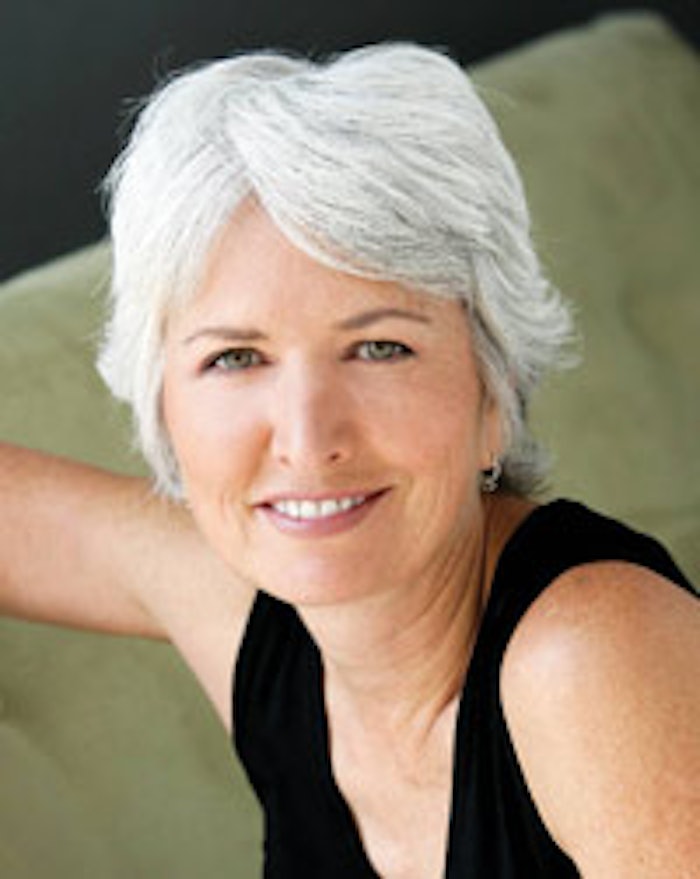 Makeup application is a routine for many women, a ritual performed every morning in front of the bathroom mirror. And although many spas provide makeup applications for special occasions, such as weddings and proms, quite a few are also discovering a market for helping women evolve their cosmetics style as they get older.
A recent report from the market research company NPD Group, Inc. titled The Makeup In-Depth Consumer Report indicated as women age, there are distinct shifts in their makeup usage and buying habits. Focus moves from the eyes to the face and lips as a woman matures, the report states, and these shifting preferences provide spa businesses with the opportunity to influence and impart wisdom on the daily custom so many practice every morning—putting on makeup.
A better base
Helping a woman create a cohesive cosmetic look should begin by learning about her relationship with makeup—what she uses, how she applies it, and what colors she prefers and why. Learning this basic information not only helps you understand what the client is looking for, but also helps her develop trust in whoever is performing the application. "We are seeing more people coming in who are in their 40s and 50s and have never worn makeup," says Ellengray Kennedy, owner of spa-dee-dah! located in Bancroft, Iowa, and a user of jane iredale—The Skin Care Makeup products. "For example, when they tried makeup before, it was a bad experience, so we want to educate them and change that perception."
Talking up the unique advantages of quality cosmetics, such as the skin care benefits of many of today's lines, is a great way to entice application clients. "Women have different attitudes toward makeup," Kennedy explains. "To help them get excited about using healthy makeup—whether it's a woman who has always loved makeup since she was a teen and wants a really glam, bling look, or someone who wants a refreshed, new look to protect their skin—we show them how the right cosmetics can be used to improve skin and not just cover up problems. We want to help heal them, and maybe strengthen collagen and improve texture in the process."
Christalee, a master makeup artist with Youngblood Mineral Cosmetics and television and film makeup artistry veteran, also notes a need for flexibility when applying options for women of different ages, saying, "I know women in their 70s who love makeup, love to be dolled up, and then young people who want to deal with as little as possible, just a quick way to apply a bit. It's one of those things that really depends on the person." However, she does stick to a few basic rules for everyone. "I am a firm believer that less is always more. Piling on too much makeup ends up enhancing flaws," she adds.
Covering those flaws is the primary reason women wear makeup, so it's important to consider what skin issues you'll be dealing with. "As they get older, women have different pigmentation issues, redness and rosacea, hormonal acne, and wrinkles and fine lines they want addressed," explains Kennedy.
Jen Murphy, a licensed esthetician and makeup artist who works with Afterglow Mineral Cosmetics, states, "Something that can strike menopausal women really unexpectedly is acne. Mineral makeup is great for them because it covers blemishes nicely and can actually be healing without messing with the skin."
Adding a little color to the face is another great selling point of makeup applications. "Mature women tend to not have as much natural pigmentation in the lips or cheeks, so I like to use a liquid mineral foundation, and a blush and a lipstick that offer a little more color, but still look very subtle and natural. It's about making them look healthy. Mature women don't want to look overly made up. They want to look young and fresh with their makeup," says Kennedy.
"The secret is all in how you apply it," says Christalee. "You don't want to look like you have a ton of makeup on, so technique is absolutely everything, and you need to have quality brushes. Then you just need to blend, blend, blend—blend like a crazy person." Keeping all these starter elements in mind, a beautiful, fresh, easy makeup look really is just a few brush strokes away.
Quality complexion
A youthful, glowing complexion is an excellent place to start an application, no matter the age of the client, so begin by finding a foundation that exactly matches her skin color. "One of the mistakes most people make is getting that line around the chin," says Christalee. "The secret of what shade to apply is to match it to the neck. If you apply the color to the neck and it disappears into the skin, you've got your perfect shade. Then always blend your color down into the neck for a flawless finish."
"You want makeup that's not too heavy; it should be weightless and consistent," says Carmen Wolcott, makeup artist and co-founder of Studio G Total Skin Wellness in Telluride, Colorado. "How it sits on the skin is so important, especially on someone who has a few more fine lines and wrinkles. Cosmetics should improve the condition of the skin and accentuate it."
After smoothing out the complexion, Wolcott moves to blush to perk things up. "A touch of color on the cheeks is great for women of all ages," she says, and according to Murphy, "With blush, you want a more sophisticated application on the middle of the cheekbone. As the face ages, cheekbones tend to be more prominent anyway, so you want to avoid deep contouring underneath, and applying it right onto the apples can look too young. If you start close to the bottom of the cheekbone and sweep the color up toward the temples, it looks much more sophisticated."
Explaining how she brings out some of the face's greatest assets, Christalee notes, "One product I really love is loose foundation in a coffee color for doing shading. It's extremely natural and beautiful, and I use it below the cheekbones and in the creases of the eye to add depth to the skin. You're highlighting the things you want to pull forward, and shading the things you want to deepen. We call it chiseling the face, and it brings out the bone structure," she says.
Then, to bring everything together, Christalee says, "I do the blush first, then I apply the concealer under the eyes, pulling it down into the cheekbones for the ultimate blended finish. Bringing that concealer downward gives an automatic highlight on the cheekbones."
Wolcott adds, "As women mature and their skin changes, a little camouflage is very helpful. Women can see an immediate difference by bending a little concealer around the entire eye area, and it's easy using a foundation brush for this. It brightens and opens up the eyes in two seconds, and you have a neutral, clean palette, allowing you to then add color to the eyes, lips and cheeks."
Whatever hue the client prefers for the cheeks, whether it is a dusty rose, bold bronze or something in between, these tricks leave the skin looking flawless, striking the perfect cosmetic tone for a woman of any age.
Easy on the eyes
The NPD Group's report states that one potential reason many women shift away from wearing eye makeup as they get older is their concern about drawing attention to the fine lines and wrinkles that tend to develop in this delicate area. However, inventive makeup artists are creating ways to give the eyes a chance to shine while minimizing signs of aging.
Noting the obstacles brought about by more mature eyes, Kennedy says, "We call them experienced eyes at spa-dee-dah!, and we've started putting the eye makeup on a little differently to adjust to the challenges that come as skin ages. Instead of horizontal lines of three colors across the lid, we go vertical. We start on the outer edge of the eye with upward strokes of darker color and move toward the nose with lighter shades, always using upward and outward motions. There can also be touches of highlight at the very outer edge of the eye, right toward the nose and in the arch of the eyebrow." A simple application change-up can leave unexpectedly exciting results, and opens up a variety of color options.
"I like soft browns, pinks and peaches in matte finishes for eyes because they give warmth," says Murphy. "And a good rule of thumb is to stay away from shadows that are frosty or have big metallic chunks for a more mature eye, especially if the eyes are crepey, because you don't want to accentuate that. But it doesn't mean you can't use something iridescent or luminous; you can add a subtle sparkle to the eye with a nice sage green with gold tones."
Kennedy also adds another way of giving a touch of glimmer to the eye. "Take a little gold dust and apply it to the apple of the eyelid, where the pupil would be—just a gold dab," she says. "It's not too much glitz on more mature skin, and it's a really neat way to make eyes sparkle."
Even eye liners aren't out of the question for older eyes. "Women should learn to apply a natural, soft eye liner—whether it be with pencil or using an eye shadow with a liner brush—to frame and accentuate the eyes. You can also use a powder eye shadow to fill in the eyebrows," says Wolcott, and Christalee notes, "I use a dark black raven loose shadow for eye liner. It's great for giving that really wonderful smoky, smudgy look. The smokier you can get the look, the softer the look is, and that helps you look younger. Liquid eyeliners and things that are harsh-edged make the face look older, adding age, but smoky and smudgy help it look younger."
Murphy adds, "You don't have to shy away from eye liner, but you do want to avoid going really intense with it—go more subtle. You can wet a powder eye liner for deeper color and a more liquid look, or use it dry and feather it out really nicely for a look that's more subtle and refined."
To round out the eyes, lush lashes are something that are universally desired for a great makeup application, as the NPD Group reports nearly nine out of 10 women between the ages of 18–54 wear mascara. To give them an extra edge, Murphy recommends always curling the lashes before applying mascara, saying, "Lashes tend to get less plentiful as you get older, and they'll show up a lot more if you curl them."
With these simple application ideas and options, you no longer need to be hesitant when offering eye makeup to more mature clients. From a rich smoky application to a touch of gilding on the lid, creating a gorgeous look for the eyes has never been easier.
Lipstick jungle
Although the NPD Group's report states women tend to move away from lip gloss and more toward lipstick as they age, it also offers that women tend to focus more on their lips as they get older. "Losing color in the lips is something that happens as women age, so more lip color can be necessary. I use warm brown tones, pinky browns, something more neutral," Murphy explains. She also warns makeup artists away from colors that are light or really frosty, as well as those that are unnaturally bright, and Kennedy agrees. "For women who are getting to be more mature, I wouldn't use something that's really red red or pink pink. Often I'll use something with a brown in it to deepen the shade," she says.
Of course, one of the greatest challenges in creating a pretty pout on a mature client can be the fine lines that develop around the mouth. "Be very careful when lining lips," Murphy notes. "Many women do tend to get those vertical lines around the mouth, so you want to make sure the lining is nice and straight." To counteract any lining issues, Christalee counts on her tools and products. "Lip liners can be soft enough that they are really easy to apply and don't pull on the skin," she says. "And if you fill in the whole lip with liner, any lipstick you apply will stay on much longer."
Makeup applications often then top off with a swipe of lip gloss, but be prepared to follow your client's lead on whether she wants to include this shiny addition. "Many mature women look fabulous with a bolder or darker lip color," says Wolcott. "I definitely would line the entire lip with a liner that matches or is slightly darker than their natural lip color—this will help hold the lip color and prevent bleeding into any fine lines around the mouth—and I don't typically add too much shine or gloss."
Bringing all the elements together, Kennedy says, "I do tend to use less neutral lip gloss for an older client—they usually need deeper tones for their lips to be really defined. I'll use the lip pencil or crayon on the actual lip too, so the color stays on longer. Then, once the lips are defined and I've applied lipstick, I finish with just a little gloss so the lips look dewy."
Makeup work
Providing clients with a friendly, inviting atmosphere where they can come with makeup questions and requests is also essential and helps set the stage for great cosmetics retail options. Kennedy explains at spa-dee-dah!, clients are encouraged to be curious about their cosmetic selections. "Clients can come in and play with the makeup," she says. "We let them try it before buying it, so they can see how to best get the results they prefer. We have mothers bringing their teens in so they can learn good makeup habits from the start."
Remembering individual tastes is another paramount lesson, because a woman uncomfortable in her makeup contradicts the whole purpose. "The idea is to mix and match for the individual person," Kennedy says, and Wolcott notes, "I think it's helpful for all women to include a little mineral makeup as part of their daily skin care routine. It does not take much at all to brighten the skin and accentuate the best features. With a little assistance, if needed, women can easily incorporate a beautiful look that fits into their everyday skin care routine."
Because makeup—with its myriad of colors, brushes, sheens, shimmers, glosses, glimmers and finishes—is really just about highlighting what you already have to work with. "Give your clients some color," Murphy says. "Whether it's on the lips, cheeks, eyes or all three, a little color can really highlight a face's assets." These tips and tricks can help you leave your client flawless, beautiful and youthful, no matter their age.