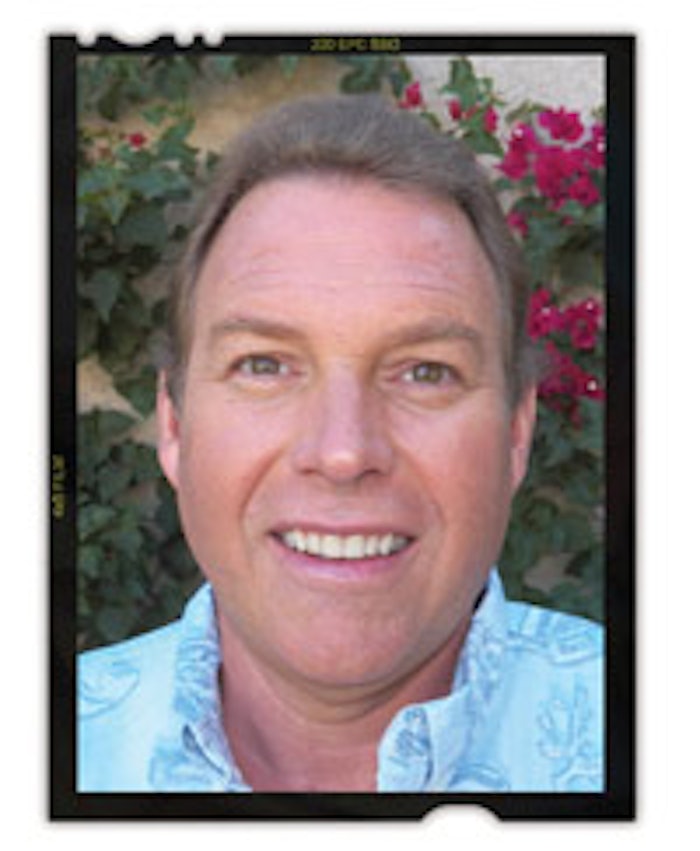 When it comes to men and makeup, the two words are usually not used in the same sentence. However, a little grooming can go a long way to helping a guy look his best. When he wants to make a good first impression, such as during a job interview, there are several tricks a male skin care client can do to look less tired, a little younger and put that sparkle back in his eye.
Step 1: Always begin a man's grooming session with a good, small pair of safety scissors—the ones with the rounded tip. Trim away any wild eyebrow hairs, visible nose hairs and unsightly ear hairs. Be careful with the eyebrows though; you don't want male clients to start looking feminine. Clean-shaven or facial hair—either will look great as long as any facial hair is kept neat-looking.
Step 2: Applying a good facial primer is one of the most important steps to creating a nice foundation with which to work. Apply a face serum and eye cream to soften the skin and remove some of those fine lines that can cause him to look tired.
Step 3: Many men tend to get the white raccoon look around their eyes and across the bridge of the nose from wearing sunglasses. To make that less noticeable, apply a tinted moisturizer with SPF or a mineral powder with SPF to create an even skin tone. Be sure to keep this step very light and sheer, and avoid using any product that is labeled as "illuminating," because it will have a shimmer to it. Once again, you don't want him to start looking feminine or like he is wearing makeup. For this reason, avoid using concealers, because they can be a little too heavily pigmented. You can make your own tinted moisturizer by mixing a little liquid foundation into your favorite sunscreen or moisturizer. Some men have very dark beards that tend to have a bluish-green tint when closely shaven. To minimize this, use a little foundation or tinted moisturizer with a slight orange pigment in it to color-correct the blueness. When choosing a color, try to either match the skin tone or go a shade darker. Going lighter can make the skin look ashen.
Step 4: Next, with a large, fluffy powder brush, apply a very sheer bronzing powder with a matte finish across the forehead and cheeks to give a sun-kissed, natural look. You can also use a little of the bronzer to shade under the jawline, if needed to create more of a chiseled look. Make sure that you blend it very well to avoid seeing any of the lines of demarcation, which is a dead giveaway that he's wearing makeup.
Step 5: As people age, the eyebrows and lashes tend to fade or lighten, which can result in a tired, dull look. Adding a little tinted mascara or brow gel in a color appropriate to the natural hair can give that little pop and restore a youthful look. Use waterproof brown or brown/black mascara on the tips of the upper lashes. Try to stay away from the pure blacks unless the natural hair color is black, because it can look too feminine. Make sure to wipe most of the mascara off onto a tissue before applying so you don't apply too much or get any clumps. For the eyebrows, use a tinted brow gel and make sure you get right to the root of the hair. Use a spooly brush, and go back and forth lightly over the brows. Try not to apply to every hair in order to keep it looking more natural. Be careful not to use a brow color that has any red tones, because this can end up looking fake. Use varying shades of brown that are slightly more on the green side. Even on red-haired clients, stick with more taupe or golden colors. You can use this on any facial hair as long as you keep it subtle.
Cosmetic products and supplies used in this makeover include Anastasia, faces 4 humanity, Laura Mercier, L'Oréal and Smashbox.
Kathleen Crawford began working as a makeup artist at 22, and her artistry caught the attention of Hollywood producers who have been utilizing her talents for the past 25 years on top-rated television shows, such as House, MD.She's been the department head makeup artist on more than a dozen episodic and sitcoms, and has provided makeup for A-list celebrities.