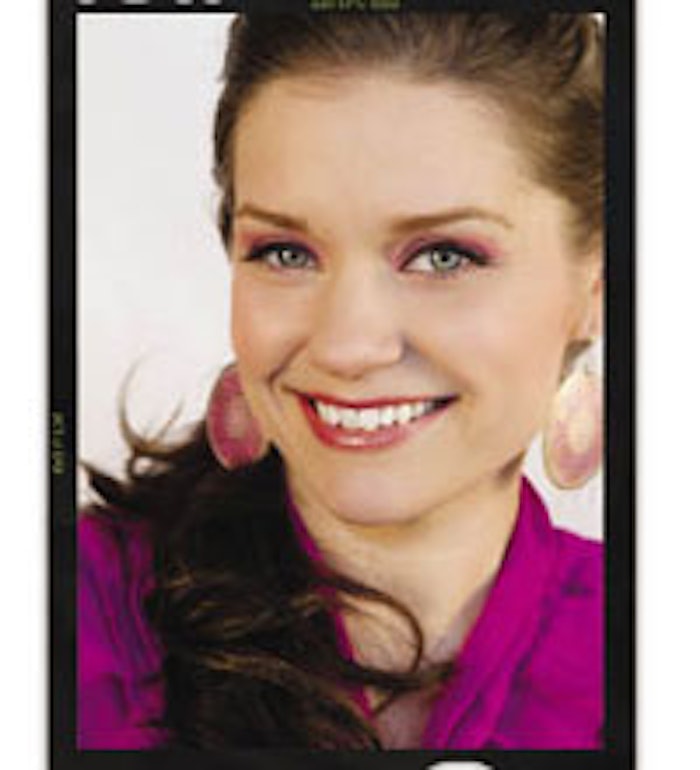 Brights, nudes and neutrals are all words that describe 2012 spring/summer makeup colors. However, your clients may be asking, "Are they wearable for the everyday woman?" Absolutely! Not only are they wearable for women of every age, they also may help clients feel refreshed and renewed as they step into summer after a long winter. The key to making bright colors wearable is to use the bold color only in one area and go neutral with the rest.
In this makeover, Christi Nicolet, a mother of two from Townsend, Massachusetts, effortlessly wears the bright pink 2012 hot color, cabaret, on her eyes, along with a set of beautiful, full, shaped eyebrows, sheer pink blush and a soft lip.
Step 1: Apply moisturizer with fingers and use a disposable lip brush to apply a lip balm to the lips.
Step 2: Using the fingers, apply face and eye primer all over the face.
Step 3: With a small, synthetic camouflage brush, apply peach concealer to the under-eye area and blend well.
Step 4: Use a wider synthetic foundation brush to apply a neutral beige water-gel mineral foundation to the face. Do not apply it to the eyelid area or where the concealer was used.
Step 5: Apply a pressed mineral makeup, also in a neutral beige, to perfectly match and set the client's foundation.
Step 6: Following the natural eyebrow shape, fill in the eyebrow using a brunette-colored eyebrow pencil making short, feathering, upward strokes. Use a small angled brow brush to apply a brown brow powder for a softer, natural finish. An optional step is to apply brow wax over the eyebrow with a small angled brush using short, feathering strokes to help hold the look all day and give a sheen to the brow.
Step 7: Using a sable eye shadow brush, apply a bright pink color to the eyelid up to the crease. Using a smaller sable eye shadow brush, apply a creamy ivory eye shadow under the arch of the eyebrow.
Step 8: With a small angled brush, apply a black gel eyeliner, starting from the inside of the eye outward and up, being careful not to extend the line out too far.
Step 9: Apply two to three coats of black mascara to upper lashes, and do a light mascara application on lower lashes.
Step 10: To give the skin a soft glow, apply an illuminating cream with the fingers, blending it onto the forehead and upper cheek areas. Next, apply a sheer pink mineral blush to the cheek area using a small angled blush brush.
Step 11: Completely fill in the lips with a soft, neutral beige lipstick and, using a lip brush, apply a sheer, lightly shimmered gloss over the lip area. Not using a lip liner will give a softer look to the lips.
Step 12: To set the look, apply pressed mineral makeup using a large powder brush.
Cosmetic products and supplies used in this makeover include Beauty Addicts, Mirabella and Stript Makeup.
Teresa Paquin, owner/founder of Anika Skincare and Makeup, in Hudson, NH, is an acclaimed esthetician and freelance makeup artist who provides services in both skin care and makeup. Her extensive background and education include makeup design for film, television and print. She can be contacted at 603-595-0224 or [email protected].