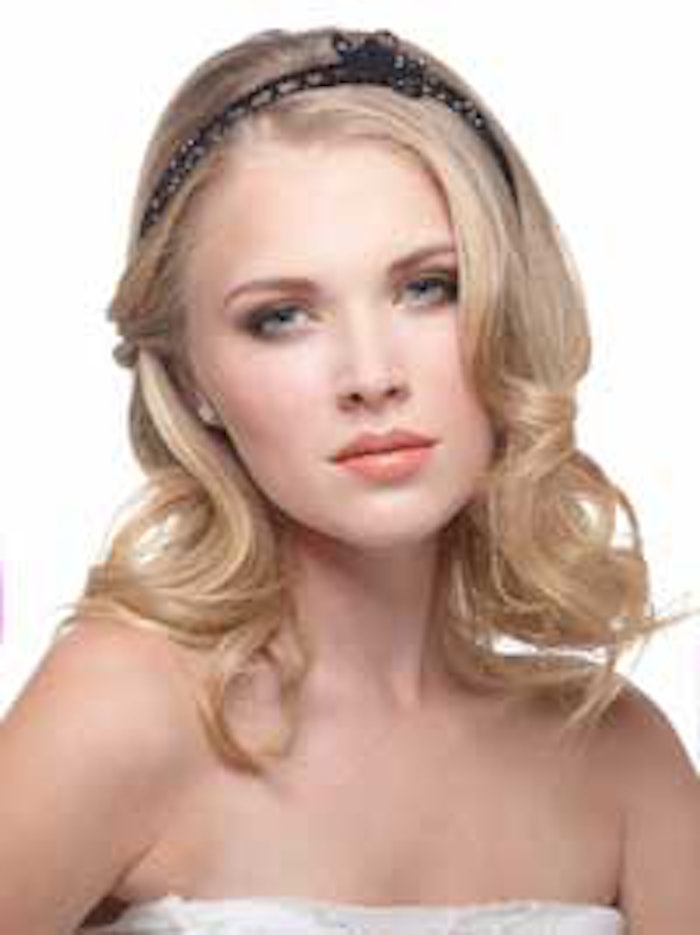 Arguably the most anticipated of the seasons, spring brings with it an air of new hope and new beginnings; it is a time to shed the baggage of the dreary winter and embrace the possibilities of new birth.
It was this attitude of rebirth that showed up on the runways during New York Fashion Week this fall, leaving makeup artists both impressed and intrigued by the cosmetic trends that ran the gamut from traditional smoky eyes and nude and pink tones to metallics, new matte lips and even neons. The biggest trend was that every fashion designer made individual choices in regard to makeup this year. "There wasn't a yawn in the group," says Emmy-winning makeup artist Kevin James (KJ) Bennett. "Spring 2011 was out-of-control crazy with color. It was everywhere, and it was bright." According to Leatrice Eiseman, color expert and founder of the Eiseman Color Blog, "Coming out of winter and looking around at the world, you need color as a lift. This spring, color is going to be the quintessential makeup accent."
As one of the premier colors of the season, Pantone Color Institute named Honeysuckle, described by Eiseman as a pink that is on its way to red, as its color of the year, setting the tone for a brighter season than in years past. But don't let the brightness scare you, says celebrity makeup artist Christian Scott. "Just because it's a trend, just because it's what the gods of the fashion industry are putting toward us doesn't mean those are the colors everyone has to wear. You can take elements of them," he says. "For example, if orange doesn't work, you can go off that and blend in other aspects, going into a beige-brown look and keeping the makeup soft."
Bennett agrees, saying, "If your client is color phobic, you don't have to buy into the fashion look. Take one single color that goes with her wardrobe. If this spring she is buying purple, get one great purple eye liner and mix that into her normal, neutral eye makeup. Add the one element."
Throughout the melee of color that dominated the runways this year, several trends appeared, providing guidance on how to help consumers welcome spring through makeup application in a trendy and wearable way.
A second look
"Eyes will be more neutral, but will trend more toward orange-rust shades," says Kevin Mendelson, global educator for Iredale Mineral Cosmetics. Cat Tatman, director of marketing for glo Professional, agrees. "The runways showed over-the-top bold colors. The playful nature of those colors translates to everyday for consumers. For example, if you see a bright orange eye shadow, it goes into a soft coral, pink or peach," she says. Other colors abounded as well, including softer shades of darker colors. "There were also muted shades of blues, plums and browns, as well as some nice neutrals, taupes and lighter shades of brown," explains Tatman.
Another trend for the eyes is the use of metallics this spring. "The metallics aren't crazy colors and should be put on the lid in a sheer, subtle way. You can do a soft, smoky eye, not full on black for spring clients," advises Philip Luque, director of education and artistry for Youngblood Mineral Cosmetics. And the smoky eye, which is still in style, has been re-tweaked to be a bit less intense this season.
"The smoky eye is still big, but it is being done using deeper, warmer browns with dark grays, and deep greens and purples. Even a little silver accent can brighten the look up for spring," says celebrity makeup artist Emily Katz. Scott agrees, saying, "The smoky eye is going more blended and browner and softer. The nude lip and dark smoky eye has been done to death, and it's time for clients to put that black eye liner pencil back in the drawer for a little while and get some light colors out." Diluting some of the brighter trendy shades can provide just the trick. "You're seeing that smoky look using colors that are all over the place, from every shade of purple to the palest lilac, and greens going from forest green to brilliant lime greens," says Bennett. "If you do a clean, nude makeup and your client is wearing neutrals and browns, take a lime tone around the eye. It's stunning." Even neons have found a place in the sun this spring, although making these more wearable takes a bit of finesse. "The word 'neon' is being used a lot, even though its not neon like we used to think of it," says Eiseman. "It's a little more mellow."
With all of these different colors in eye liner and eye shadows, Katz recommends using caution. "Makeup artists need to experiment with clients and check in on their level of comfort in regard to how dense their makeup is," she says. "Runway looks are for theater for the most part; there are some eminently wearable looks, but many are theater. People tend to forget that."
Although eye shadow and liner colors take the main stage, the brows are not to be forgotten. Still defined and full, they are a bit softer this season, says Luque. Katz agrees. "We're looking at less brow," she emphasizes. "It's still defined, but not quite as intense as last season. That seems to be more of a winter idea. It's a strong brow, but it's not a strong, dark brow."
Black mascara and lots of lashes are still all the rage. "Black mascara is always in, and false lashes are gaining popularity. A lash wardrobe continues to develop in women's makeup bags," says Mendelson. If your spa doesn't already apply and retail eyelash extensions, gauge consumer interest in this offering to find out if this may be a profitable menu addition this spring.
Clean, even and fresh
As in winter, the complexion should be healthy above all else. "Your complexion should always just look clean, even and fresh. Heavier foundation should never come back in style," emphasizes Scott. Katz concurs, saying, "There's a lot of talk about good, beautiful, clean skin. That's a basic requisite for good makeup." And along with health, a complexion should also look alive. "This season, we are seeing a nude skin with a luminous finish. It can be sensual—almost wet—but not greasy. You want it to look like it's got its juices running through it," explains Mendelson.
Highlighters are also a component of this spring's look. "Incorporate a highlighter or illuminating tint that can be worn under the foundation, or a face primer or liquid foundation for that healthy, dewy, glowing complexion," advises Tatman. "A beautiful complexion starts off with foundation, and that is the way to hook makeup clients. Find a foundation that they love. Women have dozens of lip products, but very rarely will you find someone with multiple brands of foundation. Get a foundation on your clients that works for them and gives them that flawless look, and then you can really build on what they're buying."
Along with finding the right foundation for the client, it's important to teach them how to make economical choices. "Advise your clients to buy the best full-coverage foundation that looks the best on their skin and dilute it as needed for whatever event they are attending," says Bennett. "It is so much easier to have a full coverage makeup that you can dilute with primer or moisturizer; it's much more versatile without having to buy more products. Consider advising your clients to mix their moisturizer into their full coverage foundation and it will be their favorite makeup and their favorite moisturizer." Another trick of the trade that should be handed down to clients is a good foundation brush. "For consumers who really want to be able to put their foundation on in a professional way, sell them a foundation brush and show them how to use it. Teach them how to put on the least amount of foundation and build up if they need to. Get a line of foundation brushes to retail," recommends Katz. Tatman agrees, saying, "Tools are a very big part of a flawless makeup application and should be of high quality. A good foundation and blush brush will last forever. Explain why you are using the tool you are using,"
Blush it up
"Fresh, clean, clear, sheer colors are being used in blush this season," says Bennett. "It's either a strong, clear pink or peach, or, for darker skin tones, a clear orange. It's totally clear, not opaque." As far as blush application is concerned, it depends on where you're going, says Scott. "We're in a period where we've seen years of trends behind us and can take from them and be OK," he says. "If you're going for that cute, fresh look, try a pink glow on the apples of the cheeks. If your client is going out at night and wants to look like a sex bomb, contour the cheeks. I think that's why things are more fun this season." According to Luque, he sees the apples-of-the-cheek look being the one for the future: "The trend is going to go back and forth with the nude look."
Luscious lips
Although nude and pale pink still reign supreme in spring, bright color is also being represented, with bright oranges, pinks and reds for the lips, says Luque. Glossy is still big, but the new matte was the talk of the runways. "It's not the dry, cakey, claylike matte. This is more of a velvet matte. It plays with light, but it's not reflective. It makes lips look lush without being dry," explains Bennett.
Some of the brighter colors include orange, tangerine, cantaloupe, hot pink, honeysuckle, coral and deep berry, says Katz. "If your client prefers a less obtrusive lip color, the nude lipsticks of the season have a light, soft pink, while others are more brown," she explains.
A growing optimism
The new brightness of spring illustrates a growing optimism in the country, says Katz. "People are wanting to feel more optimistic, and these colors imbue a sense of optimism that we've been missing. As things are starting to turn around, people want to express that and not look so heavy. There's a vibrancy that we've not seen in a while," she explains.
And although many clients may be initially dubious about adopting the vibrant shades of spring, help adapt the shades to fit their needs. "For women who don't want to look obvious or forced, work on their favorite feature. Translating these looks translates into what the clients are willing to try," says Mendelson.
Along with picking the right shades, Bennett suggests working with clients to help them find the right solutions. "Clients and makeup artists need to take a moment and figure out how to get the most out of products. Idiot-proof products are not the way to go in an economy-concious environment. Put your thinking caps on and start helping clients find multiuse products that fit into different parts of their makeup lives."
Concludes Eiseman, "Clients will want a punch of color that's going to show up well. Because of the economy, people may not want to spend money on a new coat or accessories, but they will spend it on new eye shadows and lipsticks, which are a perfect place to add a little fun."