Over the decades, the multitudes of beauty writers, bloggers and vloggers have kept us up-to-date with the latest makeup trends and techniques. If one is in the industry long enough, it seems as though we see more repeats and marginally tweaked repeats of the same looks through the years. Even the unusually placed bold graphic eyeliner doesn't surprise us anymore. Typically, there's a fairly big difference between mainstream makeup and runway makeup; however, holiday makeup transcends traditional protocol. This year in particular, lines will be blurred—glitterally.
Sparkle and Shine
This holiday, partygoers will light up the night with sparkles, glitter, pearlescent appliques and fairy dust. There are so many ways to go with these dazzling looks.
1. Take finely milled fairy dust over a larger surface of the eye and take a coordinating larger particle size glitter at the high point for a multi-dimensional look. Also, try a subtle matte eye with a liquid glitter liner, or take glitter glue for the eyes and press finely milled glitter into the tacky surface. You can always keep it simple and use a glitter eyeliner over the fairy dust.
Digital Magazine Link: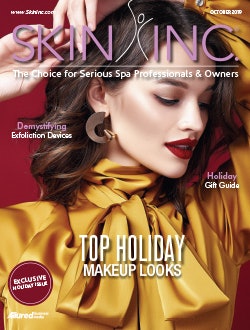 Check out the other 4 wasy to sparkle and shine as well as 5 other makeup trends this holiday season in our digital magazine! 
References