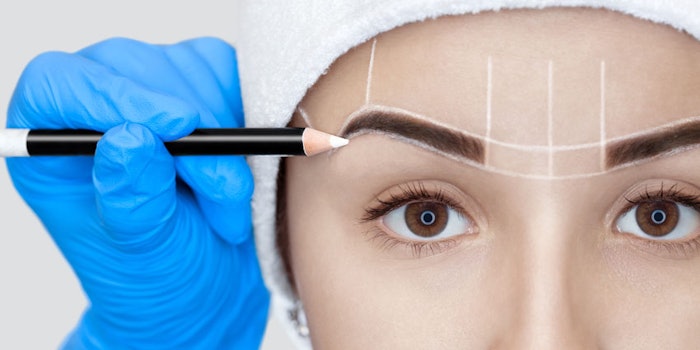 As the market leader in brows and a bonafide obsessive on the topic, I make it my main priority to get out in front of any trends that might have an impact on my business. My teams and I pride ourselves on offering every legitimate, safe and time-tested approach to achieving and maintaining beautiful brows. That's why we hopped on both brow extensions and microblading the minute the technology began to surface.
We have so many clients who are either pressed for time, have less than lush natural brows for a variety of reasons or simply want to look great for a special occasion. Extensions and microblading can help with all of that. If you're considering adding brow extensions or microblading to your existing service offerings, allow me to break it all down for you in business-owner terms. Combined with your own due diligence, you'll be able to make informed decisions that benefit both you and your clients.
Basic Differences Between the Two
Risk factor. When guiding clients through the range of brow shaping and enhancing services, we strive to be crystal clear about the level of risk attached to each. We have structured a "risk pyramid" that shows the lowest to highest levels: threading, tinting, extensions, microblading. After microblading, there's only brow surgery, which I consider very extreme. Without question, microblading is a much more invasive procedure than extensions. Thus, it's imperative that it be done only by extremely well-trained practitioners.
Contemplating cost. Although the upfront cost of microblading far exceeds the initial outlay for brow extensions, it could actually prove less expensive in the long run. With extensions, your clients will be back to see you every few weeks for touch-ups, and over time, those charges add up. Microblading, in contrast, can last up to two years.
Time commitment and maintenance. The microblading procedure itself is quick–under 30 minutes, in most cases. Still, the client's first visit will also entail precise measurements and planning as well as numbing time, stretching the initial appointment out to about two hours. For the next few days, while the microblading heals, clients will need to avoid water contact as well as stay out of the sun, and, in all honesty, they'll be looking a bit rough and scabbed for at least a week. Six to eight weeks after their first session, they'll come back for a crucial touch-up. After this, their microbladed brows shouldn't require any other type of maintenance until it's time for a total re-do (about 18 to 24 months later).
For brow extensions, the first visit can take up to an hour and ten minutes, if the client is going from what we call "no brows to full brows." However, those every other week fill-ins I mentioned earlier can take up to 25 minutes. Compared to microblading, extensions are pretty high-maintenance.
What the "Ideal" Client Looks Like
In short, once you have walked your client through the risks and potential downsides of the procedure they're is interested in, it's up to them decide what they feel most comfortable with, and what will help them achieve their desired goal of fuller, more flattering brows.
There are some exceptions on who can receive a microblading treatment. For example, anyone who has recently undergone cancer treatments is not a candidate for microblading. Having said all that, I do have some additional insights I'd like to share. Both microblading and extensions are wonderful for women who don't want to spend the extra time in the morning doing their brows.
Microblading is also fantastic for women who wear very little to no makeup and require what I call facial 'anchoring' through their brows. Great brows are all the visual pop she needs to feel polished. Extensions are definitely great for clients in search of a major "brow boost" for a special occasion like a wedding or a reunion. They're also ideal for any client who is too fearful to try microblading but wants to "test-drive" a particular brow look or shape.
One Ultimate Take-Away Tip
We've talked about the client a lot. Now, it's time to focus on you. As a business owner who offers both microblading and extensions, I want to leave you with my ultimate take-away tip: invest in the best talent you can possibly afford. Expert talent is especially important for microblading. This is serious stuff, and you want your clients to be happy with the level of expertise you and your team deliver.
In my practice, I only hire microbladers with major experience and solid references. A great body of work is another must-have. I look for job candidates who really take pride in their work and have huge portfolios they can't wait to share with me. Typically, these are the applicants who are also passionate and communicative and know how to accurately explain the microblading procedure to potential clients. Because they're already so adept at running a business-within-a-business, they also don't require a lot of hand-holding or supervision.
I urge you to do your homework and commit to only hiring the best of the best. Not only will your clients be thrilled, you'll also be lifting the entire industry through a shared commitment to utilizing best practices.