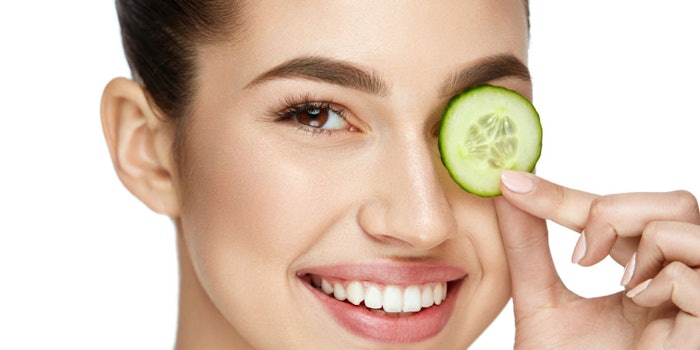 With the close of summer, fall brings about a beautiful rich palette and the fresh, crisp air encourages eye looks to be reinvented. Many clients walk into your spas needing not just new colors but beauty education that teaches them how to age well with strategic eye makeup tricks that make their mornings a little easier.
Beauty Challenge 1: Eyes Appear Small
We aren't all born with a doe-eyed look like the Disney movie characters, so some artful makeup tricks may be just the thing to make our eyes get noticed. Larger eyes tend to make us look more alert, engaged, innocent and friendly. These traits can be used strategically or just when we want to feel refreshed.
1. Define your brows to get your eyes noticed. When you define the area around your eyes, it creates a framework to bring attention and of course compliment the natural eye shape.
2. Apply a soft taupe or soft muted brow shade in your crease.This will add depth or dimension to make your eyes pop.
3. Put a light color on your lid and a shimmery one in your inner corner and brow bone. Remember that light color brings something forward and darker shades make something recede, so using the eye shadow in contrasting application can really make the eye be the focus.
4. Use a flesh tone in the inner rim when lining your eyes. This neutralizes redness and adds a wide-eyed appearance. Also, use a rich liner, dotting in between eyelashes and add a softer and lighter shade lightly dotting the bottom lash line.Again, we are using the contrast relationship of light to dark to bring attention to your eyes.
5. Curl your lashes. If needed consider getting a lash lift, which will last up to eight weeks. Finish with a coat with mascara, double-coating the top lashes and lightly dusting the bottom lashes. Voila! Eyes look larger, more defined and noticeable from across the room.
Beauty Challenge 2: Lashes are Shrinking
Nothing beats the look of long, lush lashes but many mature women or those with health challenges experience the loss or thinning of lashes. Mascara formulas have never been more important when deciding on what is best for your lashes. Beware of volumizing mascaras, as the formula is designed to thicken the lash, which can possibly add too much weight to your fragile lash thereby weighing it down. The better option may be lengthening mascara as they can enhance the length and definition of each lash and the formula tends to be much lighter on the lashes. Remember that an old mascara can do more damage than good, so be sure to toss accordingly.
Properly removing your mascara at night before bed is essential! Leaving it on overnight can cause your lashes to become stiff and can lead to lashes falling out. Make sure to avoid waterproof mascara although you may want a sweat-proof formula. The agents used to make a product waterproof are extremely drying and can lead to fall out, breakage or difficulty removing mascara. Improper removal of mascara creates premature signs of aging such as wrinkles and sagging skin. By pulling, tugging or rubbing at your skin too hard, you can cause sensitivity around your eyes breaking down healthy tissue, creating puffiness and breaking blood vessels. Keep in mind being extra gentle with the fragile tissue around your eyes.
Beauty Challenge 3: Wrinkles and Fine Lines
Wrinkles and fine lines under the eyes are very common as it is a common first sign of aging. The texture change under the eyes can be challenging when it comes to makeup sitting well and the concealer doing its main job of hiding discoloration. Many clients dislike that concealers settle into fine lines or move throughout the day. Also, when the eyes are dehydrated, they can absorb water from the concealer resulting in the concealer "disappearing" before the end of the day.
So what's the solution? Properly hydrating the face with a hyaluronic acid and lipid based moisturizing eye cream is an important first step to plump the surface and resolve dehydration. Allow the eye cream to bake (aka settle) for a few minutes then smooth on an eye primer before you put on your concealer. Applying a silicone-based primer before you put on the concealer is the key to filling in texture irregularities. Look for sheer ingredients that smooth and hydrate. You can then choose a color-correcting concealer to apply on top of the primer by lightly tapping in the inner corner of eye down to the orbital bone. Lightly slide your ring finger back and forth under the eye to blend in the pigment. The goal is to have most of the pigment where you need it and less on the outer corner towards the cheekbone, where most of the fine lines lie. Beware if the concealer pigment is too heavy, it will just draw more attention to fine lines and wrinkles. It is key for aging eyes to have light reflective and lighter weight concealers to make the eyes look more youthful and bright.
Artistry is important in makeup applications, but I find makeup education is even more important. As an experienced esthetician, artist and educator, I have noticed the recent increase of social media videos may distract makeup artists from remembering to give good instruction and education on why and how they are applying products, so the client can replicate the look at home. Remember to not get lost in the makeup look and keep the steps short, strategic and repeatable for the client at home so they feel confident and come back to your spa or salon time and time again for makeup advice and product purchase.