Body hair is a prevalent issue for the spa-going public, and its removal translates into one of the most lucrative services available. Practicing under the "if it isn't broken, don't fix it" concept, hair removal methods basically have remained the same for some time, with the most popular ones usually being waxing, electrolysis and laser hair removal.
 This isn't breaking news—in fact, most spas offer at least one of these techniques due to their high demand and amazing return-on-investment.
        "Hair removal is a huge part of esthetics and cosmetology," explains Lori Nestore, otherwise known as The Wax Queen. "All the methods—new and not so new—have only made hair removal bigger due to simple exposure to the joy of being hairless."
 Because of the increasing popularity and presence of these techniques, you must identify ways to distinguish your business and its hair removal treatments from the spa's down the street. Bottom line: The extras make all the difference. From cooling devices to ceiling-hung TVs, spas are making hair removal a better encounter every day.
Waxing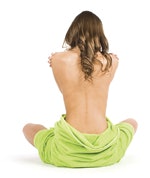 Waxing is a temporary hair removal method that involves pulling hair out from the root, resulting in hairless areas for three to eight weeks. Most of the body can be waxed, including the back, bikini area, legs and eyebrows.1
      Comfort amenities can be provided to waxing clients in order to transform what many view as an uncomfortable-yet-necessary experience into an almost enjoyable one.
      Comfort amenities. From pain-relieving creams to waxes featuring aromatherapeutic benefits, the waxing experience is becoming more pleasant. Over-the-counter and professional topical numbing creams and sprays are available containing lidocaine and benzocaine, which help take the sting out of waxing if applied 15–20 minutes before the service.2
      Many waxes are beginning to include specific ingredients to address skin issues, as well. For example, soy is becoming more popular in wax formulas due to its anti-inflammatory and moisturizing properties. Waxes also are available in an ever-increasing variety of fragrances—from floral to fruity—fostering aromatherapeutic benefits based on the power of scent.
      Also, consider the environment in which your waxing services are provided. Is it utilitarian, or is it a room that creates an experience? "Make hair removal a 'treatment,' not a simple, quick, uncomfortable experience that a person has to do," encourages Michelle D'Allaird, CIDESCO diplomate and owner of the Aesthetic Science Institute in Latham, New York. Consider referencing feng shui and incorporating elements into the room that inspire a sense of peace—running water, fireplaces, a stone path, calming music. Another route is the more modern, more utilitarian one that New York's Completely Bare subscribes to: TV. Ceiling-hung televisions provide a great distraction for hair removal clients.3
Electrolysis and laser hair removal
      Electrolysis is electrical epilation for the purpose of permanently removing hair. In this method, an electrologist places an extremely thin metal probe into a hair follicle to deliver electricity that damages the hair-generating areas, either through the galvanic method, which forms caustic lye, or the thermolysis method, which utilizes overheating. These two methods also can be administered separately or blended.4
      The most recent introduction into the hair removal market is laser hair removal. Its popularity continues to grow with the increase of medical spas around the country. In fact, the American Society for Aesthetic Plastic Surgery (ASAPS) recently identified laser hair removal as the third most popular noninvasive cosmetic procedure for women and the second most popular one for men in 2006.5
        The method provides permanent hair removal and, because a large area can be treated at once, it can be cost-effective. A low-energy beam is absorbed by melanin present in the hair follicle shaft. Because hair cycles as it grows, repeated treatments must occur in order to destroy approximately 80% of hair. Ruby, alexandrite and diode were the first lasers approved for hair reduction, and intense pulsed light (IPL) systems also are used, though mainly on light-skinned, dark-haired individuals. According to the American Academy of Dermatology (AAD), this is because dark pigments in the skin cannot absorb the light they emit. Lasers with longer wavelengths, such as the Nd:YAG laser, can treat darker skin types.6
      Specific relief for clients who endure permanent hair removal methods comes in the form of cooling devices and time-savers.
      Cooling devices. A variety of cooling devices are available, depending on the type of equipment purchased. According to Kile Law, owner of the Skin Inc. magazine Best of the Best award-winning Blue Water Spa in Raleigh, North Carolina, cooling devices are vitally important for improving hair removal offerings. If utilizing a system that doesn't include a cooling method, a thick layer of cooled, clear gel can be applied before the laser pulses occur.7 Following are a variety of cooling methods available.
       Dynamic cooling. This type of device delivers short bursts of cryogen to the skin's surface automatically every 5–80 milliseconds before the laser pulse occurs.6
        "One of the most important things that can be done to make hair removal more pleasant for the client is to use systems equipped with dynamic cooling devices," says Law. "This method of cooling the skin is safe, consistent and comfortable."
       Contact cooling. This utilizes a sapphire-cooled handpiece that is in direct contact with the skin. Before the laser pulse occurs, this device is pressed firmly against the skin. After the laser pulse is delivered, the handpiece is removed and placed firmly on an adjacent site until the entire desired area has been addressed. When using this method, it is crucial to clean the cooling tip every five to ten pulses in order to remove debris, as well as to disinfect the device between clients.7
        Cold airflow. Also using a cooling handpiece, this method delivers a constant flow of chilled air to the treated area of the skin's surface.7
       
      Time-savers. "The truth is, people look forward to the results of their hair removal treatment, but even the most comfortable service is not pleasurable, like a facial or a massage," Law realistically explains. Because of this, a technician needs to make decisions in order to make the process as pleasant—and usually, as quick—as possible. When it comes to laser hair removal, Blue Water Spa does this by utilizing a larger spot size for the laser pulses. "This results in a more comfortable treatment because it is over more quickly," says Law.
Technique and time-savers
       One detail that sets a spa apart time and time again in all hair removal techniques is the quality of the skin care professional administering the treatment. "The biggest advantage is technique," confirms D'Alliard, and from consultation to treatment to post-care, the professional can make or break a service.
        "The technician must be skilled in the art of waxing," emphasizes Nestore. This specialist needs to be aware of a client's needs in order to take the treatment above and beyond the normal hair removal session.
 Along with great technique, an overriding knowledge of the procedure, as well as the ability to establish a certain comfort level, is crucial. "To make it more comfortable, estheticians must talk with their clients," explains Debbie Merhar, owner of Deborah's Esthetics in Reno, Nevada. "I usually have a story of the week—it takes their mind off the waxing. If you are truly interested in your client and their life, they will know it and want to come back to see you."
        Stacy Vinz, CME, of LaserClinic1.com and board member of The Society for Clinical Hair Removal agrees. "Friendliness, a listening ear, and time are what people need," she confirms.
Post-care
       Whether experiencing waxing or permanent hair removal, one way to ensure a better overall experience for the client is to be diligent about caring for the skin after the service. One of the most common complaints from clients is how their skin suffers following hair removal treatments.
        "The technician must educate the client on normal and expected reactions, and how to minimize them with home care," says Nestore. D'Alliard agrees, "Home care prolongs the effects and makes the results better." She recommends encouraging before and after exfoliant use, as well as the use of face and body creams, smoothing lotions, AHA products to prevent ingrown hairs and creams that prevent red bumps. Make all of these products available in your spa's retail area, and be sure to refer clients to them after a service in order to keep these valuable dollars in your business.
Hook, treat and pamper
       Like all professional spa services, a major point of difference from one spa to the next is the level of training and quality of technique that is being performed by the team members who provide these treatments. "What makes you better than the spa down the street? Because of you. Don't be afraid to let them know you work for them and are doing the best you can on their behalf," says Merhar. Along with this, make the hair removal experience as pleasant as possible by incorporating a variety of enhancements, whether through the use of devices and creams to remove the sting or by incorporating soothing environmental touches to help the client escape.
        It is crucial to be better than the competition in order to continue making your customers—and your accountant—happy. "Our hair removal clients are even more dedicated than our facial clients," exclaims D'Alliard. "Hook them, treat them and pamper their skin, too." Remember, it is the little extras that go a long way.
References
1 http://en.wikipedia.org/wiki/Waxing (Accessed April 30, 2007)
2 Get a Perfect Bikini Line, Cosmopolitan, http://magazines.ivillage.com/cosmopolitan/style/features/articles (Accessed April 20, 2007)
3 Beauty Black Book: High-Tech Hair Removal, InStyle, http://www.instyle.com/instyle/shops/beautyblackbook/print/0,24155,1166727,00.html (Accessed April 16, 2007)
4 http://en.wikipedia.org/wiki/Electrology (Accessed April 30, 2007)
5 11.5 Million Cosmetic Procedures in 2006, The American Society for Aesthetic Plastic Surgery, http://www.surgery.org/press/news-release.php?iid=465 (Accessed April 30, 2007)
6 Laser Hair Removal, American Academy of Dermatology, http://www.aad.org/public/Publications/pamphlets/laserhair.htm (Accessed April 16, 2007)
7 Laser Assisted Hair Removal, http://www.emedicine.com/derm/topic562.htm (Accessed May 4, 2007)