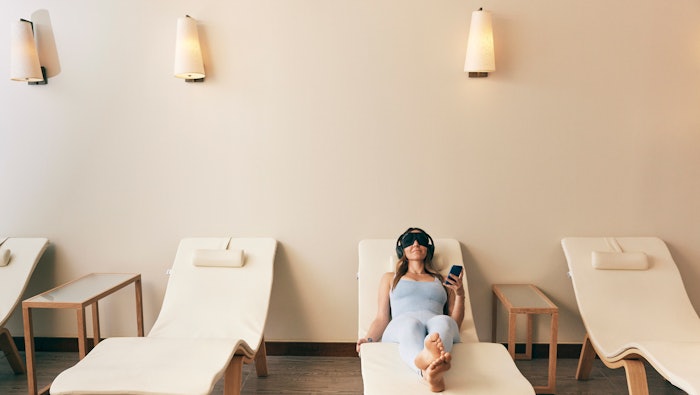 Carillon Miami Wellness Resort announced the addition of six new touchless wellness services to its touchless wellness menu first introduced in 2020. The new treatments are designed to foster relaxation and alleviate specific health conditions and skin disorders including anxiety, stress, acne, eczema, psoriasis, back and shoulder pain, lymphatic congestion and more.
Related: How Hot and Cold Therapy Benefits the Skin
1. Recharge Wave Mat (20 min., $99) is focused on neck, back, and shoulder pain with mid-frequency electrostimulation and heat therapy from the Recharge Wave Mat. The patented system's stimulation mat features integrated channels to deliver dynamic waves of stimulation that enable intense muscle training, with light electrical bursts targeting the full spine or other areas of the back for instant relief.
2. BallancerPro (25 min., $125) is a lymphatic drainage suit designed to boost wellness and the immune system, relax the body, reduce water weight, improve tone, detoxify, and promote quicker recovery from workouts. There are options for the upper or lower body to help flush lymphatic fluid from the body. 
3. Soli-Lite (50 min., $150) is an LED photobiomodulation system to treat skin concerns from acne and wrinkles to dark rings and aging skin. With yellow, red, near-infrared, and blue light settings, Soli-Lite can also be used to enhance and extend the benefits of treatments like chemical peels and microdermabrasion or speed up healing time for invasive procedures.
4. Dermashape (45 min., $229) is a non-invasive lymphatic treatment that uses a special heating pad to soothe and warm the body, followed by suction technology to release stagnant lymph fluid, break up fat congestion and increase lymph flow volume. It is designed to enhance the lymphatic system's ability to remove toxins and infectious material, reduce water retention and improve skin texture. 
5. HIEMT Body Shape (30 min., $750) utilizes high-intensity focused electromagnetic field technology for short-term bursts of strong muscle contraction to increase muscle density, reduce fat and improve clarity and tone.
6. NuCalm (25 min., $49) is designed to interrupt stress in the midbrain to achieve optimal brain and body recovery. The treatment involves a NuCalm Light-Blocking Eye Mask, a NuCalm Biosignal Processing Disc at the wrist and headphones with soothing binaural signal processes to ease the brain and body's sympathetic nervous system out of fight-or-flight mode to allow the parasympathetic nervous rest-and-digest system to take over. It is supposed to provide deeper sleep and improve cognitive performance. 
Tammy Pahel, VP of Spa & Wellness Operations, said, "At Carillon Miami Wellness Resort, we're always looking for new modalities to enhance the health and well-being of our guests. We're excited to take our touchless services to the next level and invite travelers, members and residents to explore the future of wellness with these six innovative treatments."