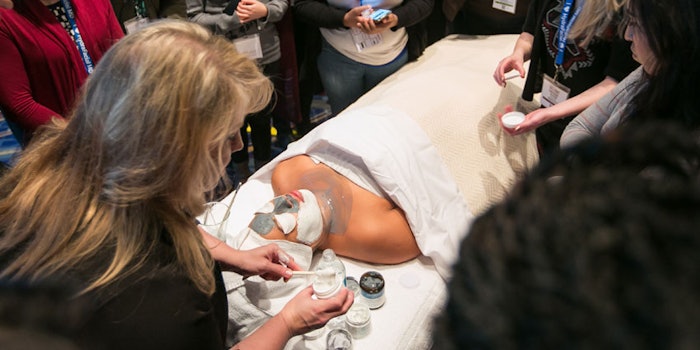 Treatments are the foundation for any spa menu. From tried and true facials to techniques using the latest equipment, Skin Inc.'s Face & Body Midwest spa conference and expo offers attendees the opportunity to learn about it all. Here's a look at a sampling of what to expect in the way of treatment demonstrations.
Iontophoresis: An Esthetician's Secret Weapon
Repêchage president and CEO, Lydia Sarfati, will explain the importance of iontophoresis in treating aging skin. Attendees will watch a live demonstration and learn one of the most important techniques estheticians can employ in reducing the appearance of wrinkles, and learn how electrical current can help transfer skin care ingredients to the skin and potentially prevent the need for future injections. "Demystifying Iontophoresis: An Injection Without Needles" takes place on Sunday, January 21, 2018, 11:30 a.m. – 12 p.m. on the Skin Inc. LIVE! stage.
Probiotics in the Treatment Room
Elina Fedotova, CEO and formulator for Elina Organics, will demonstrate the essential elements of a probiotic facial in addition to protocols for using probiotics on skin conditions, such as acne, hyperpigmentation, dry and aging skin. Fedotova will also discuss how to grow fresh, live cultures for use in your own skin care practice. "Corrective Probiotic Facial" takes place on Monday, January 22, 2018, 2:30 – 4 p.m. in Room 30.  
Firming Facial Massage
Teresa Stenzel, director of education for Bioelements Professional Skin Care, will discuss how to maximize the firming results of your facial massage. Attendees will view first-hand as Stenzel demonstrates step-by-step movements and methodology of massage manipulation to firm mature skin. Attendees will learn to master high-touch movements with varying pressure and pace to target dermal tissue, aid in toxin removal and increase lymphatic activity. "Master Your Massage: The Physiology of Facial Firming" takes place on Tuesday, January 23, 2018, 10:30 – 11:30 a.m. in Room 30.
Color Me Camo
Jill Glaser, owner of Make Up First School of Makeup Artistry, will demonstrate techniques to effectively camouflage severe skin discolorations from conditions such as vitiligo, melasma, acne and hyperpigmentation. Using both manual and airbrush techniques, Glaser will also discuss the art of covering tattoos using color theory and the appropriate products. "Camouflage Makeup for Severe Skin Discolorations" takes place Tuesday, January 23, 2018, 11:45 – 12:45 p.m. in Room 30.
Lava Love
Vicky Karr, massage therapist with Spa Revolutions, will demonstrate how to use natural minerals activated by salt water to heat lava shells without the use of electricity or equipment for fast, safe and sanitary massages. "Intro to A Self-Heating Lava Shell Massage" takes place on Sunday, January 21, 2018, 12:30 – 1:30 p.m. on the Skin Inc. LIVE! stage.