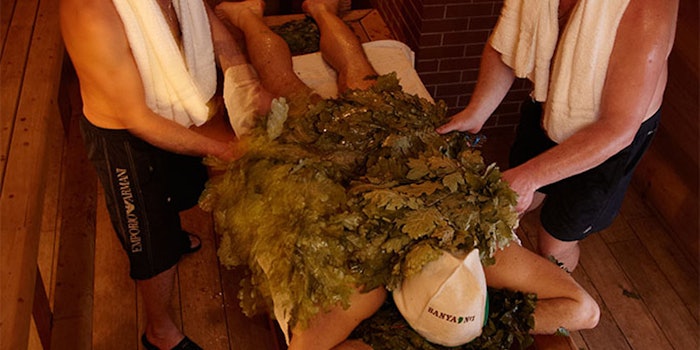 With a year spent at home, people are looking for fun and adventurous new spa treatments. Lifestyle Asia has curated a list of the most unique and unusual spa treatments to inspire your future treatments.
1. Ramen Bath
Yunessun Spa Resort in Hakone, Japan is offering guests a chance to be a part of ramen. This treatments allows guests to soak in a pork broth bath filled with noodles. 
It claims that the collagen from the broth cleanses the skin and improves the metabolism. 
2. Snake Massages
If you're not afraid of snakes, this massage might be the one for you. Offered at the Bali Heritage Reflexology and Spa in Jakarta, Indonesia, this treatment uses non-venomous pythons to boost the metabolism from the adrenaline rush. 
3. Nature Treatments
A Venik massage is type of massage includes being smacked on your back with bundles of oak or birch tree leaves. This massage is said to improve blood circulation, premature aging of the skin and metabolism. 
If trees aren't your thing, you can try hay bathing at Hotel Heubad in Völs am Schlern, Italy. It offers guests a 15 to 20 minute session where they are covered in warm, damp hay and then are able to lounge on a waterbed for 30 minutes.
It is said to have a detoxifying effect on the body, strengthening the immune system and improving metabolism.
Another option includes a cactus massage. The Four Seasons Resort in Punta Mita, Mexico offers a massages using heated nopal cactus paddles (with the needles removed). 
This is said to offer benefits such as detoxifying, soothing and healing sunburns. 
4. Cold Sauna
Hotel Haikko Manor and Spa in Finland offers a cryogenic chamber with extremely cold temperatures for a period of one to three minutes. 
The shock from the low temperature is said to remove toxins, release pain and reduce inflammation. It is also used for people who suffer from sleep disorders, stress and certain skin ailments such as psoriasis.
5. Salt Caves
Halotherapy or salt therapy is the least adrenaline induced treatment, where guests can just breathe in the salt in the air as they relax and unwind.
This is said to help with respiratory diseases such as asthma, as well as sinus problems and digestive issues.