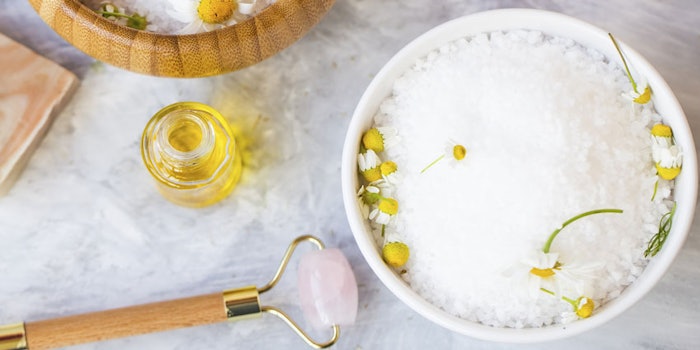 The Irie Baths & Spa at S Hotel Jamaica in Montego Bay is now offering the Folkloric Treatment Collection, which utilizes indigenous herbs and methods inspired by the strong, resourceful women of Jamaica. The collection is made up of three experiences:
Lavender Escape Bath (150 min./$120)
Lavender was chosen for its healing and relaxing benefits, while sea salt eases muscle cramps and stiffness, as well as joint and back pain. "Lavender is used around the Jamaican home to burn mostly in children's rooms to prevent contagion if they have a cold or cough," said spa manager Tamieka Frazer-Lewis. "It's a scent reminiscent of my childhood, and still soothes me today." 
The treatment entails:
Deep soak in warm water infused with lavender essential oil and sea salt
Rub Mi Dung massage, Frazier-Lewis' own version of a traditional Swedish massage, which increases oxygen in the blood, decreases muscle toxins, and improves circulation and flexibility using a gentle touch
Lavender spa pedicure
Lavender tea
English Country Bath (140 min./$136)
Sweet-smelling cerasee was picked for its skin and muscle healing benefits. It helps relieve arthritic pain, sinus conditions and muscle spasms, and can help lower cholesterol, blood pressure and inflammation caused by allergies. It also soothes gastrointestinal issues. "In Jamaican folklore, cerasee tea was recommended to pregnant women for the health of the newborn and to ease the birthing process," said Frazer-Lewis. 
The treatment entails:
Deep soak in the fragrance of cerasee
Yaadie Style Massage, a traditional deep tissue treatment aimed at releasing chronic muscle tension
Irie Bath Signature Manicure
Cerasee tea
Aromatic Lemongrass Bath (160 min./$155) 
Lemongrass aids in relief from fever, pain, swelling and infections. Its antioxidant properties also help maintain the immune system and healthy skin. It's extensively used in aromatherapy and helps combat fatigue, anxiety and body odor. "Lemongrass—also referred to as fever grass in Jamaica—earns its praise for its sweet, citrusy aroma. It is used in baths and tea to help combat insomnia to ease respiratory disorders," Frazer-Lewis said.
The treatment entails:
Deep soak in warm lemongrass bath
Irie Senses massage, in which aromatherapy is used to help increase blood flow  and aid skin tissue recovery, decrease pain and promote circulation.
Signature manicure and pedicure
Lemongrass tea