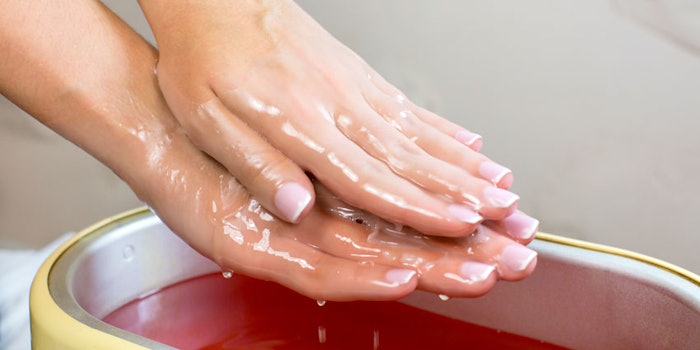 We check our mirrors upon waking each morning, studying our faces while brushing our teeth. Was that wrinkle as deep yesterday? Did that blemish make its debut overnight? We moisturize, apply serums and follow with SPF. We check our face a final time before leaving the house to truly "face" the world. We consult with professionals on skin care advice and for special events, especially the "big day," we opt to have our makeup skillfully applied, our lashes extended and our hair styled. 
But what about our hands?  Are we neglecting the one part of the body that is known as the "telltale sign of our age?" It's time to revolutionize our treatment menus and incorporate a service that has long been recognized for both its therapeutic and esthetic qualities.
Partaking in Paraffin
While paraffin treatments were originally considered an add-on treatment in only manicures and pedicures, we as an industry of estheticians, nail techs, hair dressers, lash artists and massage therapists are missing an opportunity to further defy aging and improve our revenue, while ultimately accomplishing our main goal of making our clients feel their most beautiful and relaxed.
Paraffin wax offers a non-invasive, pampering treatment to reverse the negative effects of sun, wind and other environmental factors on the skin. Even better, it only requires a trip to the spa or salon. Recognized as a form of heat therapy, it helps to increase blood flow, relax stiff muscles and improve other joint mobility issues. 
Esthetically, paraffin has a beneficial, restorative effect on the skin, leaving it soft and supple, while creating a barrier against harsh elements. The hot wax will also open pores and exfoliate the skin, revealing fresher, smoother and more youthful hands. A natural emollient, the wax immediately hydrates and nourishes the skin and continues to boost moisture levels even after the wax is removed.
Paraffin and Bridal Season
With wedding season quickly approaching, and close-up ring photos being a priority for photographers and the blissful couple alike, there is no worse photo bomb than dull, crepey, non-moisturized hands. On the big day, the hands will be receiving just as much "face time" as, well, the face. 
Most brides will have already scheduled their bouquet of beauty treatments, most often including makeup, nails, hair, lash extensions and massage. When the bride comes to sit in your chair, she is often nervous with her energy jittery and scattered. It's an emotional time to be getting married, as well as dealing with the family dynamics of it all. She is hoping to look and feel the most beautiful version of herself that day.  
With a variety of paraffin treatment options now available, including brush-on application, dip, or single-use, sanitary gloves, providing an unexpected, extra service can truly enhance your client's experience. Upon slipping her hands into the warm, nurturing gloves, she will immediately begin to shift her energy into a more relaxed state. Feeling taken care of and pampered this way will add so much more value to your typical treatments, setting you apart as each bride will remember her experience with how you made her feel.
4 Ways to Bring Paraffin to Brides
A paraffin treatment is simple and can really set you apart. Here are just a couple of ways you can work to incorporate this special treatment into what the bride already has planned. 
1. Make it a package. Creating an exclusive wedding day bridal package that includes this service will ensure your bride is putting her best hand forward.
2. Offer it beyond the bride.Consider offering a paraffin hand treatment as a stand-alone or add-on service, perfect to market to the mother-of-the-bride, bridesmaids or even the groom.
3. Make it easy on site. Innovations in technology have eliminated the use of electricity or batteries, allowing for portable and mobile treatments. In five minutes, you can elevate your service and provide a spa treatment that immediately shifts the bride to a more relaxed state while upping your game of making her feel extra special and pampered.
4. Gauge your time. Leave the treatment on for as little as 10 minutes, or use overmitts to extend the warmth if performing a longer service, maximizing the relaxation effect of the warm wax, an ideal benefit for nervous brides.
Brides cannot help but smile when they see their hands after taking the paraffin gloves off. The skin immediately looks fresh and supple, all adding to the goal of the bride looking radiant on her big day.