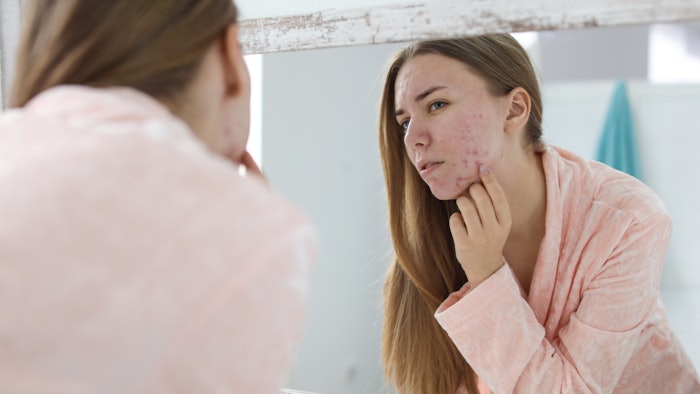 Research reported by the European Academy of Dermatology and Venereology (EADV) on ScienceBlog identifies a potential link between acne and a deficit of omega-3 fatty acids. The study measured the nutritional parameters of 100 patients diagnosed with acne and found that 94% had below-recommended levels of omega-3 fatty acids.
Related: Unilever x IBM x STFC Research Reveals Niacinamide to Boost Skin Defenses
The study was conducted at the Department of Dermatology and Allergy in Munich, Germany, and the findings were revealed during the European Academy of Dermatology and Venereology (EADV) Spring Symposium.
According to the study, omega-3 fatty acids reduce inflammation by stimulating the production of anti-inflammatory prostaglandins E1 and E3, leukotriene B5 and lowering the levels of the insulin-like growth factor (IGF) – 1, the central hormone which induces acne. The three main omega-3 fatty acids are alpha-linolenic acid (ALA), eicosatetraenoic acid (EPA), and docosahexaenoic acid (DHA).
In the study, patients with omega-3 levels lower than 8% showed higher IGF-1 levels, compared to patients without a deficit of this nutrient. When the patients were subdivided into groups with a severe deficit of lower than 4%, levels of the acne-inducing hormone increased even further.
The data confirms that a healthy diet is essential in acne prevention and furthers treatment and therapy potential with accompanying nutritional measures.