The spa industry changes all the time, and it is important to attend industry events to stay abreast of the latest research, innovation and protocols. However, for a long time, the Atlanta area didn't have a spa industry trade show, but that all changed in 2016 with the first-ever Face & Body Southeast.
We brought the area a high-level, product-neutral day of education followed by two days of exhibition filled with the industry's innovators. Attendees were elated, they clamored for more—and they asked for more science. So we're bringing it back, and we are going to answer that call.
Face & Body Southeast Spa Conference & Expo will be returning to Atlanta on Oct. 7–9, 2017, with spa industry education that ups the quota for science and so much more. How much more? Read on.
Advanced Education
The Advanced Education Conference will return to Face & Body Southeast on Oct. 7, 2017. Due to attendee demand in 2016, the day will be packed with more science experts than ever before.
It will kick off with an inspirational moment of mindfullness from keynote speaker Monique Martineau, a mindfulness mentor and someone who has trained with Deepak Chopra. In her presentation, "Ancient Wisdom for Beauty, Serenity and Success," Martineau will teach attendees how to be more mindful to reduce stress and be more successful.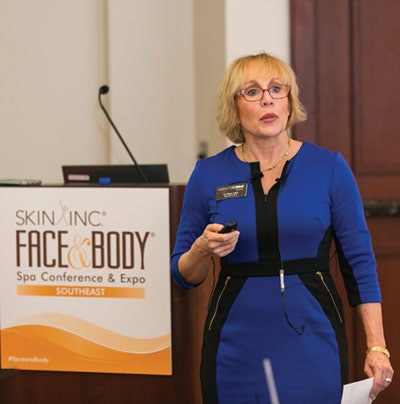 The day will then be divided into four tracks: business/wellness, physiology, ingredients and treatments. Attendees to last year's conference may notice the difference—the science track has been split up into ingredients and physiology for even more science education than last year.
The physiology track will begin with the details about peels that every skin care professional needs to know. In her presentation, "pKA, pH and Peels," Anna Churchill of Synergy Spa & Aesthetics will provide the facts that you need to have successful peels.
Naturopathic doctor Erin Madigan-Fleck from Naturophoria will continue the skin discussion with a presentation on "Reactive and Sensitive Skin," in which she will provide the clinical and visual aspects of skin stress, inflammation and sensitive skin. Kimberly Lee of Pevonia will follow with a presentation on using skin as a visual representation of what is happening inside the body.
Registered nurse James Brown of Environ will then detail the process of melanogenesis, noting which professional treatments are effective on pigmentation. The track will end with dermatologist Ayyaz Shah, M.D., who will educate attendees on how to link certain skin conditions to hormonal issues and what to do about it.
The ingredients track will begin with a presentation on the detrimental effects of sugar on skin by Annette Tobia, Ph.D., of Dynamis Skin Science. Attendees will then learn about the power of superfoods for the face with a discussion by Celeste Hilling of Skin Authority.
Join Lisa VanBockern from Skin Script as she then guides attendees through the different methods of exfoliation, so skin care professionals can mix, layer and provide great results. Lyn Ross of Institut' DerMed will then provide the ingredients that can help skin care professionals treat four common skin conditions: mature, acne, discolored and sensitive.
Also addressing aging skin, Gül Zone of DermAware will discuss how modalities and treatments can be paired with certain ingredients for the best anti-aging success.
If you're looking for education beyond science, we have you covered, as you can attend either the business/wellness or treatment track, both chock-full of information.
Speakers in the business/wellness track include: Denise Fuller (National Aesthetic Spa Network), Pelotherapy: Let's Play in Clay; Sherrie Tennessee (SpaSOS), 3 Ways to Add Wellness to Your Spa; Annet King (Elemis), #Trendspotting 2017 and Beyond; Elaine Sterling (Elaine Sterling Institute), How to Start Your Own Business; and Nancy Reagan (Bella Reina Spa), Mastering SEO, Blogs and Web Marketing.
Speakers at the treatment track will include: Ann Marie Ray (Skin Smart Permanent Cosmetics & Skin Care), Trends in Micropigmentation; Lenee' Mitchell, L.E., Threading 101; Jocelyn Ash (Atlanta School of Massage), Manual Lymphatic Drainage; and Lisa Stewart (Solia Spa), Designing the Good Ol' Fashioned Facial.
Partnerships
Face & Body has partnered with two great organizations to broaden the scope of the science and regulatory information that Face & Body Southeast covers. For those in a medical spa, we have partnered with the American Med Spa Association to present the Medical Spa Summit on Oct. 7, 2017.
Attendees will learn the legal basics of medical spas, find out how to hire, motivate, and properly pay staff, and discover ways to use skin care programs to keep your patients coming back for more.
We have also partnered with IMPACT Melanoma to provide attendees with on-site cancer education. To be held on Oct. 8 and 9, the class will allow attendees to become more knowledgable in identifying signs of skin cancer. Attendees will learn how to talk to clients about their findings and how to refer them for a physician appointment.
Free Science Education
In case you miss Advanced Education, or are hungry for more free science education, the show offers supplier classes and Skin Inc. LIVE! stage presentations on both days of the exhibition, where attendees can listen to industry experts discuss topics ranging from lightening ingredients to naturals and devices for skin care success.
On Oct. 8, 2017, the LIVE! stage will feature an update on acne therapy by dermatologist Ayyaz Shah, M.D., of Shah Dermatology. He will show some of the most common underlying factors which may cause or worsen a client's acne to allow for a better treatment plan and higher success.
Goldie Bonnell of Pevonia will also demonstrate a cellulite express treatment using stem cells to firm and tone skin. Plastic surgeon Elizabeth Whitaker, M.D., will present "The Science and Biology of Beauty," a presentation on how the way we look can actually improve the way we feel.
Mark Lees, Ph.D., M.S., and Kyle Mull, L.E., will provide an update on combining ingredients for both "birthday" aging and sun-damaged skin in their supplier class, "Anti-acne and Anti-aging: A Real World Update."
Learn about the many concepts behind compromised barrier and how to address these concepts with Shannon Esau of Rhonda Allison Skin Care during "Compromised Barrier Repair."
Trish Green, of Eve Taylor North America, will share the importance of sleep and offer natural solutions and suggested spa treatments to attendees during "Sleep: Understanding the Critical Role It Plays."
The second day of the exhibition (Oct. 9, 2017) will also see a wealth of live science presentations. Michael Pugliese of Circadia will do a presentation on the causes of hyperpigmentation, ingredients shown to treat it effectively and will present a live demonstration of a hyperpigmentation treatment on the Skin Inc. LIVE! stage.
Brian Goodwin of Éminence Organic Skin Care will help attendees during his supplier class delve into the core of their clients most common skin concerns by learning how to simultaneously treat different layers of the skin to produce immediate results during "Discover Immediate Anti-aging Results with All-natural and Organic Active Ingredients."
During the supplier class, "Beauty from the Inside Out: A 360-degree Approach to Skin Health," Dawn Clifford of Image Skincare will show attendees a new approach to skin health with bioactive collagen peptides.
If you are as excited about skin care science as we are, visit southeast.faceandbody.com to learn more and register to attend.
Lisa VanBockern (above), Skin Script, will share insights into different exfoliation methods. Lyn Ross (left), Institut' DerMed, will help attendees stay informed of innovative new ingredient concepts.
Spend your time at Face & Body Southeast getting a powerhouse boost of education from a variety of supplier classes, the Medical Spa Summit and with Advanced Education.