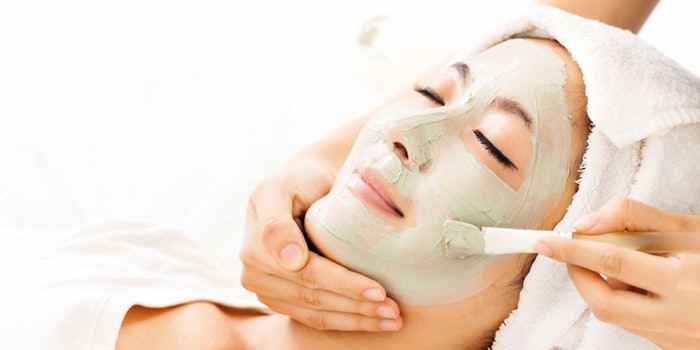 As the leaves begin changing color and the weather starts to shift into the fall season, it is the perfect time for renewal ... and what better way to help treat your clients' skin then by giving it a fresh start. Exfoliation is an essential part of maintaining healthy, beautiful skin for your clients. This is not a new concept: In fact, the ancient Egyptians used abrasive tapes made with alabaster, honey and sour milk to exfoliate, and then abraded the skin with finely ground sand to keep it silky smooth. Luckily for today's professional skin care clients, the beauty industry has advanced by leaps and bounds when it comes to exfoliation.
The early days of exfoliation
There have been phenomenal advancements in exfoliation techniques even since the early days of professional skin care in the United States. When thinking back on the methods used in the 1970s to force the creation of new, healthy skin cells for clients, it becomes apparent that it has truly been a journey. One of the main forms of exfoliation during that time was a method called gommage, which comes from the French word meaning "to erase." This process involved applying an enzyme-based cream that would sit on the face for a few minutes until it dried and then the hardened cream would be rubbed away, just like an eraser. Although this was effective, much easier and less messy forms of exfoliation have come into play today.
I also used to mix together granule concoctions of almonds, honey, oatmeal and buttermilk that would leave clients' skin nice and smooth. Little did I know, I was actually using alpha hydroxy acids (AHAs), which are now used regularly in the esthetics world. To help get rid of dead skin cells even further, other common kitchen items were often used, such as sugar, lemon and oil. Many of these ingredients are actually still used in exfoliants today, but the formulations have become so much more advanced. This time period laid the foundation for future advancements. Along with topical products, estheticians would use electric brushes and pumice stones, which seemed advanced at the time.
The evolution of chemical peels
While estheticians were using these exfoliation methods, physicians were performing one the strongest types of chemical peels—phenol—which could remove all the pigment from the skin and leave patients needing strong sun protection for the rest of their lives. This treatment was highly effective at the time, but very risky.
The largest impact on exfoliation in the esthetic world has been due to chemical peels. In the 1990s, a safer version of glycolic acid entered the beauty industry and really changed the game. This is one of the mildest types of AHAs, but still provides a great exfoliation, revealing gorgeous skin minus the irritation. Prior to glycolic acid, peels were known to be somewhat painful, so its introduction made them so much more accessible and available to estheticians, who could perform these safer treatments. Not only could clients skip a visit to a doctor's office, but they also could get a facial instead and just add in the peel!
In many states, estheticians were able to work with peels up to 35% with a pH of 3.5. Although this is a lower strength than doctors performed, it really had an impact in the esthetic world. It gave skin care professionals an extra tool to really wow clients and show instant results. It also made getting the beautiful skin that all clients desire more accessible. Nothing makes me feel better than when my clients feel great about how they look—and that is exactly how peels make them feel!
As the years continued, more peels were developed for esthetic use, and estheticians were able to address different skin care concerns using different peels, such as beta hydroxy acid (BHA) peels, such as salicylic. BHAs are fantastic for acne because the chemical can penetrate deeper into pores than an AHA peel and is a bit stronger, as is needed with problematic skin. This exfoliation is impactful without being too abrasive to the skin and, with so many clients affected by acne today, it has become a real miracle-worker.
Chemical peels today
With all the advancements that have been made to exfoliation methods, consumers can tend to be a little heavy-handed with at-home products. When it comes to exfoliation, advise your clients to think of the skin like an apple. An apple with skin looks plump and hydrated; however, when you peel it, it becomes brown and shriveled. This is why, when exfoliating, it is important not to overdo it—the skin is a protective barrier.
When working with clients, it is important to be selective in the types of chemical peels that you offer. Being that everything moves so quickly nowadays and technology advances every time you blink, it is a certainty that peels will be made more effective as new ingredients and formulations are discovered. However, for the time being, there are some lovely peel options available.
Some peel recommendations include a proteolytic enzyme peel, which is derived from the latex of the green papaya fruit. This exfoliant gently removes old skin cells, revealing brighter, younger-looking skin by digesting dead surface protein. Although enzymes can sometimes be unstable, new stabilizing technology has really advanced these peels, and the future will probably bring even further improvements.
Of course, glycolic peels, which come from fruit acid that occurs naturally in sugar cane, are also recommended. This peel is known to penetrate the surface layers of the skin to loosen the dry, thick skin that makes the complexion look aged and dull. Skin will look absolutely beautiful with a very low risk of irritation. Another element that makes the newer and more advanced peels so great is how quickly they work. If your client is in a time crunch but still wants a fantastic exfoliation, she can receive a chemical peel in about 15 minutes. With how fast-paced society has become, these treatments can be scheduled into any clients' hectic schedule, and can be completed while they are on their lunch break.
A fantastic future
Although chemical exfoliation treatments have greatly progressed, it is still always important to protect and hydrate the skin after the procedure. A wonderful, hydrating seaweed facial mask is a great treatment to perform after a peel, followed by an application of a daytime protection cream. An SPF is also very important to prevent further damage. And, of course, always remember that more advanced treatments do not mean the chance of over-exfoliation has disappeared, so peeling, redness, irritation and blistering—among other side effects—are still possible if performed too often. Just be mindful of your clients' exfoliation habits, and their skin will continue to improve when exfoliated correctly.
Exfoliation has come a long way since the days of mixing formulas from household items. I will always cherish and never forget the days I spent in the treatment room at the beginning of my career, and using exfoliation was a large part of that. Now, however, because formulations have made their way into laboratories, the beauty benefits that will be derived from the exfoliation systems of the future will be even more fantastic.

Lydia Sarfati, president and founder of Repêchage, is an internationally recognized skin care expert quoted in Vogue, InStyle, Glamour and The New York Times, and she has been featured on CNN, CBS and Fox. Sarfati has more than 30 years of experience as an esthetician, spa owner, manufacturer and consultant.
Editor's Note: "Exploring Mechanical Exfoliation Techniques," offers an in-depth training on mechanical exfoliation techniques used by estheticians, as well as demos of techniques commonly offered in a medical setting.