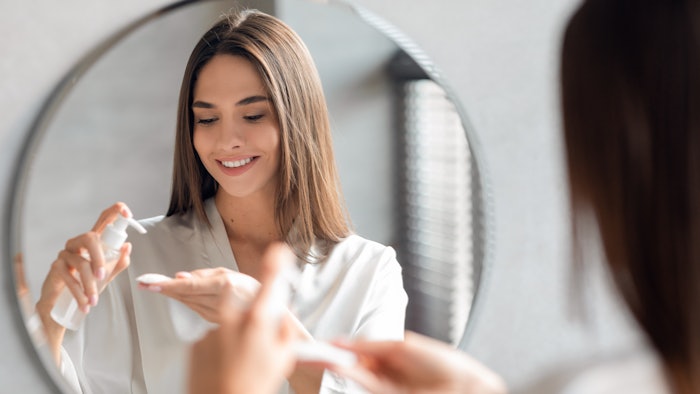 Consumer awareness of ingredients in skin care products continues to rise and affect the skin care market. Marnie Nussbaum, M.D., a dermatologist and clinical instructor of dermatology at Weill Cornell Medical College, was a guest on the Today Show to break down some of the most popular ingredients and trends in skin care, discussing the benefits and typical application methods of some basic skin care terms.
Related: The Rising Trend of Tranexamic Acid in Skin Care
Retinol
Retinol is a form of vitamin A that is used in anti-aging skin care and to treat acne. Regular use of retinol can skin cell turnover and boost collagen production and elastin in the skin, reducing fine lines and wrinkles and evening skin tone and texture, according to Nussbaum.
Despite its benefits, retinol is the skin care ingredient most known for irritation, so users should start slowly and at a low potency. After two weeks, it can be used every night and after three months, the potency can be increased. To reduce irritation, it is suggested to use it with a moisturizer.
Niacinamide
Niacinamide is a form of vitamin B3 that is used for hydration, to calm inflammation and reduce redness, and to treat transepidermal water loss, hyperpigmentation and the appearance of pores. It promotes ceramide production and can prevent oxidative stress. Although it can be an effective ingredient, the use of a vitamin C serum should take priority over niacinamide, as it provides the same results but can be more effective, according to Nussbaum.
Hyaluronic acid
Hyaluronic acid is a naturally occurring glycosaminoglycan found in the body's connective tissues that helps plump and hydrate the skin. It functions as a humectant, which means it draws water into the skin and makes the skin more supple, firm and plump, which also helps reduce the appearance of fine lines. The ingredient is common in moisturizers and ideal for use in morning and nighttime routines.
Glycolic acid
Glycolic acid is a water-soluble alpha hydroxy acid (AHA) that is made from sugar and is often found in facial cleansers. Its small size helps it dissolve the bonds that hold skin cells together, thereby increasing the rate of skin cell turnover and brightening the skin. The AHA also triggers the production of collagen, which improves the firmness, thickness and elasticity of the skin.
Carotenoid
Carotenoid is naturally produced by plants, algae and bacteria and works to protect skin against free radical damage and sun damage by improving the DNA-repair capacity, hydration, texture and elasticity. Since it is a relatively new trend in skin care, Nussbaum suggests using the ingredient in the morning and sticking to applying retinol at night.
Microbiome
The microbiome is a skin care concern that is currently trending among consumers. Protecting the microbiome helps balance skin's pH and protects the skin barrier. Prebiotics help feed the "good" bacteria living on the skin and discourage the growth of harmful bacteria. On the other hand, probiotics help the skin fight irritation and inflammation by regulating the skin's immunity and boosting ceramides, according to Nussbaum