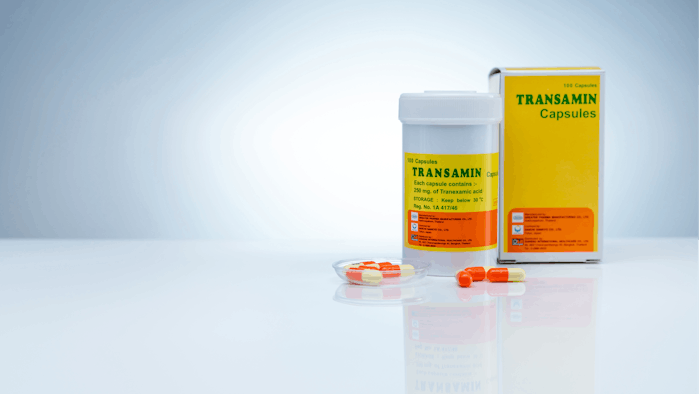 Tranexamic acid is a synthetic derivative of lysine, an amino acid. It is traditionally in medication prescribed to regulate heavy periods or control post-op bleeding. But the acid is also a rising ingredient trend in skin care for its ability to prevent the growth of new blood vessels and skin pigmentation. An article from Greatist detailed the trend and its possible benefits and risks.
Related: The Hydrating Abilities of Glycerin in Skin Care
When applied topically, tranexamic acid is mostly an ingredient in serums but can also be in dark spot correctors or treatments. It is typically less harsh than bleaching agents like hydroquinone, so it can be incorporated into a daily skin care routine. It is often infused with other traditional ingredients, meaning it can be layered with most creams, retinol, toners, cleansers and other steps in a routine.
Research from 2019 indicated that tranexamic acid can prevent the formation of melanin, also known as skin pigment, and the development of new blood vessels. When applied topically, tranexamic acid appears to help lighten dark spots caused by hyperpigmentation, melasma and sun damage.
Two studies from 2014 and 2017 found that using 3% tranexamic acid on UV-induced dark spots was just as effective as 3% hydroquinone and .01% dexamethasone with fewer side effects.
A 2021 study found that a topical tranexamic acid derivative reduced hyperpigmentation by 78.6% after eight weeks of twice-daily use. The acid combats melasma by shrinking and lightening dark patches.
Tranexamic acid has also been used to soothe swelling from angioedema, which suggests it could be used to reduce irritation, redness and puffiness.
Although the results with tranexamic acid in skin care have been promising, the studies are small and more research is needed for conclusive evidence.
Tranexamic acid used topically in skin care is generally considered safe, but like any product, irritation can occur. Side effects from tranexamic can be worse when consuming the ingredient orally compared to applying it topically.
It is recommended to avoid tranexamic acid medication if the consumer has personal or family history of blood clotting disorders, convulsions, severe renal insufficiency or is pregnant, breastfeeding or taking birth control pills.