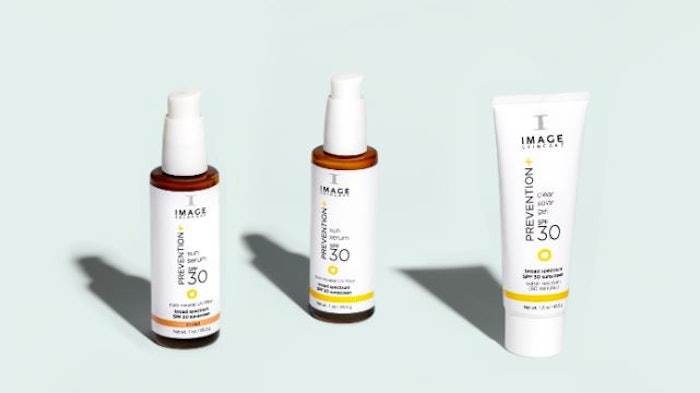 Photo courtesy of IMAGE Skincare
IMAGE Skincare launched the highly-anticipated PREVENTION + CLEAR SOLAR GEL SPF 30 and PREVENTION+ SUN SERUM SPF 30. The PETA Certified products are a part of IMAGE Skincare's PREVENTION+ sun protection category. 
The PRVENTION+ SUN SERUM SPF 30 is a unique, SPF-in-serum formula and lightweight on the skin. The product can be worn alone, under moisturizer and makeup for dewy and protected skin.
Related: Exfoliating Serums, Sunscreen Sticks & Retinol Body Lotion are Trending
The serum is formulated with ginger root extract, vitamin C, vitamin E, chamomile and plant-derived squalane for antioxidant benefits. 
PREVENTION+ CLEAR SOLAR GEL SPF 30 is the first 100% clear, professional-grade sunscreen. The formula glides easily over the skin and blurs imperfection while leaving skin soft and smooth.
The clear, waterless sunscreen gel provides broad-spectrum UV protection. The airy, transparent formula disappears into skin and helps grip makeup. The SPF is formulated with a blend of antioxidants including vitamin C, vitamin E, green tea and plant-derived squalane.