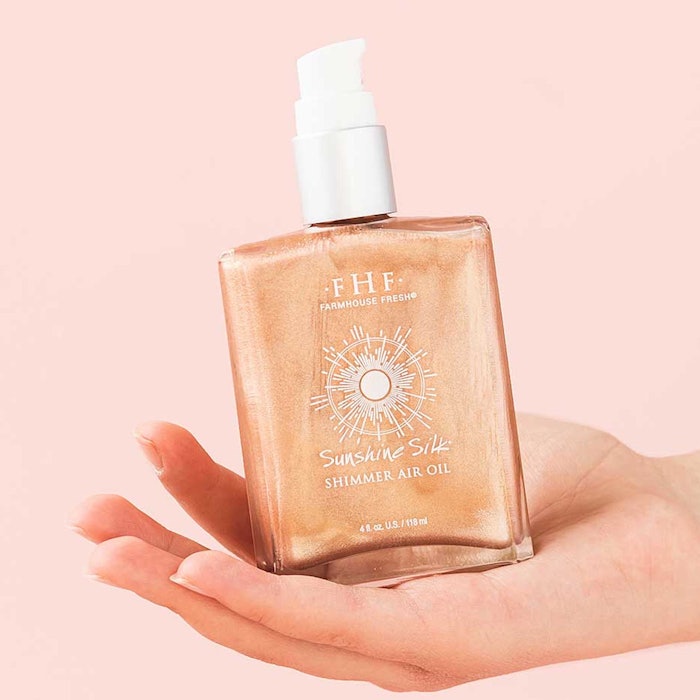 Photo courtesy of FarmHouse Fresh
FarmHouse Fresh has two new Spring launches to add to their collection: The Sunshine Silk Shimmer Air Oil and the Pink Dust Illuminating Peptide Serum. Both products provide a soft, iridescent glow for the face and body. 
The brand's just-harvested botanicals, found in every product, are full of high nutrition for the skin and are grown fresh daily. These tiny microgreens are more nutrient dense than many full-size vegetables, allowing their extracts to bring rapid results to skin. 
Pink Dust 
Pink Dust is a peptide-powered illuminating serum that provides a soft, pinky-peach glow for all skin tones. The silky, serum-like texture melts into the skin while superfine, light-reflecting mica minerals give an instantly dewy, luminous finish. 
Enriched with peptides and gentle, time-released retinol to visibly smooth and enhance skin's natural radiance. Plus, a cocktail of nutrients (including niacinamide, hyaluronic acid, vitamin C, and FHF-grown black opal basil) helps refine skin's texture, boost moisture and visibly brighten the look of dark spots. 
Related: 10 Botanical Teas for the Skin and Body
Sunshine Silk Shimmer Air Oil
The Sunshine Silk Shimmer Air Oil is indulges the skin and senses with refreshing notes of creamy vanilla and fresh tangerines. This rosy-hued air oil contains natural mica minerals and nourishing, non-GMO sunflower and safflower seed oils rich in omega-6 fatty acids for moisture and softness.
The oil is also infused with vitamin K-rich micro red amaranth extract grown on the FarmHouse Fresh's farm. Micro-amaranth is more vitamin K-dense than many powerhouse vegetables like broccoli.