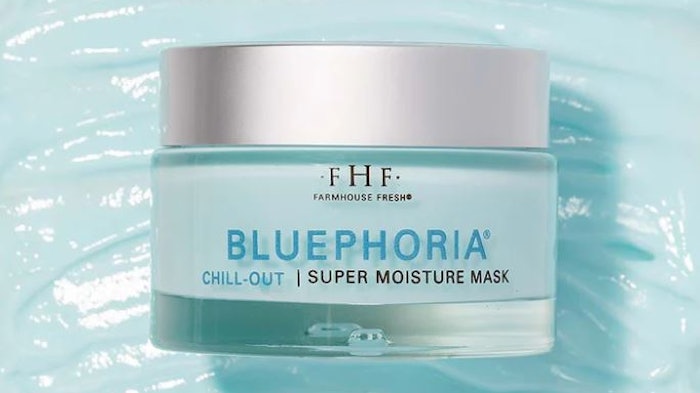 Photo courtesy of FarmHouse Fresh
FarmHouse Fresh's Bluephoria Chill-Out Super Moisture Mask absorbs deep into the skin to reveal a soft and glowing complexion. Infused with full spectrum hemp extract with CBD and cooling FHF-grown spearmint, this mask resets tired skin to its plumpest, quenched state. 
Vitamin C, licorice root extract and citric acid smooth skin and visibly improve the look of uneven skin tone, while a plant-based polypeptide, squalene and hyaluronic acid boost skin's moisture. 
The product also visibly filling fine lines and wrinkles. Healthy extracts of turmeric, neem and thyme reveal skin that is soft, nourished and hydrated.
Related: The Benefits of CBD for Acne
Key Ingredients
Full Spectrum Cannabis Sativa Hi-Bio Cannabis Sativa (Hemp) Seed Oil
Hyaluronic acid
Citric acid
Squalene oil
Essential oils: rosemary, clary and thyme
Spearmint extract