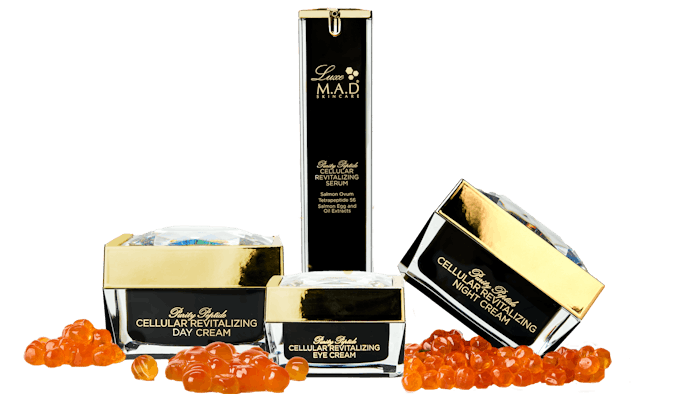 Photo courtesy of M.A.D Skincare
M.A.D Skincare launched M.A.D Luxe, a curated skin care collection formulated with the Luxe Purity Peptide, leaving skin smoothed, revitalized and younger looking. 
Key Ingredients
Salmon Ovary Peptides: The peptides are a combination of 20 amino acids including Asparagine and Threonine that supply antioxidant properties to protect against free-radical damage, aid in reducing signs of aging and deliver anti-aging and hydration benefits.
Matrixyl Morphomics: This lipopeptide helps re-establish the natural connections between the cell nucleus and the extracellular matrix. The ingredient also helps visibly reduce Nasogenian folds, marionette, and frown lines for a more youthful facial expression.
Ceramide Complex: The complex actively repairs, revitalizes and improves the skin barrier repair system. Identical to lipids found in the skin, M.A.D Luxe uses a concentrated version, providing enhanced skin miniaturization and protection.
Related: Holistic Healthy Aging in a Modern World
The Collection
Cellular Revitalizing Eye Cream is a hydrating eye cream that addresses crow's feet, fine lines and dark circles. The product helps tighten the skin in the delicate eye area, leaving eyes firmer, brighter and younger looking.
Cellular Revitalizing Serum delivers essential hydration and wrinkle/expression line reduction, leaving skin velvety smooth and supple looking.
Cellular Revitalizing Day Cream provides a boost of powerful hydration while delivering anti-wrinkle and expression line reduction, leaving skin healthy and radiant looking.
Cellular Revitalizing Night Cream delivers potent ingredients at night when skin replenishes itself. The product provides anti-aging benefits for moist, plumper and younger looking skin