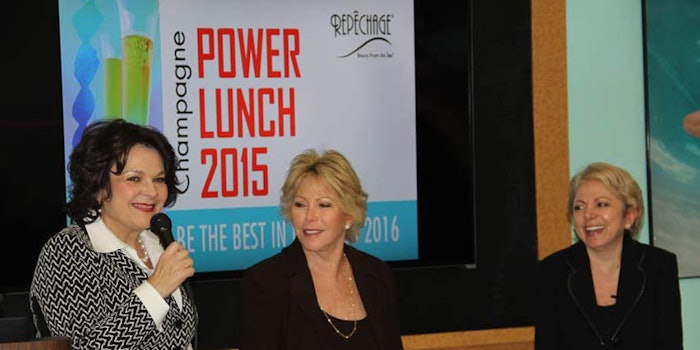 With spa owners gearing up for the holidays and the new year, Repêchage hosted its annual Champagne Power Lunch on Dec. 7, 2015, to give spa owners inspiration and insights into upcoming trends for 2016.
Beauty professionals from the United States, Poland, Trinidad and Tobago, Mexico, Romania and India joined the Repêchage team at its headquarters in Seacaucus, New Jersey for a day of spa business presentations from industry experts. The event also included a champagne lunch/brunch and a holiday shopping event featuring Repêchage holiday gift sets such as Repêchage Vita Cura Holiday Gift Sets, Repêchage Holiday Makeup Gift Set, and the Repêchage Perfect Skin Gift Set.
In addition to a presentation by Repêchage founder and CEO Lydia Sarfati, the event also featured guest speakers including Deborah Carver, CEO and founder of Creative Age Publications and Dori Soukup, president and CEO of InSPAration Management.

Consumer Trends
Sarfati introduced the first keynote speaker, Carver, who talked about "Consumer Trends in Beauty and Spa." Carver's presentation highlighted the need for salons/spas to focus on catering to millennials, who are currently projected to outnumber baby boomers this year. Carver said using technology in spas like makeover photo booths and spa rewards apps can help to win millennials over as clients and capture the market that "represents the future." She hoted that baby boomers are the ones who spend the largest portion of their disposable income on spa and beauty services currently.
Marketing Strategies
Then, Soukup presented "Economical Marketing Strategies," offering advice on how to cost-efficiently lead traffic to the spa and maximize capacity. For example, Soukup discussed affordable strategies on how to: create promotional marketing tools, utilize social media, market on the internet, market in spa and host spa events.
A Service Experience
Sarfati wrapped up the Power Lunch with a talk on "Beauty Trends and Creating the Ultimate Service Experience." Before discussing trends for 2016, Sarfati touched on fads that have made their way into the skin care industry this year. She discussed spa treatments such as gold facials, vampire facials and DNA-based skin care products, and explained the efficacy of these treatments/products on the skin.
Sarfati then highlighted what she regarded as the "real" trends for 2016 including: facials, multi-layering, pore-cleansing, medial alliance, custom body treatments, specialty products, advanced wax formulations and treatment, hypersensitive skin, environmental protection, digital invasion and building a connection with clients. 
Sarfati expanded on the last idea, making note to attendees how important it is to truly build a connection with clients and create the ultimate service experience. As Sarfati recommended, spas must cater to the VIP in everyone, accommodate every client, be personable and go above and beyond. To get there, Sarfati stressed the importance of assembling a great staff, having a healthy work-life balance and providing the opportunity for continuing education for the staff.